There's no doubt that professional truck drivers need mental clarity (mental sharpness, mental alertness and a clear mind).
Why?
Drivers of typical big rigs are required to maneuver semi tractor trailers that are about 70 feet long, stand 13 feet 6 inches high and weigh up to 80,000 pounds (40 tons)
in city and highway situations,
in all kinds of weather,
in the midst of constantly varying traffic conditions and
with many other complications.
No wonder being able to think clearly is necessary!
(Please note that there may be differences — obvious or subtle — between distracted driving and being able to think clearly.)
As one would expect in any profession, some truckers have more difficulty staying alert on the job than others. They could have any number of personal issues going on that weigh heavily on their minds.
Owner-operators who have to make truck payments even when the wheels aren't turning may be especially in need of a clear mind.
Is there anything that truckers can do to help with mental clarity?
Yes!
We are not qualified to render medical advice; however, we urge truckers to seek — whenever possible — natural alternatives to prescription medications (which almost always have side effects).

Furthermore, we recommend using pure therapeutic grade essential oils for mental clarity.
Below, we have listed (in alphabetical order) essential oils and oil-infused products used for mental clarity. Each person's needs and biochemistry may be different from someone else's.
Also, the list of essential oils for mental clarity below is one of several lists that we have grouped under "trucker health" in the Health and Wellness section on our site. The other lists are:
---
Because of their unique Seed to Seal® process and the success we have personally experienced in using them, we unapologetically recommend pure therapeutic grade essential oils from Young Living for mental clarity.

Just like you find affiliate-specific links to Amazon.com products on this site, each product listed below is linked to that product's page on an affiliate-specific website that we utilize for educational and ordering purposes.

Whether you need help just one time or over an extended period of time, thank you for allowing us to be of service to you.

Need help deciding which product or products to use?
Request an Essential Oil Personal Consultation.
---
Essential Oils for Mental Clarity
Basil Essential Oil
Basil has a strong, spicy aroma that is invigorating to the spirit, bringing a sense of balance and calms the mind.

This great oil is one of the oils included in Young Living Raindrop Technique.
Source: https://www.youngliving.com/us/en/product/basil-essential-oil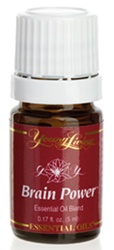 Brain Power Essential Oil
A member-favorite blend with a rich, invigorating scent, Brain Power™ is perfect for inhaling or diffusing to enjoy its uplifting aroma in the home, office, or on the go.

Apply Brain Power topically to moisturize the skin and enjoy its inspiring scent.

Formulated with Royal Hawaiian Sandalwood, Cedarwood, Frankincense, Melissa, Blue Cypress, Lavender, and Helichrysum essential oils, this blend includes the naturally occurring constituents cedrol, alpha-pinene, guaiol, and linlool.
Source: https://www.youngliving.com/us/en/product/brain-power-essential-oil-blend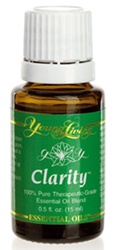 Clarity Essential Oil
Clarity™ promotes a clear mind and alertness.

It contains stimulating oils including peppermint and rosemary, which have been used for many years to promote mental sharpness.

A study performed by Dr. William N. Dember of the University of Cincinnati found that inhaling peppermint oil increased the mental accuracy of students by 28 percent.

Clarity can also be used to help restore mental alertness or wakefulness when you are experiencing fatigue or drowsiness.
Source: https://www.youngliving.com/us/en/product/clarity-essential-oil-blend
Lemon Myrtle Essential Oil
When taken internally, lemon myrtle (Backhousia citriodora) boosts the body's natural defenses* and can also be used as a cleansing agent to purify household surfaces.

Aromatically, lemon myrtle has a powerful lemon scent, even stronger than lemon essential oil.

The fresh aroma is uplifting and refreshing, which may help clear the mind to enhance concentration or promote a peaceful night's sleep.

*This statement has not been evaluated by the Food and Drug Administration. This product is not intended to diagnose, treat, cure, or prevent any disease.
Source: https://www.youngliving.com/us/en/product/lemon-myrtle-essential-oil
Essential Oil-Infused Products for Mental Clarity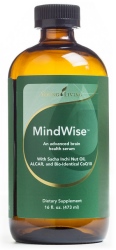 MindWise
MindWise™ combines exotic sacha inchi nut oil with a proprietary MindWise oil blend for a unique supplement that supports normal brain and heart function.*

Harvested from the Peruvian Amazon, sacha inchi nuts are cold pressed to create a vegetarian oil with a high proportion of unsaturated fatty acids and an unmatched percentage of desirable omega-3 fatty acids (α-Linolenic acid).

Medium chain triglycerides (MCT) and pure essential oils are added to complete the MindWise oil blend.

The proprietary Memory blend features ALCAR, GPC, and bio-identical CoQ10, ingredients that have been studied for their beneficial health properties.

Generous amounts of vitamin D3 and a unique delivery method create a premium supplement that supports normal memory function and overall cognitive and cardiovascular health.*

*These statements have not been evaluated by the Food and Drug Administration. This product is not intended to diagnose, treat, cure, or prevent any disease.
Source: https://www.youngliving.com/us/en/product/mindwise
NingXia Nitro™
NingXia Nitro™ blends pure essential oils (Peppermint, Spearmint, Black Pepper, and Nutmeg) with naturally powerful ingredients such as d-ribose, green tea extract, and B vitamins.

These ingredients, in addition to a Nitro blend of vanilla, chocolate, wolfberry seed, and yerba mate, provide a lift to one's mental clarity and focus, while also providing a surge of energy.

Designed to be taken when a boost is needed and with less caffeine than a cup of coffee, Nitro is a perfect option for on-the-go use.
Source: https://www.youngliving.com/blog/the-perfect-pair-ningxia-red-and-ningxia-nitro/
---
---
Essential oils may be used for many reasons other than helping with mental clarity. Always follow directions on how to use them.
* These statements have not been evaluated by the Food and Drug Administration. These products are not intended to diagnose, treat, cure or prevent disease.
---
Return from Mental Clarity for Truckers and Professional Truck Drivers to our Health and Wellness page or our Truck Drivers Money Saving Tips home page.
---