The Truckers Savings App underwent a major platform change and is not currently available.
If you would like to see it return to the marketplace, please contact us.
---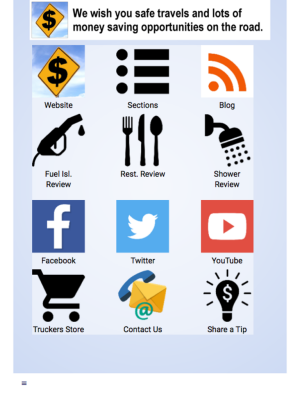 Get and share truck drivers money saving tips through our new Truckers Savings App from the Google Play Store.
Truckers Savings App lets professional truck drivers
access Truck-Drivers-Money-Saving-Tips.com,
view and interact with content on its various social media channels,
easily submit reviews of truck stop fuel islands, restaurants and showers to help other truckers save money;
share trucker-specific money saving tips; and
buy products that help truckers save money and time through the Amazon.com-linked Truckers Store.
Professional truck drivers need money saving tips more than ever.
Truck-Drivers-Money-Saving-Tips.com is the premier website dedicated to helping truckers save money.
Get real world tips that help professional truck drivers save hard-earned money and personal reporting about products and services for use on the road, both from the website and its supporting social media channels.
Content is generally divided among these major sections of our site:
Become a Truck Driver
Benefits and Bonuses
Budgets and Budgeting
Food and Recipes
Health and Wellness
Home Support Team
Meal Preparation
Packing List
Tools and Equipment
Training Schools
Tricks of the Trade
Truck Driving Jobs
Truck Operations
Trucker Services.
What Can You Do With/On Truckers Savings App?
Read our Truckers' Savings Blog updates.
Read and comment on our Facebook fan page posts.
Watch selected videos from our YouTube channel.
Read tweets from our Twitter account.
Send quick reviews of truck stop fuel islands, restaurants and showers.
Send money saving tips just for truckers.
Shop for money saving products selected just for professional truck drivers and their home support team members.
Connect and become part of the community.
You may also use the same forms for truck stop reviews as appears on our app here:
Truck-Drivers-Money-Saving-Tips.com and the Truckers Savings App:
"Because truckers know that no trucker deserves to be stung financially".
---
Return from Truckers Savings App to our Trucker Services page or our Truck Drivers Money Saving Tips home page.
---