Some truck stops have displays like these for TVC Pro Driver or Truckers Voice in Court (TVC).
This cabinet serves as a place where a TVC representative can meet with drivers.
The small print under the name says, "Motor Club of America Enterprises, Inc."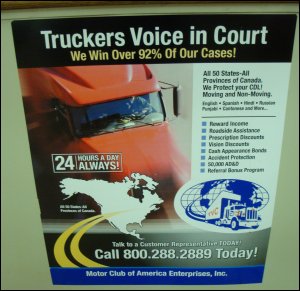 This is a close-up of the poster on the cabinet from above which proclaims, "We Win Over 92% of Our Cases!"
The service is said to be in all 50 states and all provinces in Canada.
Then there is a list of benefits or features.
A 24-hour phone number is provided.

Taking a slightly different tack, TVC Pro-Driver or Truckers Voice in Court exclaims, "We keep you on the road while building retirement."
In looking for information about their plan on their website, we observed that their website used to reference GIG Marketing Associates and mentions "the opportunity to secure affordable legal protection while earning cash rewards and extra income" but gives no details.
tvctruckersvoiceincourt.com/about-us/ (no longer online)
GIG-Marketing.com's website used to say(1),
"What really makes us different from all the other Trucker Commercial Drivers Pre-Paid Legal Programs is that we don't just refer drivers to an attorney and give a discount. We do more. Once you start an account with us for more than 10 days, we are the only company that can cap off your legal fees up to 100% for you and spouses traffic ticket representations opened before the first court dates. Most importantly, we guarantee CDL Ticket Defense Attorneys to fight CDL Traffic Tickets."(2)
Their Other Protection Plans page lists what those plans are and their costs.(3)
tvctruckersvoiceincourt.com/other-protection-plans/ (no longer online)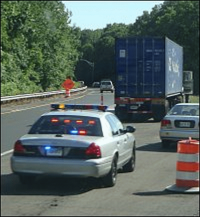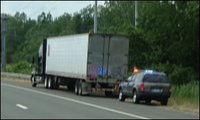 If you are a professional truck driver and you either currently are — or within the last 6 months have been — a member of Truckers Voice in Court (TVC), we invite you to review it on this page through the form below, answering questions such as these:
How long have you been a TVC member?
If you

were but no longer are

a TVC member, what factor(s) caused you to leave?
What are the top 3 reasons why you became a TVC member?
Did you use any of the benefits that TVC offered? If so, which ones?
How would you rate the quality of the benefits offered by TVC?
Do you think that your TVC membership is/was worth the price you paid for it?
How did membership in TVC save you money?
Would you become a TVC member again and why?
---
---
Return from Reviews of Truckers Voice in Court By Truckers to our Service Reviews page or our Truck Drivers Money Saving Tips home page.
---
Reference:
1. gig-marketing.com/index/ (no longer online; forwards to tvctruckersvoiceincourt.com/
2. gig-marketing.com/cdl_traffic_tickets/ (no longer online; forwards to tvctruckersvoiceincourt.com/)
3. gig-marketing.com/other_protection_plans/ (no longer online; forwards to a broken link)