When it comes to Valentines Day for many professional truck drivers, they simply can't be home with their spouses and families because of work duties.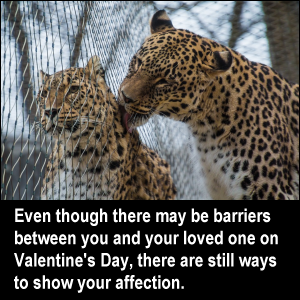 That's reality.
As the saying goes, "If the wheels aren't turning, you're not making money."
Although providing a sufficient income is important, relationships are important, too.
Fortunately, there are some frugal things you can do to help you stay close to your family members at this especially romantic time of year.
We will give you some ideas.
Perspectives
As a long haul trucker, you're very familiar with your work, your truck, what your job requires, etc.
When you talk about these things with people who aren't experiencing them, it can be hard for them to understand.
The difficulties (and perhaps the joys) you go through as a professional driver cannot be totally fathomed by those outside a truck.
On the other side of the equation, even if non-trucking spouses wanted to be in the truck with their mates, often their duties at home prohibit it.
Long haul trucking can be hard on marriages and truckers' family units; yet, relationships can still thrive.
Communication is the key and it must be done continually, not just a once a year on Valentines Day.
Individuality
Have you ever known of two people — even identical twins — who are exactly alike in every way?
Of course not.
We all have our individual tastes, preferences, opinions, styles, etc.
Similarly, when it comes to celebrating holidays like Valentines Day, there is no one-size-fits-all answer.
Some women will be content to have flowers or candy delivered to them on Valentines Day while others may not.
Imagine how upset a lady might be if she receives a box of chocolates when she is trying desperately to stick to her New Year's resolution (or goal) of trying to lose weight.
She might consider a gift of candy to be diet sabotage!
So your awareness of what's going on in her life matters.
And don't mistake this: flowers and candy will never be a substitute for you!
(This page contains links to products on Amazon.com, with whom we have an affiliate relationship.)
There are scenes from Return to Snowy River that Vicki thinks reveal part of the difference in thinking between men and women — and yet how the two can be brought into unity.


In the previous movie (The Man From Snowy River, Jessica had already expressed her desire to be with Jim.


But he was young and needed to have something to offer her.

His love for her was not enough.

So he leaves for awhile (the time frame of which is never stated).

The second movie shows Jim returning in time to see Jessica's suitor declaring himself publicly.

When Jessica sees Jim, the love that previously sparked between them is still there.

But there is conflict from inside and outside her family.

Between the two of them, Jessica asks Jim why he has been away for so long.

He says that he was working on getting his stake together for the two of them.

She asks why accumulating things is so important.

He says because he's seen the lack of it.

In the end Jessica chooses Jim, most of the conflicts are resolved and there is a happy ending.
In real life, some women (not all) really are willing to put up with less luxury and fewer creature comforts in order to be with the men they love.
Each one is an individual.
Does Quantity Matter?
Assuming your sweetheart likes flowers as a Valentines Day gift, which is better: a single red rose or a dozen?
While some women may count the quantity or size of a gift as the measure of their husband's love, we believe that size cannot make up for sincerity.
If the love component of your relationship is not what it should be, no amount of flowers given on Valentines Day will make up for what's missing.
The same goes for chocolate, jewelry or any other gift.
Not only that, but some women who are very practical in their natures may be of the opinion that expensive, live flowers (that will wilt and die) are a complete waste of money and that that money should have been invested in something that will last a lot longer than just the week of Valentines Day.
One alternative, if you think your lady deserves flowers, is to buy her artificial ones.
Some of them seem so real that it can be difficult to distinguish them from live flowers.
This artificial red silk rose is listed from Amazon.com, with which we have an affiliate relationship.
Mike once bought Vicki such a rose and after looking at it at a bit of a distance for several days, she wondered aloud when it was going to open.
Imagine her surprise when she discovered at closer range that it was artificial!
Great! It would last well beyond Valentines Day!
There is much truth to the adage about living with a woman in an understanding way.(1)
Listen to what she is saying and what she values to make the best use of your gift-giving money.
If you plan to buy her jewelry, does she prefer gold, silver or something else?
Should the pieces be delicate or a little more bold?
Bear these things in mind before you buy.
If Your Sweetheart Is The Trucker's Wife at Home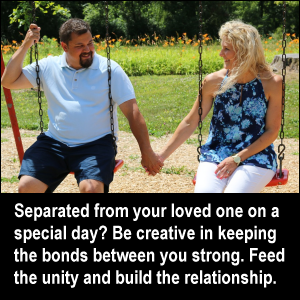 In our opinion, the best thing that you can do to keep the home fires burning while you're away is to stay connected with your family.
This is most easily achieved by communicating with them
verbally ("live" via telephone and/or web cam or "delayed" by recorded videos) and
in written form (by email if you have an Internet connection; cards and letters if you have postage stamps with you; and even pre-written notes designed to be opened on certain dates which you can leave at home in a conspicuous place to be discovered after your departure).
The occasion of Valentines Day allows us to examine how well we do on these forms of communication year round.
Many cameras and even some cell phones are capable of recording video clips. Be as mushy as you like: your loved one deserves something special on Valentines Day!
After you transfer the video clips to your laptop computer, you can create a video with free or low-cost software.
We have used numerous video creation packages with great success.
You will want to make sure that you have enough hard disk space on your computer before attempting to make videos.
If the device you're using to record the video also allows you to record audio, great!
But if you plan to do any narration of still photos or text, you may want to invest in a headset like the one we use, Logitech's ClearChat Comfort USB.
Consider ahead of time how you want to distribute your video and any privacy concerns.
Besides making a Valentines Day video, you can make your own version of a Valentines Day card or a digital Valentine.
When you can't be with your spouse and family physically, you can give part of yourself to them this way.
It might be a little challenging to make your own non-digital cards and letters unless you carry a printer and paper with you.
However, if you're on the road reading this from your laptop computer, you probably have all of the tools you need to make digital cards.
Check out the free Valentines Day and related images on Microsoft's Digital Gallery Live.
(Microsoft's images are free while images from other providers may not be, so check from the pop-up when you scroll over an image to be sure.)
Paint.NET is "an open-source freeware editor with all the essentials" and this version works on Windows XP/Vista/7.
Words and pictures will never be able to replace you personally, but they can help remind the one you love of your love for him/her — on Valentines Day and year round. The investment of your time into the live(s) of the one(s) you love matters.
If Your Sweetheart Is The Trucker
Professional drivers have a limited amount of space to store things in their trucks, so any reminders of your love for them — whether on Valentines Day or not — must also be gauged for storage space.
A few photos of family should not be too bulky.
Make sure that any new photos of family members replace the old ones in your trucker's wallet.
If you pack meals for your trucker, perhaps you can pack a special meal for eating on Valentines Day.
Biscuits, cookies, hamburgers, etc. can all be cut out with a heart-shaped mold.
A special trough-type heart-shaped mold will allow you to make gelatin and other moldable foods.
Whenever she fixes pancakes in an electric skillet, Vicki tries to remember to fix a special heart-shaped one for Mike.
Valentines Day is a good time to do it because of the emphasis on hearts.
Occasionally, we have to laugh because the "heart" ends up looking more like a "lung" or a "kidney." Still, it is the thought that counts.
Here are some gifts that ladies might consider for their trucking men for Valentines Day:
Most drivers have time to sit and listen as they drive. If they are musically inclined, select and present to your man the type of music he likes — playable in a format such that he can listen to it in his truck. (Ask if his truck has a cassette tape or CD player on the dash.) Imagine reinforcing your love for him long after Valentines Day.
Christian truckers might appreciate having the Bible on tape or CD in the version they prefer. Beyond the love displayed by the giver at Valentines Day, this kind of gift also reinforces God's perfect love to the listener.
For news buffs or talk radio aficionados, consider giving a satellite radio subscription.
Some drivers we've seen in truck stops have their noses buried in a book or magazine. For these guys, consider a low-cost media purchase on a topic they like, to take with them on the road.
The Short Benediction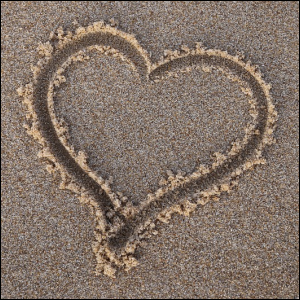 Perhaps later on, we will address some intangible things spouses of truckers can do to help their trucking loved ones stay connected and want to come home as often as possible.
For now, we're going to share one thing we have done.
Whenever Mike drove long haul and knew he would be gone for a week or two (or when he drove for Schneider and knew he would be gone for three weeks in a row!), Vicki would make certain that he left with a hug and a kiss.
(Hint: don't reserve hugs and kisses for Valentines Day!)
We also devised a way to make sure that there were no conflicts and therefore no tension between us prior to Mike's departure.
We would say as a bit of benediction,
"I love you. God bless you. Nothing between us."
In the days before we got a laptop computer and mobile broadband, Mike had (for a period of time) "in-cab email" by which he could send and receive email messages.
Whether a message was sent or received, there were a certain number of characters that could be sent for a certain amount of money. We shortened our little 9-word phrase this way:
ILU GBU NBU
As this was in the days before texting became popular and Twitter came into existence, we thought ourselves pretty clever on this front.
It was the power of the words we meant behind the acronym that mattered to us.
Remembering Your Trucking Parent on Valentine's Day
Although not the romantic kind of love, children can reinforce love for a trucking mom or dad on Valentines Day through appropriate special reminders.
In the following photos, see if you notice any reminder of love from home.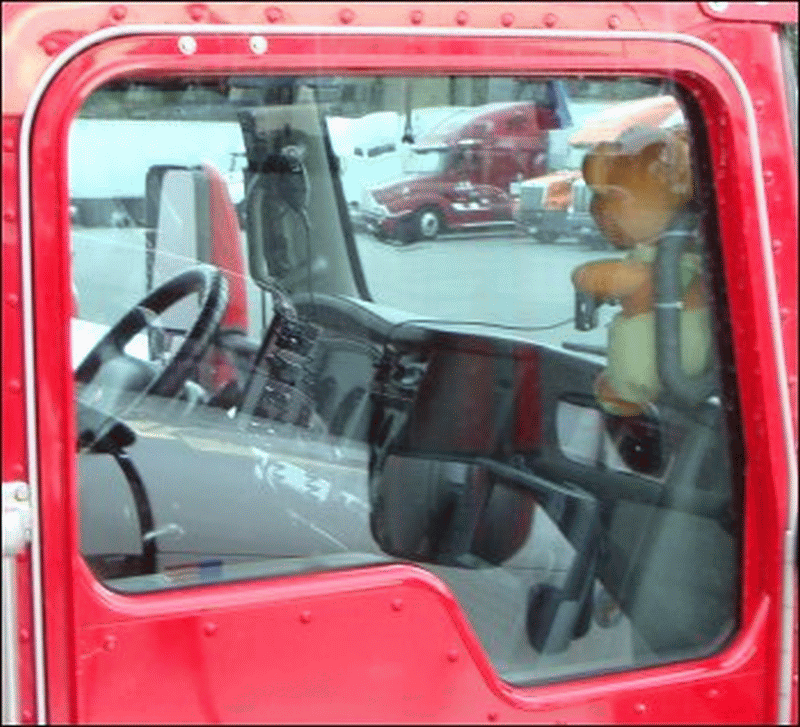 Do you see the stuffed animal strapped to the handle?
This driver, no doubt, has a home support team member who loves him.
Every time the driver looks out his passenger side window to look at his mirror, he is sure to see the reminder of love right there — not just on Valentines Day.
Of course, the reminder must be within limits, never hindering a driver's ability to see or serving as a distraction.
If You're the Trucker of Children Back Home
When you invest time in your gift, to a certain degree you reinforce your love for your family.
Your gift can include a vision for parental expectations, like this one from Chapter 1 of Little Women in which Father wrote to Marmee instructions for their four daughters:
"Give them all of my dear love and a kiss. Tell them I think of them by day, pray for them by night, and find my best comfort in their affection at all times. A year seems very long to wait before I see them, but remind them that while we wait we may all work, so that these hard days need not be wasted. I know they will remember all I said to them, that they will be loving children to you, will do their duty faithfully, fight their bosom enemies bravely, and conquer themselves so beautifully that when I come back to them I may be fonder and prouder than ever of my little women."
Although fiction, we can learn a few things from this paragraph:
Notice that Father says that he expects to be gone a year but that he reinforces his love and gives them a "charge" to work, love, fight "enemies" and "conquer themselves."
What a loving instruction!
In Dale Carnegie's How to Win Friends and Influence People, he wrote of this tenet: "Give the other person a fine reputation to live up to."
That's one thing a parent can do for a child of any age — as well as give "The Blessing" at any time of the year and particularly on Valentines Day.
Couples Who Meet Each Other's Needs
Husbands and wives in the trucking industry, you would do well to understand your mate's "love language" and seek to meet it, not just at Valentines Day but every day.
According to author Gary Chapman, these love languages are: words of affirmation, quality time, receiving gifts, acts of service, and physical touch.
Each person has at least one.
You may have difficulty meeting your mate's need for love if
you have one love language and he/she has another,
neither of you knows what the other's is, and
neither of you meets the other's need for the specific language.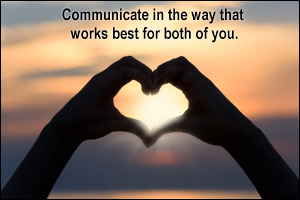 For example, if one of you has the love language of physical touch, you definitely need to safeguard your marriage against outside forces that would seek to undermine it.
Ladies, if your man is the type who gets into words of affirmation, you can slip Valentines Day or love notes into various places where he'll be sure to look during his time out on the road.
You know he's going to be taking showers on the road, so you might put a note in his shave bag or layer multiple notes between his undershirts.
We're sure you can think of other ways to put the five love languages into play between truckers and their spouses.
If Your Sweetheart Is In Your Truck With You
Although they love their spouses, some drivers couldn't envision taking them along on the road.
Similarly, some spouses would absolutely reject spending any time on the road with their truckers — Valentines Day or not!
But, as we indicated earlier, there are some spouses who would willingly give up their life at home (at least for a week) in order to be with the trucking love of their lives.
In fact, some couples maintain no residence and literally live in their trucks full-time.
This allows them to be together round-the-clock.
Perhaps you need more space than that, but the person back home will gain a better perspective of what you go through when he/she travels with you.
There are also couples who drive a truck as a team.
We were such a couple years ago.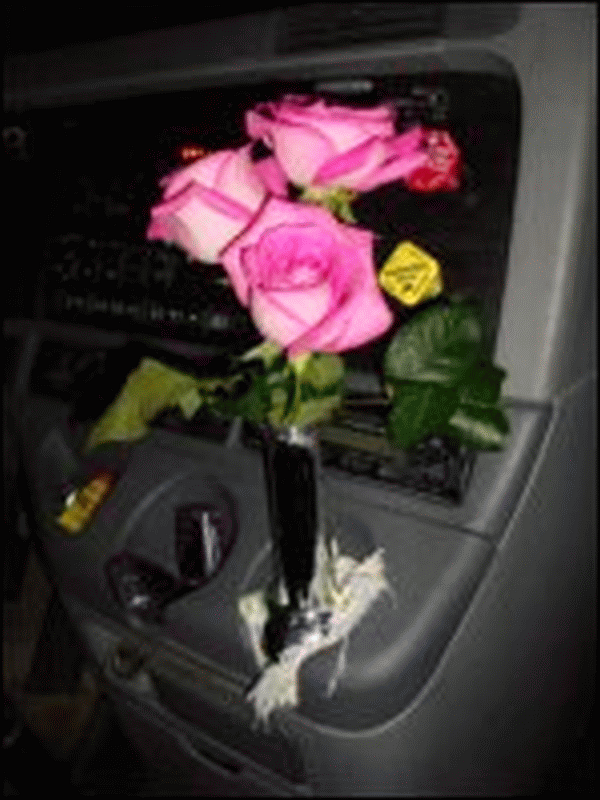 Just before Vicki started riding with Mike full-time in 2009, but after we made the decision to become homeless and she was riding with him every other week, he bought her some lovely pink roses.
What does a woman do with live flowers in a truck?
Well, as you can see, we just happened to have a vase that would hold three flowers that we could wedge down into the drink cup holder on the truck's dash with an old dishcloth.
The flowers managed to stay fairly upright while we were riding, but they seemed to die pretty quickly because of all of the jostling they received in transit.
They were beautiful for a little while and we have the photos to remember them by.
If you eat a lot of meals in your truck, a change of pace might be appreciated.
You might consider having a special meal outside the truck, whether on Valentines Day, before or after.
Some restaurants charge a premium for food on holidays, so if you're of a frugal mindset, a meal before or after the date might work better for you.
---

Money saving tip: For some people, the cost of a gift has no bearing on the appreciation that will be attached to it.
Hugs and kisses, for example, cost nothing, but can be greatly valued.
Savor the times you can share dreams with your loved one and the times you can be together.
Revel in the voice that proclaims love for you.
Reciprocate those loving words.
And not just on Valentines Day.
Evaluate your telecommunications plan to see if there is a plan that provides better value for less money.
If you are the kind of person who enjoys regular communication, consider making a phone call to your loved one (even if you have to leave a voice mail or answering machine message) every time you stop to eat a meal.
Consider making
your "breakfast" call (before you hit the road for the day) the one where you set your focus for the day and have a time of spiritual unity,
your "lunch" call as a brief check and affirmation of your love, and
your "dinner" call (after you're parked for your rest break) the long one where you can get into the details of the day and wind down with a nightly benediction.
Or make your own schedule.
Some creative couples make a gift of personalized coupons, each of which is good for something whether tangible or intangible, that they can give to each other.
Foot rubs and back massages, for example, are things that can be looked forward to when the driver gets home.
We're sure you can come up with your own list of frugal ideas for coupons to give on Valentines Day.
---
Return from Frugal Valentines Day Ideas for Truckers and Their Families to our Home Support Team page or our Truck Drivers Money Saving Tips home page.
---
Reference
1. 1 Peter 3:7