This page was first written in the days when professional truck drivers relied on telephone services and telephones at truck stops.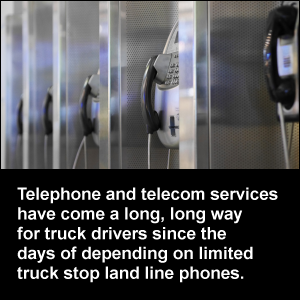 A lot of technology has come into existence since then, including:
the proliferation of cell phones, mobile phones, tablets, phablets, and the like;
the increase in wireless technology (including WiFi); and
the explosion of applications ("apps") for use by truckers and non-truckers alike.

Many a trucker relies upon telecommunications — in voice, data and text formats — as a lifeline for both business and personal use.
These services vary greatly in quality and availability.
Which work best and which are the best bargain?
You will have to determine that for yourself — and the tips on this page may help.
Land Line Phone vs. Mobile Phone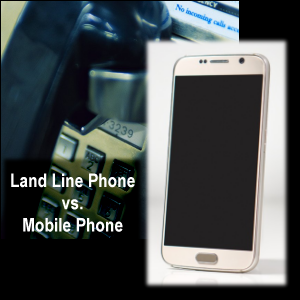 Since more and more truckers have their own individual cell phones or mobile phones, the days of relying upon land line phones are dwindling.
In fact, it is almost expected in some trucking situations that one will have a mobile phone.
There may be some shippers and receivers who prefer to use the CB radio to communicate with truckers.
However, we know from personal experience that it is wearisome to a trucker who is waiting for freight be loaded or unloaded from a trailer to have to listen to every announcement being made on a CB channel — for hours — in order to hear that one announcement about his/her specific load.
Hence, giving the shipper or receiver one's cell phone number and requesting a call when the time is right allows the trucker to rest or sleep until the load is done.
Prepaid Phone Service: TracFone, etc.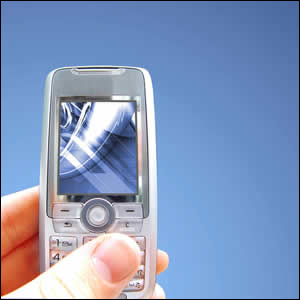 We describe on our Tracfone page how we had their service for a while.
Although the service worked well, there were a number of drawbacks.
Among them was that the particular service at that particular time allowed only "dumb phone" voice usage.
We did not have the option of sending texts or using apps.
There were other features or benefits that we enjoyed for a time.
And it was our first foray into using a mobile phone — between being dependent on land line service and an actual Smartphone.
Cell phone service for which one prepays — or pays as one goes — means that:
– one will never run into a debt situation by "buying more than one can afford";
– but also means that one can be "cut off from the world" until one recharges the minutes or service on or for such a device.
Contract Mobile Phone or Cell Phone Service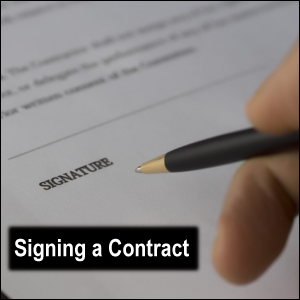 Vicki put off signing up for contracted mobile phone or cell phone service because she didn't want to presume upon the future.
She wanted the freedom of a phone service without a contract.
However, when she realized how much money we were spending on pre-paid service — and how much we were being hampered by not having the options to text and use applications — she eventually decided to go for it.
It has been the case more than once for us that we have entered into a contract that has expired and we just continued paying for the service that we had on a month-to-month basis.
In fact, unless we actually buy new equipment, we have not usually needed to enter into a new contract.
Some people consider that entering into a contractual agreement:
protects them from being stranded without a way to communicate; and/or
is part of doing business and is to be expected.
Smartphone (Talk, Text, Data)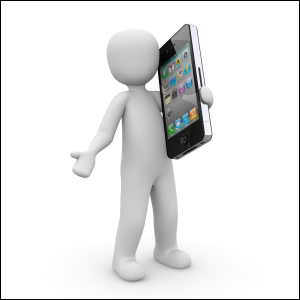 Many telephone services today provide a trio of equally important functions:
– talk,
– text, and
– data.
Those 3 functions are separate and yet provide multiple ways for people to communicate with others or for others to communicate with them.
Wireless telecommunications providers may advertise "unlimited talk and text" and yet have a cap on the amount of data that can be sent or received.
As we describe on our Verizon Wireless Mobile Broadband page, "When we began our Verizon Wireless Mobile Broadband service in the summer of 2009, we signed up for the highest data level they had at the time which was 5 GB (gigabytes) of data transfer (sending and receiving)."
The same kind of data transfer also applies to Smartphones.
Apps or Applications for Smartphones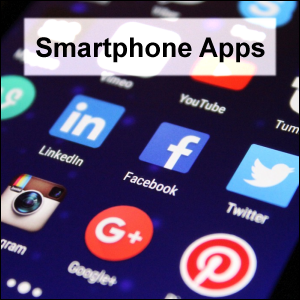 When we had only "dumb phone" mobile phone capability, we were unable to access or utilize the many "apps" or applications that are available on a Smartphone.
We had read about applications — particularly trucker apps — that were available.
We had even seen others whip out their Smartphones and start flipping through screens and apps to show us amazing things.
But when we actually got our first Smartphones and started using the apps, oh my!
The world opened up to us.
Furthermore, we realized that some apps allowed us to save money right from the beginning.
We would never have to pay for a cable subscription to find weather maps or forecasts, because we could pull up a weather app and see exactly what we needed to see within seconds — and customized for a particular location.
Tethering and Mobile Hotspot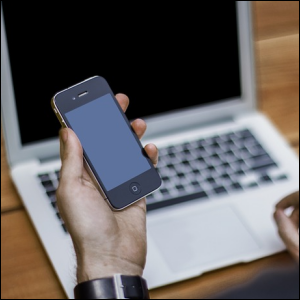 According to LifeWire.com:
"Tethering" is the use of your cell phone (or another mobile device that's connected to the internet) as a modem for another device, usually a laptop or a Wi-Fi-only tablet. This gives you internet access on the go, wherever you are.
One has to have a device that is capable of setting up a mobile hotspot in order for another device to tether to it.
When Vicki was working in a technical capacity with a local online news magazine in 2016 and 2017, she would often attend meetings of the Board of Directors and take both her Smartphone and laptop computer.
In order to show things that she'd been working on, she would set up a mobile hotspot on her Smartphone and then tether her laptop to it in order to obtain access to the Internet.
Not every Smartphone plan has mobile hotspot capability. Check with your service provider to be sure.
Mobile Broadband
A mobile broadband connection is not the same as setting up a mobile hotspot.
In order to get a mobile broadband connection, one needs a separate modem that one plugs into one's laptop computer (or perhaps other mobile device).
When we were on the road full-time — and before we had Smartphones — we used a mobile broadband modem to access the Internet.
Connectivity to the Internet varies based upon what signal strength one has.
Plans vary, so if you need more information, ask the provider of the service you are considering.
Android / iPhone
Statistics are continually updated, but as of the 3rd quarter of 2018, Statista reported:
Android users were able to choose between 2.1 million apps. Apple's App Store remained the second-largest app store with almost 2 million available apps.
One of the reasons why there are so many more Android apps than iPhone apps is because the Google Play Store allows developers to list apps for free while the iTunes Store requires the payment of an annual fee.
Another reason is because one must have an Apple-capable computer in order to create an "i" app.
Reception
You may remember the old "Can You Hear Me Now?" commercials that Verizon Wireless used to use.
Well, there are an increasingly smaller number of places where their mobile phone connectivity is definitely not available. (See their Coverage Locator Map.)
In fact reception may be influenced by other things, such as the presence (or lack) of a nearby cell phone tower or a signal booster.
Overage / Roaming
Depending upon your telecommunications plan and your telephone services plan, you may run into situations where you:
either exceed the limits of your plan (called "overage");
or get into places outside your local network (called "roaming").
Both of these situations can be very costly.
Certain applications — like watching videos — consume much more data than other applications.
So, you may want to monitor your usage.
Emergencies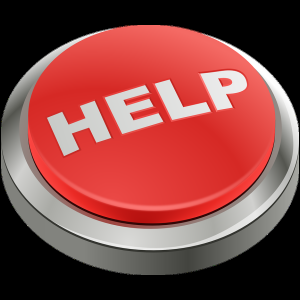 Before this page was revised, we addressed the event that led up to our first telephone service on the road.
A driver was weaving all over the road and we were concerned that he/she was going to be involved in or cause a very serious accident.
We could not rouse law enforcement on our CB radio and had to pull into a rest area to use a pay telephone there.
There are other emergencies that come up from time to time for a professional truck driver.
To protect yourself, you may wish to put
an ICE (In Case of Emergency) phone number in your Contacts; and/or
an ICE type app on your phone.
We also make Medical Emergency forms (one for you and one for your home support team) available through our Free Downloads page.
Headsets and Charging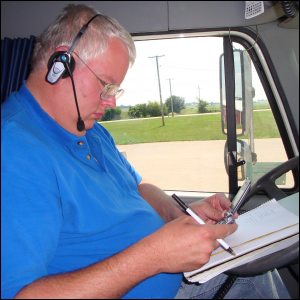 Separately, we address texting and cell phone use while driving.
You will need to make sure that you reduce the risk of distracted driving while you are operating any vehicle, especially a big truck.
We personally prefer to use a headset that features:
– noise cancelling, and
– one click to answer and end calls.
Some technology requires periodic recharging, including cell phones and headsets.
Consider the amount of power that can be delivered through a DC-to-AC inverter.
Additional Resources Regarding Telephone Services
Some of these resources have been provided by others.
---

Money saving tip: No matter what kind of telephone services or telephones you are considering getting that allow you to make calls away from home, check on such things as:
activation fees,
contract period,
cancellation fees,
service period vs. airtime,
coverage area,
roaming charges,
plan's number of minutes per month,
cost of additional minutes,
cost of additional telephones and lines (such as for family members),
cost of additional services (such as sending text messages),
billing increments (for example: 6 seconds vs. 1 minute),
required accessories (headset, charger, belt clips, etc.),
number of "anytime" minutes,
number of night and weekend minutes, and
all other fees, including a fee for using a pay phone.
---
---
Return from Telephone Services and Telecommunications for Truck Drivers to our Truck Drivers Money Saving Tips home page.
---