When professional truck drivers want to save money, having truck stop reviews to guide them to the best places to get fuel, get food and get clean can be very helpful.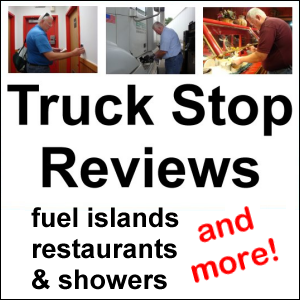 We began doing reviews of truck stop fuel islands, restaurants and showers when Mike drove regionally and Vicki rode with him full time.
Over a period of time, we developed forms to help us be more uniform about how we reported our findings.
Then, we opened up the opportunity for professional truck drivers to supply reviews of their own.
Here is a list, by state, city and truck stop chain/name of the fuel island, restaurant and shower reviews that we have either done or received to date:
Truck Stop Reviews: A – F
City
Fuel Island Review
Restaurant Review
Shower Review
Alabama: Lincoln
 Pilot
Alabama: Montgomery
TA
TA
Alabama: Priceville
Pilot
Pilot
Alaska
Arizona
Arkansas
California: Castaic
Castaic Truck Stop
Colorado
Connecticut: Milford
Pilot
Pilot
Pilot (2)
Connecticut: Willington
TA
Delaware
Florida: Auburndale
Love's
Florida: Jacksonville
TA
Florida: Ocala
Petro
Pilot
Florida: Ormond Beach
Love's
Florida: St. Augustine
Flying J
Florida: Wildwood
Pilot
Truck Stop Reviews: G – H
Truck Stop Reviews: I – N
City
Fuel Island Review
Restaurant Review
Shower Review
Idaho
Illinois
Indiana: Fremont
Petro 2
Indiana: Hebron
Pilot
Pilot;
Pilot (2)
Iowa
Kansas
Kentucky: Glendale
Petro
Kentucky: Shepherdsville
Love's
Louisiana
Maine
Maryland: Hagerstown
Pilot
Maryland: Perryville
Pilot
Massachusetts
Michigan: Battle Creek
Pilot
Minnesota
Mississippi
Missouri
Montana
Nebraska
Nevada: Mill City
TA
New Hampshire: Greenland
TA
TA; TA (2)
New Jersey: Bordentown
Petro
New Jersey: Carney's Point
Pilot
New Jersey: Paulsboro
TA
New Mexico
New York
North Carolina: Dunn
Pilot
Pilot
North Carolina: Kannapolis
Pilot
North Carolina: Kenly
Flying J
Petro
Flying J
North Carolina: Mebane
Petro
Petro;
Pilot
North Carolina: Wake Forest
WilcoHess
North Carolina: Waynesville
Pilot
North Dakota
Truck Stop Reviews: O – S
Truck Stop Reviews: T – W
| City | Fuel Island Review | Restaurant Review | Shower Review |
| --- | --- | --- | --- |
| Tennessee: Charleston | | | Love's |
| Tennessee: Crossville | | | Pilot |
| Tennessee: Dickson | Pilot | | |
| Tennessee: Greeneville | Pilot | | TA |
| Tennessee: Holladay | | North 40 | |
| Tennessee: Knoxville | Pilot | | Pilot |
| Tennessee: Nashville | Love's | | |
| Tennessee: Pioneer | Pilot | | |
| Texas | | | |
| Vermont | | | |
| Virginia: Fort Chiswell | | | Flying J |
| Virginia: Glade Spring | | Petro | |
| Virginia: Max Meadows | | | Love's |
| Virginia: Providence Forge / Tallysville | Pilot | | |
| Virginia: Ruther Glen | | Travel Plaza | |
| Virginia: Staunton | Pilot | | Pilot |
| Virginia: Toms Brook | Love's | | |
| Washington | | | |
| West Virginia: Wheeling | | TA | |
| Wisconsin | | | |
| Wyoming | | | |
If you are a professional truck driver, we invite you to write truck stop reviews on
you have used.
Reviews must be written and submitted in an extremely timely manner.
Additional Truck Stop Reviews
---

Money saving tip: Just as reading reviews of books can help book lovers determine if they want to buy them or reading reviews of movies can help movie-goers determine if they want to watch them, so truck stop reviews can help professional truck drivers if they want to stop and use the services.
Furthermore, if one finds a good value with necessary services, one is likely to find good value elsewhere on the premises.
When truck stop owners or managers receive feedback about what works and what doesn't work, they have the opportunity to enhance what works and fix what doesn't.
By submitting a truck stop review, you help many professional drivers benefit.
---
Return from Truck Stop Reviews: Fuel Islands, Restaurants and Showers to our Truck Stop page or our Truck Drivers Money Saving Tips home page.
---