In some larger truck stops, you may see various entertainment options like VuQube, a truck-mounted satellite antenna system.
The name is obviously a different spelling of the words "ViewCube" – which is an indication of what the product provides.
The photo here shows a display at a truck stop for this system.
You can see at a glance the size of the unit mounted on top of the display.
Let's take a closer look…
It is not possible to tell from this photo of the dome on top of a truck mounting bracket which model of VuQube this is.
At one time, the manufacturer's website showed 3 models specifically mentioned as being for trucks: V10, V20 and V30.(1)
There was also quite a difference in the price.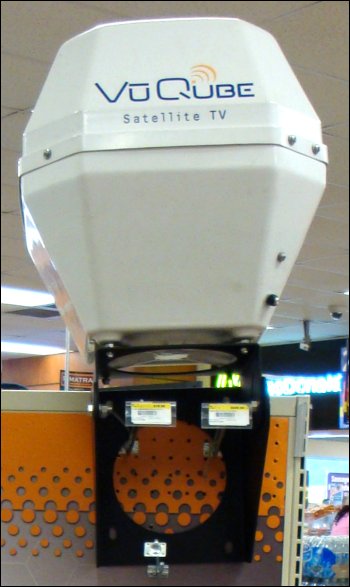 The photo shown here is a close-up of the display providing details about the "Mobile Satellite TV Antenna System."
This product is advertised as: going from "Drive Time to Show Time in No Time"; having easy installation; and a mounting system that "fits most trucks."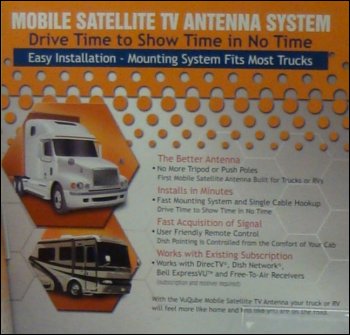 The sign gives details under these bullet points:
The Better Antenna
Installs in Minutes
Fast Acquisition of Signal
Works with Existing Subscription.
The following is a link from Amazon.com, with whom we have an affiliate relationship.
Description from Amazon.com:
In-motion truck-mount satellite antenna with auto-signal-find.
---
If you are a professional truck driver and you have used a VuQube truck-mountable satellite antenna system — apart from the satellite TV service you use — in your truck within the last 6 months, we invite you to review it on this page through the form below, answering questions such as these:
How easy was the installation? Was it really a one-person set-up?
Which network(s) or channel(s) did you want to view and were you able to view them clearly?
Did you buy your product in a truck stop or somewhere else?
How would you rate the quality of the product?
Was the product worth the price you paid for it?
How did the product save you time or money or both?
Would you buy the product again and why?
---
---
Return from Reviews of VuQube Truck-Mounted Entertainment Option by Truckers to our Product Reviews page or our Truck Drivers Money Saving Tips home page.
---
Reference
1. www.kingcontrols.com/vu_qube/vuqube.asp (no longer online)