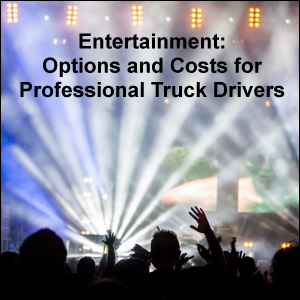 The information on this page is our entertainment sampling for professional truck drivers — that is, options available on the road and in truck stops.
We know we're not covering them all.
Our purpose for listing them in generalities is to alert you of the potential costs involved and perhaps some money saving options.
Depending on the nature of the product, service or activity you choose, you need to know that what can appear as harmless temporary amusement or pleasure can result in a lifetime of suffering and financial loss.
Since we want to spare you pain, please think of this information as our desire to help protect you, your family and your finances.
---
Entertainment Option 1: Books and Audio Books


Notice that these audiobooks are rentable.
You can pick them up at one location and return them elsewhere, which saves the hassle of having to get back to where you rented them from (as is the case with a local library).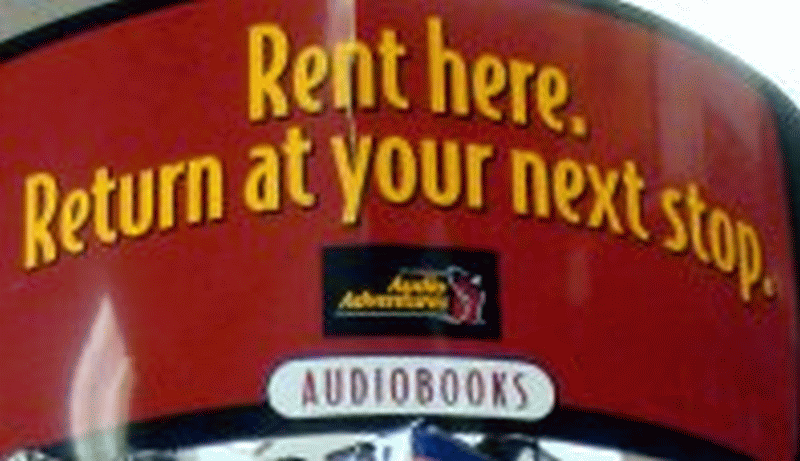 The photos here are from a display of audiobooks at a truck stop.
This situation is very convenient for professional truck drivers — especially those who drive for irregular route carriers — who may rarely or never again get through the place where an audio book may be rented.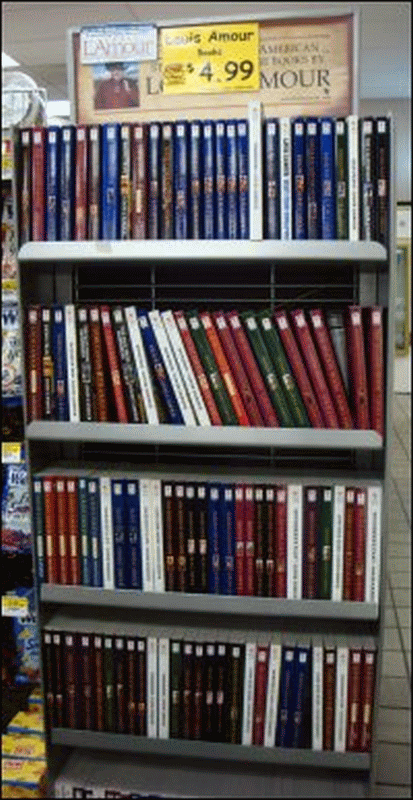 A search for free audiobooks will render you with many options but beware of sites that first charge a membership fee, even if it is "just" for new books.
Online options may allow you to download .mp3 files.
Just make sure you understand all of the charges for doing so.
You don't want to think you're getting something for nothing when you're not.
A clue is if the site requires payment information of any kind (such as requiring a credit card number).
Also, if you're downloading files over the Internet, make sure you don't exceed your data limitation — or if you do, that the "overage charge" is reasonable.
One option for downloading files "for free" (without using your data plan) is to use a free WiFi connection.
Take necessary precautions when you do to protect your computer system from hackers.
The audiobooks entertainment option is especially appealing to those who would like to spend their times productively while driving. (Just don't let it become a distraction.)
Some drivers might say that by occupying themselves productively while driving makes the time "go by faster."
When it comes to books (hard cover and paperback books), one of the least expensive options is to check them out at or through a local library.
It can be difficult for professional drivers to get by a local library regularly (especially during their open hours), so that's where having a home support team can come in handy.
Just make sure you get in before the books are "due" again.
Some books are available in truck stops.
You can also buy books (new or used) online.
When you're done reading books you've purchased and you know you won't read them again, you can sell them through places like eBay.com or Amazon.com.
---
Entertainment Option 2: Music and Movies
Mike is a big music buff, but he likes music only within certain genres or styles.
Most of his "listening library" is not even available at truck stops. So he acquires music CDs at other places.
There are numerous ways to listen to music.
The most popular for drivers to listen to it as they travel down the road is through a dash-mounted CD player.
Some older model trucks do not have CD players, but the old style cassette players.
And some trucks driven by those with local truck driving jobs are lucky to have an AM/FM radio in their trucks.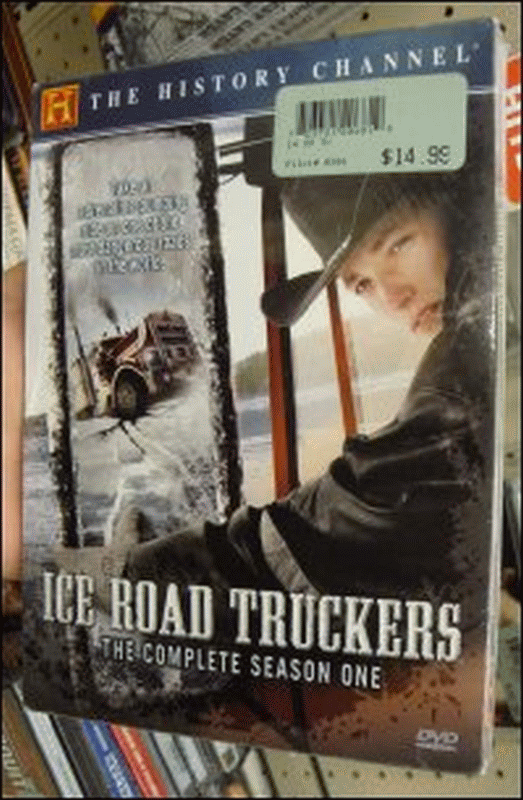 After you've stopped driving, you may like to watch a movie.
Some truck stops have lounges where you can see whatever happens to be playing.
It can be frustrating to break into the middle of a movie or have to leave in the middle of one.
So, one option that drivers have is to buy their own movies on DVD.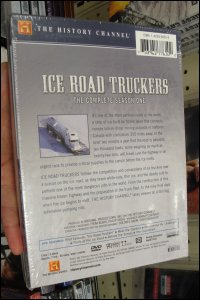 Sure, you can buy some movies at truck stops…but compare the price of Ice Road Truckers, Season One, available at a truck stop (price $14.99 as of the time this photo was taken).
Or you can buy various seasons through Amazon.com, with whom we have an affiliate relationship.
Ice Road Truckers: Season 6 [DVD]
Ice Road Truckers: Season 7 [DVD]
Ice Road Truckers: TV Series Complete Seasons 1-7 + On And Off The Ice Special
Ice Road Truckers – Season 9 [DVD] (Region 4. Non US format Import)
Ice Road Truckers: Season 11 | Region 4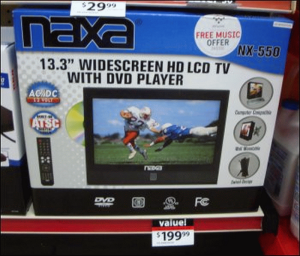 Some products available through truck stops are there for those who like to make impulse purchases.
If you are the type of person who makes impulse purchases, consider how much this type of purchase costs you.
If you take movies with you for entertainment on the road, you will need a way to view them.
Pictured here is a widescreen DVD player. At the time the photo was taken, it was being sold for $199.99 at a truck stop.
Now perhaps we're not up with the times, but we'd never heard of this brand before seeing this product.
Let the buyer beware. Read the labels. See if there is any other function that this product serves.
These days, many laptop computers come equipped with software that allows users to view full-length movies.
So buying another product to view DVDs may not even be necessary.
Besides buying DVDs, options for obtaining them (besides a local library) include renting them through services like RedBox or Movie Gallery.
There are also downloadable movies through services like NetFlix.
Beware of membership fees, download fees, late fees and the like.
---
Entertainment Option 3: Satellite Dishes
For die-hard cable or movie buffs, there are satellite dishes.
Shown here are photos of a truck with a satellite dish mounted on a PVC pipe.
Notice in the close-up photo how the set-up is attached to the truck.
We wonder:
how long set-up and tear-down takes;
if reception is good everywhere;
if programs are available only at the time they are broadcast or whether there are "on demand" options; and
how much the service costs.
---
Entertainment Option 4: In-Cab Options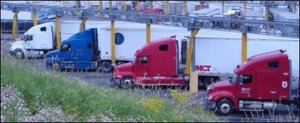 While we cover this on our IdleAir page, the in-cab services provided vary.
See trucks parked in IdleAir-equipped spaces at a truck stop pictured here.
Back before they changed their name, we took a photo of a banner that listed their services.
Notice under "Additional Services" the listing of "Hit Movies On Demand – New Releases & More!"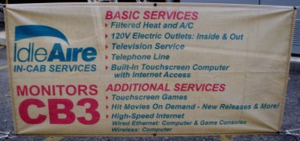 In order to access their movies, by necessity, you would need to purchase their basic service (paid for by the hour) first.
Perhaps we overlooked it on IdleAir.com, but we could not find a list of movies currently available or how much extra (if there is an extra charge) they cost.
Pay per view can be an expensive entertainment option.
---
Entertainment Option 5: Satellite TV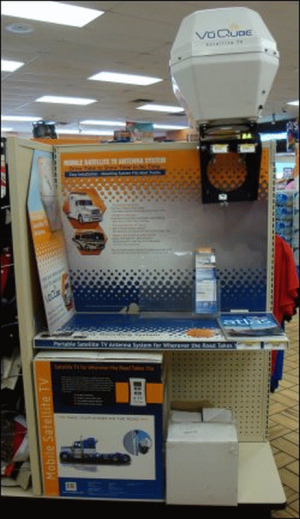 Another option is to mount a rather permanent entertainment receiving device on your truck.
We have found displays for VuQube in several larger truck stops.
This device is specifically for "Satellite TV."
We do not know the quality of this product or the quality of the service it provides, nor do we know what the limitation of service is.
One question we have is about programming.
Can a person watch regular TV, just over satellite, with one — or are movies available, too?
We can imagine that since the installation might be rather permanent, owner-operators would be most likely to obtain one.
It is obvious that the "cube" is pretty good sized, much larger than a QualComm dish.
Assuming that the device is mounted directly behind the cab, we wonder how much distance the cube needs between the cab to keep from it being crunched when a turn is made.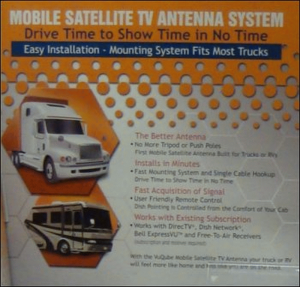 In this close-up of part of the display, you can see that this product is marketed to not only to truckers but also to RVers.
Please note that the advertisement says that the "Mounting System Fits Most Trucks" but that it doesn't go into any detail.
If you are interested in having this kind of device on your truck, you will first need to determine if it will fit on your truck.
---
Entertainment Option 6: Satellite Radio Connections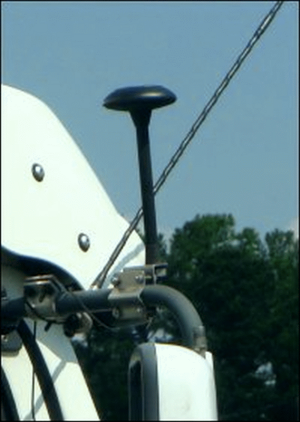 The photo at left shows a satellite radio antenna mounted on the passenger side truck mirror frame. Aside from the cost of the hardware is the cost of the service.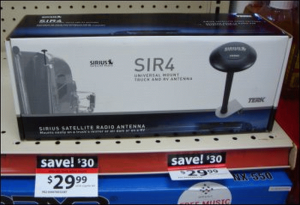 According to Wikipedia, Sirius Satellite Radio merged with XM Satellite Radio to become Sirius XM.
However, from the photos here, it appears as though there is still a bit of separation in the receiving ability of the antennas.
We have never seen two different satellite radio antennas on a truck.
We hazard a calculated guess that satellite radio antennas are fairly standard, no matter where they are sold.
Just make sure that the antenna you buy is able to pick up the streams or channels you want to listen to.
Then, shop around to get the best deal. They can be purchased in some truck stops.
You can find satellite radio antennas on sale at some truck stops.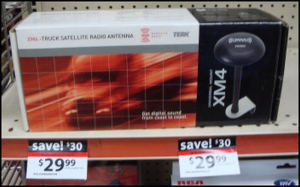 If you can, take advantage of discounts, promotional offers, gift cards and the like to reduce the cost of both your hardware and service.
We would like to know if any professional truck drivers have had success in using "used" satellite radio hardware.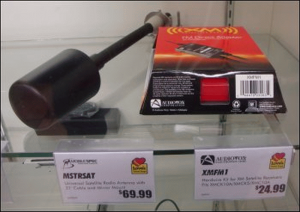 ---
Entertainment Option 7: Claw Crane Games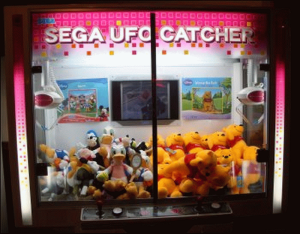 These photos at left show various "claw crane" games at truck stops.
According to Wikipedia,
"The success rate [of] winning a prize is dependent on several factors, including operator settings, player skill, depth perception, type of machine, and prizes available (size, density, and distribution). A prize may be lost due to player inexperience, player error in manipulating the claw, or the specific crane configuration. Many modern cranes use a computer to determine a payout percentage based on the operators settings, in the manner that the claw would have a strong grasp on objects only on a certain percentage of attempts. All modern claw machines incorporate some means for the owner to adjust at least the strength of the claw's grip and how closely the claw's fingers pull together…"

"The ability of the crane machine owner to set features such as a payout percentage raises the question of whether these machines should be considered gambling devices in a legal sense, alongside slot machines. In the United States, claw vending machines are typically specifically exempted from statutes which regulate gambling devices, contingent upon compliance with certain rules."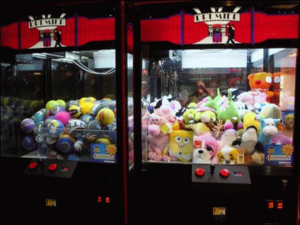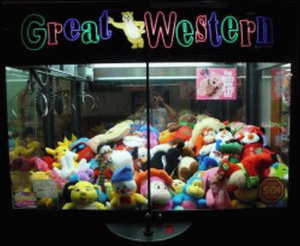 ---
Entertainment Option 8: Video and Arcade Games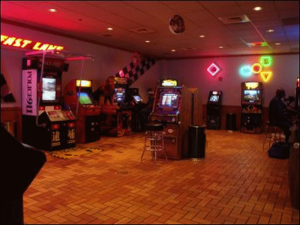 This photo was taken at a truck stop.
You can see lots of video and arcade-style games in the room.
There are also other types of games shown that we'll address below.
This photo, taken at a different truck stop, shows mostly what we call "skill" arcade games.
Sometimes on games like this, you have to put in multiple quarters to buy a limited amount of time to accomplish the goal of the game.
You may be interested to know that some users might find themselves in a psychological battle of wits with a skill game or machine like this.
They may think "just one more" round of quarters to get the target, raise the score, achieve the next "level" of play, etc.
A few quarters turns into more and more and more unless you have a pre-determined cut-off point.
We'll address this below, too.
---
Entertainment Option 9: Gambling with Coin Pushers and Match 3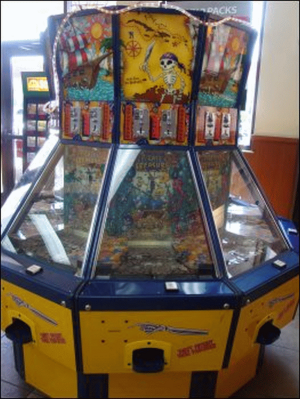 This is an example of a coin pusher or quarter pusher gambling machine at a truck stop.
Notice how many quarters are already on the machine.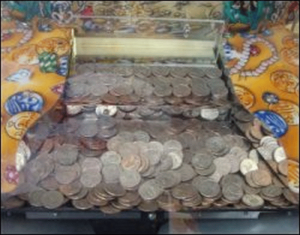 Notice, too, in the close-up that the closer to the edge the coins get, the wider the ledge gets (lessening your chances of a payout).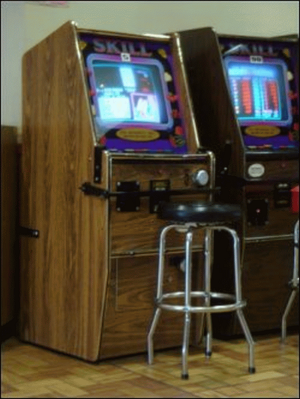 Some video games challenge folks to match three numbers.
In fact, there are lots of Match 3 type games available for free online.
One of the differences with these is that sometimes a scantily clad female image will entice male customers to play.
For those who get "sucked" into playing, this is not a trivial matter.
These can be considered gambling games.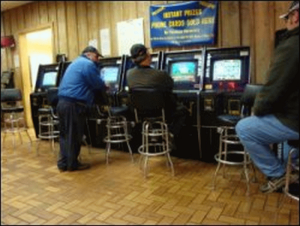 Various states have a Division of Gaming that reports the industry statistics for payouts of various types of machines by location. One of them is in Colorado.
Why would you automatically want to lose a certain percentage of what you put into a machine?
Disclaimer: Several times in the mid-1990s, we parked at a truck stop in Sparks, NV, and walked down the street to a rather popular gambling establishment that was known for its cheap all-you-can-eat steak dinners. We weren't at all interested in gambling. But we did find a gaming room upstairs (which we imagine was for the children of the adult gamblers).

Once while visiting Sparks, we determined that after dinner, we were going to entertain ourselves with a roll of quarters ($10) each. Vicki spent her entire roll playing Tetris (a game she still likes to this day) and Mike spent his by playing just about everything else in the room. When the quarters were gone, that was it. We were done and left.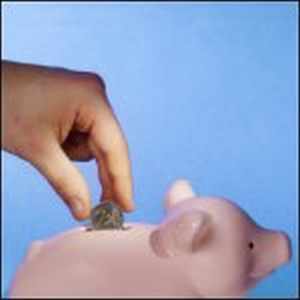 We suggest that if you like the aspect of putting your money through a slot that you do so through the opening of a piggy bank or coin counting bank.
Keep adding quarters until it is filled up or invest it.
There are different styles of banks, some of which do elaborate contortions to let you see your quarter "get deposited."
Some years back, Vicki bought a digital coin counting money jar (or coin bank) like the one shown at right to encourage our family to keep track of even the "small stuff."
Obviously, we don't have to add just quarters to this bank.
Once properly equipped with a battery and coins are added per the instructions, you may be amazed at how quickly your "spare change" adds up.
The counter can be reset after the jar fills up. You may even decide to use just the money you've collected in this jar for entertainment.
---
Entertainment Option 10: Lottery Tickets
When it comes to gambling, one method that seems at first to be so innocent is buying lottery tickets.
Some people justify buying lottery tickets based on the fact that in some states, part of the proceeds go to fund education, such as in our home state of South Carolina.
However, we have never known of a person who bought such a ticket who was not hoping to win something in return.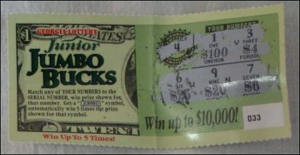 Let's take a look at three discarded lottery tickets we found to learn about the "lures" to get people to buy one.
One ticket boldly proclaims "Junior Jumbo Bucks." (As long as one is winning, who doesn't want to win "jumbo bucks"?)
Little red print at the bottom says, "Win Up To 5 Times!" (As long as one is winning, who doesn't want multiple chances to win?)
The bigger black italicized print, "Win up to $10,000!" (Wow, a cool $10,000? See how the thought of "free money" can snare you?)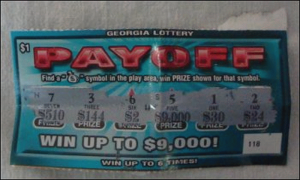 The lures on this lottery ticket are:
Huge red letters proclaiming "PAYOFF" on an "expanding" background.
"WIN UP TO $9,000!"
"WIN UP TO 6 TIMES!"
Remember that "Junior Jumbo Bucks" above?
Well this one is
the "GIANT Jumbo Bucks"
with "PRIZES UP TO $75,000" and
an opportunity to "Win Up to 16 Times!"
These are all lures. Be on your guard against them.
Here are some other things to be aware of:
On the South Carolina Education Lottery's website was an image of a ticket that states, "TICKETS MAY CONTINUE TO BE SOLD AFTER ALL TOP PRIZES HAVE BEEN CLAIMED."
This information is on the page revealing the "odds" of winning. Take a good hard look at this information.
The Kentucky Lottery's website urges players to "play responsibly" by saying,


"The Kentucky Lottery encourages all of its players to be responsible in their amount of play. Never spend more than you can afford on any of the Kentucky Lottery's products. Remember, it's just a game."
One article provides a sneak peek of "10 People Who Won the Lottery–Then Lost it All." So, playing the lottery is not as innocent as it seems.
If you find you have a problem with gambling, you may wish to turn to Gamblers Anonymous.
---
Entertainment Option 11: "Adult" Entertainment Outside a Truck
This category can include topless bars, adult bookstores and "Gentlemen's Clubs."
Some adult entertainment spots even advertise truck parking.
Owners and employees of these establishments realize that when truckers are on the road — alone — they may crave something.
But is what they provide the "best" that you can have?
You need to be aware that as a whole, these types of establishments do not appeal to virtue, family values, clean consciences or disease-free living.
Disclaimer: We personally took the photographs in this section. We're not picking on the establishments — for there are plenty like them — but the establishments or advertisements are easily seen from major trucking routes in the USA.
This double billboard advertises an "adult superstore" and "gentleman's club" along the West Virginia turnpike.
Our only exposure to this kind of entertainment was second-hand.
When we were in truck driver training school, we received an "allowance" of $50 per person per week to buy necessities.
We spent ours on food.
However, some of our classmates (fellow student drivers) chose to spend their money on this kind of entertainment.
Needless to say, when the money ran out before the end of the week, they were in a world of hurt.
One of our classmates visited such an establishment and we didn't find out until later that he was married!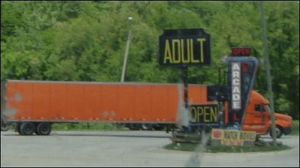 This establishment advertised with the signs shown is right off a heavily traveled two-lane road (truck route) in West Virginia.
Now we're not about to say that every trucker who pulls into the lot goes inside the establishment, but it sure looks suspect.
One problem for some men is that viewing a little "skin" can switch a mental trigger to where they want more and more of it.
Pornography would not be the multi-billion dollar industry that it is if this were not the case.
But bear in mind where it can lead.
---
Entertainment Option 12: "Adult" Entertainment Inside a Truck
This category focuses on truck stop prostitutes or "lot lizards" and pornography.
A 2002 article from the Indian Journal of Dermatology, Venereology and Leprology entitled "Truck drivers-at increased risk of HIV infection amongst STD clinic attendees" cited statistics of truck drivers in Uganda, East Africa and Thailand.
We have been unable to find statistics for North American truck drivers.
Think of the cost — financial and otherwise — of contracting and treating a sexually transmitted disease (STD).
Unfortunately, many outlets seem content to focus on STD infections among youth only, not adults.
We refer you to The Medical Institute (aka "Medical Institute for Sexual Health") for more information.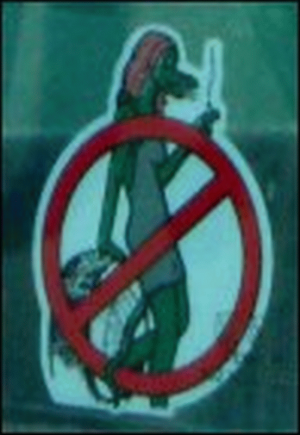 The image here is a "No Lot Lizard" cling applied on the driver side window of a commercial motor vehicle.
We urge you to shun all sexual activity outside of marriage.
Many studies have been conducted that point to the physical and emotional benefits of being completely abstinent prior to marriage and completely faithful in marriage.
Part of being faithful is not just in physical relationships but also emotional ones.
To help rekindle a romance with your non-trucking spouse, you may want to read through the helps on our Valentine's Day page.
Is it OK to stay away from extramarital sex as long as it is "just virtual"?
You need to be aware that pornography can have devastating consequences — in more ways than one. As we state on this page:
You may recall the case of a truck driver who violated the federal hours of service regulations, was tired and watching streaming pornography on his laptop when he hit a woman on the New York Thruway.

She consequently died as a result of her injuries.
If you struggle with this entertainment option, we refer you to these three articles from Focus on the Family:
---
We hope that you will choose good and wholesome entertainment choices.
As a further encouragement for your entertainment options, we present these verses from the Bible:
"He who tills his land will have plenty of bread, But he who pursues worthless things lacks sense."
— Proverbs 12:11

"Flee immorality. Every other sin that a man commits is outside the body, but the immoral man sins against his own body."
— 1 Corinthians 6:18

"For the eyes of the LORD move to and fro throughout the earth that He may strongly support those whose heart is completely His."
—2 Chronicles 16:9a
---

Money saving tip: Consider carefully all of your entertainment options, not only the direct costs but also the indirect costs.
What effect will your choices of today have on you tomorrow, next week, next month, next year, ten years from now, and the rest of your life?
Once a door is opened, it may not be able to be closed completely again.
Consider the dangers of heading down a path toward a "point of no return."
We don't know of anyone who woke up one day and decided to become a gambler, an addict or adulterer.
Some addictions can impact your spouse dramatically.
Sometimes a habit that you may think is private becomes very public.
Think of the impact this can have on your reputation and your family.
If you struggle with Internet pornography, consider getting a filter put on your computer to stay away from this temptation.
If necessary, find someone of your own gender who will serve as your accountability partner. Stay in touch to stay out of trouble.
Don't let entertainment take over your life or ruin your budget.
If you set up a budget, remember what dollar amount you allotted to it during your budget planning.
Set money saving goals and stay on task.
Instead of using a fancy bank or coin counting jar, you can use a canning jar as the collection point for your spare change.
"Seeing" your savings can help motivate you to save more.
---
Return from Entertainment: Options and Costs for Professional Truck Drivers to our Budgeting page or our Truck Drivers Money Saving Tips home page.
---