Do you like waffles? They are a favorite breakfast of ours.
But we don't have to go to a restaurant to enjoy this entree.
Instead, we can enjoy more of them, "hot off the press," made more quickly, and save lots of money in the process.
This is not some frozen variety plopped down into a toaster (although that is certainly one option you could consider if you have both the appliance and power source at your disposal).
We'll show you the ingredients, equipment and cost savings of one preparation we made.
Different Kinds of Waffles
There are numerous waffle recipes online.
In constructing this page, Vicki researched the difference between regular and Belgian waffles.
There is more to making the latter than just using an iron with deeper or larger holes: the dough contains yeast.(1)
For the purposes of this page, we are going to consider only the non-yeast variety and prepare our breakfast from ingredients that we would normally have on hand at home, either in a pantry or refrigerator.
Baking Mixes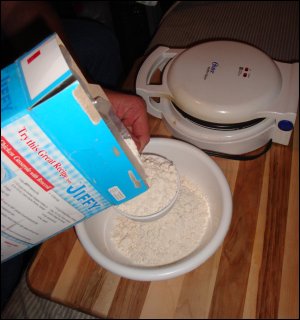 The primary ingredient that we use is a baking mix that is suitable for making many different kinds of baked products, including waffles, pancakes, biscuits, cinnamon rolls, short cakes, etc.
We have used a variety of baking mixes in preparing the entree we're focusing on here and they all act about the same.
In this photo, we used Jiffy Mix's baking mix.
Depending on the brand of baking mix used, the amounts of some ingredients may vary slightly (like one mix requires 1-1/4 cups of milk whereas another may require 1-1/3 cups in the size preparation using two cups of mix).
Mike has stated that he prefers the "appearance" of the waffles made with the Food Lion store brand baking mix over those made with Jiffy Mix.
Of course, the "appearance" is very short-lived as we don't keep them around to admire them, but to eat them!
The truly frugal members of truckers' home support teams may want to make their own baking mixes at home. (Google "baking mix recipe" for examples.)
Preparing the batter is as simple as following the recipe on the side of the box.
However, we adjust the recipe for our taste.
Preparing the Waffle Batter
In this photo, you will see that Mike is measuring milk into the bowl in which the batter will be mixed.
He has poured it from a 1-quart mason canning jar.
Although some people greatly dislike the taste of it, we prepare all of the milk we use for eating cold cereal and cooking — in the truck — from dry skim milk.
We store it in the canning jar because it is convenient for us to pack it in the ice chest.
By canning jar, we mean the jar itself, the lid and the band, which we have plenty of because Vicki has done a significant amount of home canning.
The Waffle Iron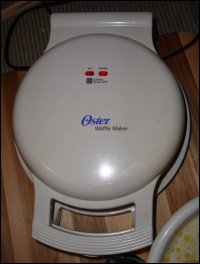 While the batter is being made, we are heating our Oster "Waffle Maker," which we have plugged into the surge protector strip that is plugged into our 1500-watt inverter, which is stored under the bottom bunk.
To keep all of our cooking appliances from scorching the surfaces upon which they heat and cook, we purchased a one-inch think wooden cutting board at Wal-Mart (the largest one they had).
The trick to baking our waffles to perfection is working with the appliance's timer light, close-up photos of which are below.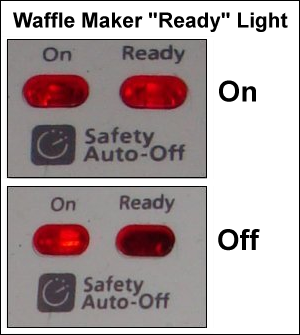 When the waffle maker is heating, the "Ready" light is lit or "on."
When the "Ready" light turns "off," the appliance is either ready to have batter added to it or the cooked waffle is ready to be removed.
Note: Different waffle irons may have different settings.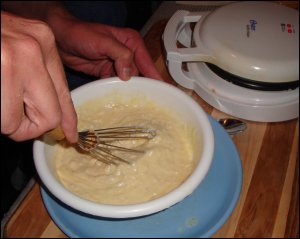 In this photo, Mike is mixing the waffle batter in a bowl with a whisk.
If he finds that it is too thick, he can add a little more milk.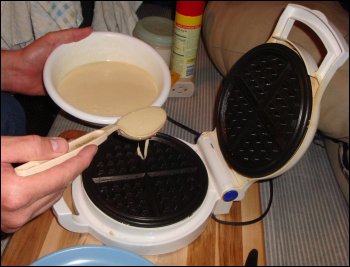 In this photo, you will see the can of non-stick spray in the background.
Note: we no longer use canola oil because we learned that it is genetically modified.
Mike sprayed both the top and bottom appliance plates so that the cooked disks wouldn't stick when the waffles were done and the appliance was opened.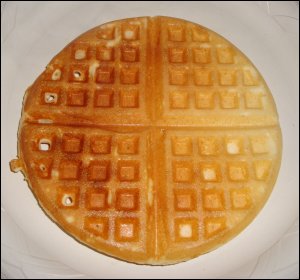 We have adjusted the amount of batter to put on the appliance and have found that the most consistent disks are made when the batter is spread evenly to all exterior edges of the appliance's bottom plate's "inner circle."
Behold, the almost perfect waffle, fresh off the appliance!
All that would have been needed to make it "perfect" was a little more batter on the bottom plate to fill in the places where we can see the plate through the disk.
This finished product is ready to receive toppings and be eaten.
Also, you may notice that the "left" side is "darker," indicating that one side of our appliance bakes hotter than the other.
Observations
When making this breakfast food with the recipe below on this appliance, we can usually get at least six full-size (7″) disks — but usually seven — from the preparation using 2 cups of baking mix.
If we have an amount of batter left that does not make a full-size waffle, we call the "less-than-appliance-load" disk a "waffle with character"!
Other Ingredients
Note: There are other ingredients that can be added to the batter, but we have not yet attempted many of those.
While we prefer butter (Vicki) or butter and syrup (Mike) as toppings, you may experiment with other toppings.
Equipment
Waffle maker;
Large cutting board;
Bowl;
Measuring cups;
Whisk;
Large spoon for dipping (a ladle can also be used); and
Plates and utensils.
Recipe for Making Waffles
(courtesy of Food Lion's store brand of baking mix)
2 cups baking mix;
1-1/3; cups milk;
1 egg;
2 Tbsp. Vegetable oil.
Note: We personally use 2 eggs for added richness and protein; much less oil; and add a little sugar (which we don't measure, but just "eyeball" in) for sweetness.
The Ingredients Cost of Making Waffles
The cost of this meal:
| | |
| --- | --- |
| Baking mix | $0.35 (estimated) |
| Milk | $0.15 (estimated) |
| Eggs | $0.33 (estimated) |
| Oil | $0.03 (estimated) |
| Sugar | $0.02 (estimated) |
| Non-stick spray | $0.02 (estimated) |
| Butter | $0.10 (estimated) |
| Syrup | $0.15 (estimated) |
| Total cost of meal | $1.15 |
| Total cost per serving | $0.575 |
If we choose to add more ingredients (like blueberries or chocolate chips) or have a piece or two of fruit, that also adds to the cost.
We have not calculated a per-waffle cost.
Please note that your per-waffle cost may vary if you use a different size appliance.
---

Money saving tip: Compare the cost of this meal (enough for two) to what you could get in any restaurant.
At a restaurant, a customer generally orders only one waffle at a time, not several.
---
Return from Piping Hot Waffles: Make Them Fresh in Your 18-Wheel Truck to our Food and Recipes page or our Truck Drivers Money Saving Tips home page.
---
Reference
1. http://answers.yahoo.com/question/index?qid=20071028112453AAQZ90n