When Vicki saw the recipe for Amish Baked Oatmeal on Lynnae McCoy's BeingFrugal.net blog(1) back in 2008, it sounded so delicious that she just had to try it — with one exception: omit the oil.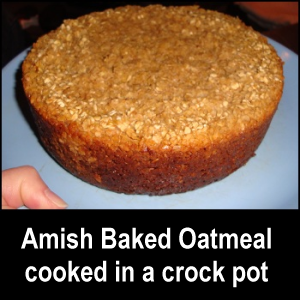 Vicki imagines that the oil makes this homemade breakfast bar somewhat crunchy.
But having made it many times without the oil, she is convinced that it gives no advantage that overcomes the additional calories and fat.
Additionally, she reduced the amount of salt, too.
Vicki's Amish Baked Oatmeal Recipe
Ingredients:

2 eggs
1 cup skim milk (from dry powder)
2 tsp. vanilla
2 tsp. baking powder
1 cup brown sugar (packed)
1 tsp. salt
3 cups quick oatmeal
non-stick spray

Directions:

Preheat oven to 350°F. Beat eggs and combine with milk and vanilla. In a separate bowl, mix together all dry ingredients. Stir in milk and egg mixture. Mix well. Spread in a greased 8″ x 8″ or 9″ x 9″ pan. Bake 30 minutes. Cut into portions of your choosing.

Equipment used:

Large bowl for dry ingredients and mixing
Small bowl for wet ingredients
1-cup measuring cup
1-teaspoon measuring spoon
Mixing spoon or spatula
Baking pan
Toaster oven
Nutritional Information
Vicki found a nifty little nutritional content generator online that takes the amounts and names of ingredients and calculates the same type of info that you find on the labels of foodstuffs.
To test her theory about the oil, Vicki generated the nutritional content of the breakfast bar with and without the oil.
Nutritional Information on Amish Baked Oatmeal, contrasting with and without oil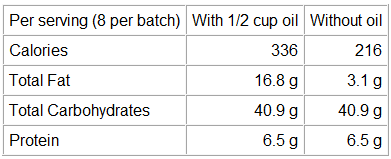 Obviously, the oil does nothing for the nutritional content except add fat calories.
Photos of the Preparation
Here are some photos that Vicki took before we became homeless, in which she made a double batch in a 13″ x 9″ baking pan in a standard full-sized oven.
Amish Baked Oatmeal ingredients separated.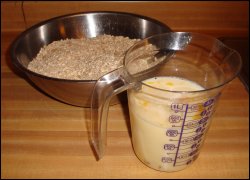 Amish Baked Oatmeal with dry and liquid ingredients each combined and mixed.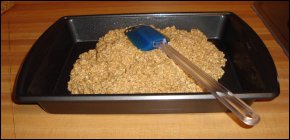 Amish Baked Oatmeal mixture being spread in a baking pan.
Is This Food Road Worthy?
We have taken our made-at-home baked oatmeal bars with us on the road.
Although we do not necessarily recommend this method of storage, we have stored them in the truck that Mike drives for his trucking company unrefrigerated in the pan in which they were baked for a number of days.
Because they have no preservatives in them like commercially prepared snack bars, if these bars are not consumed in a timely manner, they will go bad. They will also keep longer if kept cold.
If you have the ingredients and a toaster oven in your truck connected to a power supply (we use an inverter), you too can start enjoying this sweet, nutritious and delicious bar.
Or if you have a home support team to make them for you — yum!
From the Toaster Oven to the Crock Pot
Then there came the time when we wanted to "downsize" the things in the truck.
One of the first things to go was the toaster oven.
Even though we had been planning to fix Amish Baked Oatmeal in the truck by the baking method, we never quite got around to it.
But Vicki wondered: If folks have successfully used crock pots to cook other foods, why can't we cook the baked oatmeal that way, too?
So, she prepared a batch…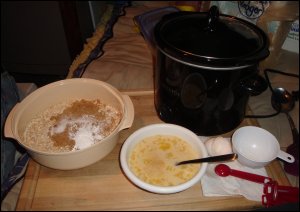 Preparing Amish Baked Oatmeal, the dry ingredients on the left, the wet ingredients in the foreground, the crock pot in the background.
Vicki did not "pack down" the brown sugar she measured out, but wishes that she had…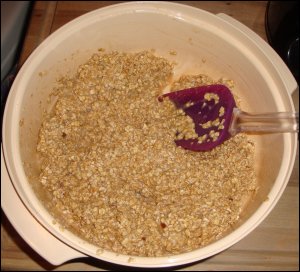 The raw mixture before it went into the crock pot.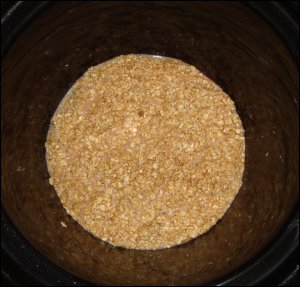 After the crock pot was thoroughly sprayed with non-stick spray, the raw Amish Baked Oatmeal mixture was put in it.
Knowing how fast this particular crock pot heats up — and how hot it can cook on "high" — Vicki was hesitant when Mike wanted to set it that way.
We wanted the eggs to be thoroughly cooked, but what else?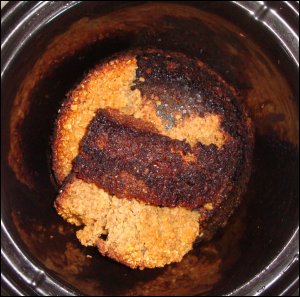 Yes, it is possible to overcook — even burn — Amish Baked Oatmeal in a crock pot.
This batch was cooked on "high" for 2.5 hours.
Remember how Vicki wishes she'd packed down the brown sugar? The batch wasn't as sweet as it could have been.
We promised ourselves that the next time we fixed this dish, we would cook it on "low."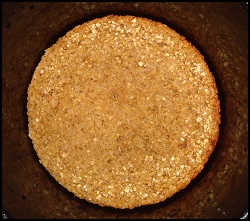 Bear in mind that there may be a great deal of variation between crock pots, their configurations and temperature settings.
What is "low" or "high" on one may be greatly different from another.
Here is another batch of Amish Baked Oatmeal, having been cooked in a crock pot.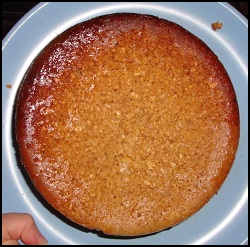 After the loaf was loosened from the walls of the crock pot, it was inverted on a plate.
What is shown here is the bottom of the loaf.
Notice how it is slightly darker around the circular edge.
Warning: you might want to use a sturdy utensil like a table knife to loosen the dense loaf from the crock pot walls.
Plastic handled utensils used for this might snap in two!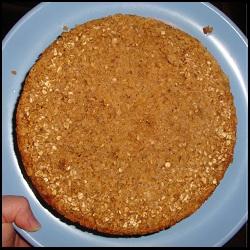 Shown here is the top of the loaf.
It looks like a large oatmeal cookie, doesn't it?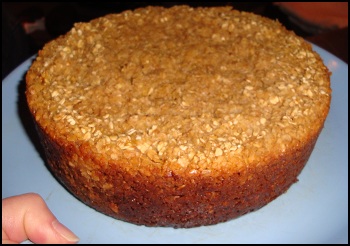 This side view of the crock pot-prepared Amish Baked Oatmeal loaf shows how deep it is.
The depth of your loaf will depend upon the narrowness of your crock pot and how much you fix.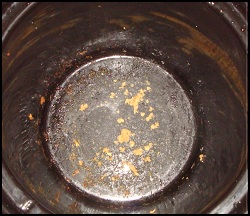 Since the bottom and walls of the crock pot had been thoroughly sprayed with non-stick spray, you would expect little to stick after the loaf was loosened and removed.
Indeed, that is what happened, as shown here.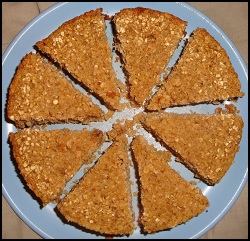 Vicki cut the round loaf into 8 wedges (half, then half again, then half again).
That's why the nutritional content shown above is geared for 8 servings.
Each of these wedges is a pretty good sized slab.
This dish is definitely a winner!
To adapt it for in-truck use, we simply plug the crock pot into a battery-connected inverter.
When we cooked the second batch, Vicki turned off the crock pot after 2.5 hours but did not immediately remove it from the crock.
This maneuver kept the moisture inside.
Cost
When this page was first written, we estimated the cost of this dish as follows (your costs may vary):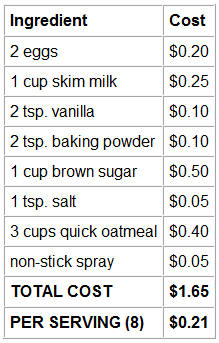 Mike says that given this recipe, it is time to rethink oatmeal. If the only way you've ever had it is runny in a bowl, you may be pleasantly surprised to find out how good oatmeal can really be.
In fact, if you're up for some adventure, you may also try adding other ingredients to your mix. Ellie from Vintage Victuals suggests adding nuts, dried fruit and even chocolate chips.(2) Yum!
Oh, and by the way, Mike says that he likes Amish Baked Oatmeal cooked in a crock pot much better than baked in an oven because it is moister. All of the ingredients meld together wonderfully.
---

Money saving tip: One of advantages of making your own oatmeal snack is not having to use or consume a product with preservatives or other unwholesome additives.
Furthermore, you don't have to worry about your product tasting like sawdust that has been packed in a plastic wrapper.
Where can you buy a commercially prepared product — by weight or volume — for the price that you can make it yourself?
Many of the oatmeal bars, fiber bars and protein bars that we've seen for sale are much more costly — especially if they are sold individually in a truck stop.
If you make this dish from scratch in your truck, make sure that you store your eggs at the correct temperature up until the time you use them. Some drivers prefer to use compact refrigerators; others use ice chests.
We also stored leftovers of in-truck prepared batches in our ice chest. However, it didn't stick around long.
Beware: if you cook this dish in your truck, the smell is so good that it may distract you. Just leave the lid on during the whole cooking time. You may find yourself hunting a parking space soon after the cooking time, just so you can sample your first piece.
Another potential time savings is pre-packaging the dry ingredients together. However, you will want to use them in a timely manner since the baking powder may lose its potency over time.
---
Return from Crock Pot Amish Baked Oatmeal is Delicious, Nutritious and Satisfying to our Food and Recipes page or our Truck Drivers Money Saving Tips home page.
---
References:
1. www.beingfrugal.net/frugal-menus-recipe-links/ (no longer online)
2. www.vintagevictuals.com/2009/04/amish-baked-oatmeal-with-modern-twist/ (no longer online)