Professional drivers' personal auto insurance rates are determined, at least in part, by actions taken on the job.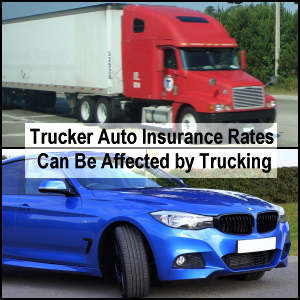 As you may be aware, the Commercial Motor Vehicle Safety Act of 1986
"corrects the situation that existed prior to 1986 by making it illegal to hold more than one license and by requiring States to adopt testing and licensing standards for truck and bus drivers to check a person's ability to operate the type of vehicle he/she plans to operate."
This means that professional drivers have but one driver's license covering all work- and non-work-related driving.
It works this way:
whatever happens to you in the course of your work-related driving can affect your personal auto insurance rates and
whatever happens to you in the course of your non-work driving can affect your commercial driver's license.
How We Know This Happens
This is our true account of how a professional driver experienced a truck-related problem that affected his family's personal auto insurance rate.
The first trucking company that we drove for professionally was Swift Transportation.
We had been issued a new truck that did not have all of the associated fuel decals on it.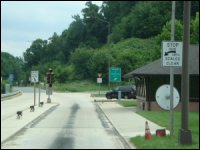 We were assigned a load that took us through the state of Maryland, but we didn't have a fuel decal for that state.
Before even starting the trip, Mike called the company to ask what to do.
He was told — by someone inside the company — that he could buy the fuel decal after he got into the state.
Wrong!
When he drove into the weigh station just inside the state line, he was told that he needed to have the sticker before he entered the state.
The fine was $120 (ouch!) and we ended up paying for it out of our paychecks. (It's too bad that Mike didn't get the name of the guy with whom he spoke who had instructed him how to get the sticker. He has never made that mistake again.)
We thought that once the fine was paid, that would be the end of it.
But it wasn't.
Our Automobile Insurance Premium
The first time our automobile insurance renewal came in the mail, we noticed that our auto insurance rate (premium) had gone up. Hmm…
Our "trucker car" was older and sat 3.5 weeks out of 4 at the Swift terminal in Greer, South Carolina.
So, how could the auto insurance rate be up?
We didn't like it, but we went ahead and paid it.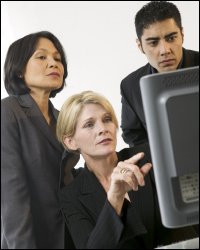 Not long afterwards, we ended up switching auto insurance companies because we found upon comparison that they could give us a better auto insurance rate.
(It's always a good idea to compare auto insurance rates occasionally.)
The astute insurance agent remarked how we were paying exactly one insurance point higher than we needed to be paying.
Say what?
It was the South Carolina "recoupment fee." The South Carolina Department of Consumer Affairs used to explain this on their Automobile Insurance page.(1)

Mike went to the Department of Motor Vehicles of the South Carolina Department of Transportation to get a copy of his Motor Vehicle Report (MVR).
It showed him as having one insurance point violation. (We were told that this differs from an actual one-point moving violation.)
The reason for the insurance point was because the state did not know "how to classify" the fuel decal problem on the CDL!
At this point, we had to jump through some hoops to get the point taken off Mike's MVR.
The state Department of Insurance did not come to our aid, even though we wrote asking for their assistance.
OK, So Now What?
Our old insurance company eventually agreed that we were owed a refund for the overcharge for two years in a row on our auto insurance rate,
partially because of the nature of the so-called violation and
partially because the so-called violation had occurred in a commercial motor vehicle, not in our "trucker auto."
We waited for a year and a half for the check to come.
By that time, we had gotten a membership with Pre-Paid Legal Services, Inc. (now known as LegalShield).
We noted that our membership in South Carolina allowed us to get advice by telephone and letters written in our behalf. So, we contacted our state provider law firm.
The attorney to whom our case was assigned was very thorough in the letter that he wrote to our old insurance company. He had even asked Vicki on the phone when consulting with her before writing the letter if we wanted a little extra money because we had waited so long for the refund on our auto insurance rate. However, she declined that, saying that we wanted only what we were owed.
When the attorney followed up with us, he said that our old insurance company had said that they noticed that we had never cashed the check.
Well, that was because the check was never mailed! We hadn't moved!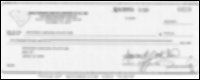 Within two weeks, we had a refund for well over $600 in our hands.
This was the full amount of the overcharge for two years running on our auto insurance rate.
Our legal service plan certainly paid for itself for years in that respect.
Does It End There?
We must state that the only legal service plan that we have ever had is a family membership plan, not a commercial drivers legal plan.
Those who drive professionally must determine which plan best meets their needs. Plans vary by state.
The situation described on this page is only one of numerous times when we have used our family legal services plan in connection with our professional driving situation.
We strongly recommend that all professional drivers obtain a legal services membership plan because you never know when you're going to need it.
Note: the situation that gave rise to the one-insurance point hike on our auto insurance rate no longer exists in trucking. The industry has since gotten "single state registration" (SSR) that eliminates the need for a "bingo card" and individual state fuel decals.
---

Money saving tip: Professional drivers and the trucks they drive are constantly being watched for signs of violations.
Sometimes citations are warranted and sometimes they are not.
Truckers can be involved in accidents through absolutely no fault of their own.(2)
They can be accused of moving violations that are purely subjective in the eyes of law enforcement personnel.
We strongly recommend that you consider having a law firm at your disposal to help you whenever you need it.
What can happen on the road in the course of your professional driving can impact you and your finances personally, including your personal auto insurance rates.
Also, it is in your own best interest to shop around for car insurance rates every two years or so just to make sure that you're getting the best rate possible.
Buying insurance for your personal vehicle, of course, is different from buying commercial truck insurance.
---
Return from Truckers Auto Insurance Rates Can Be Affected by Trucking to our Trucker Services page or our Truck Drivers Money Saving Tips home page.
---
Reference:
1. www.scconsumer.gov/faqs/auto_insurance.htm (no longer online)
2. "Perhaps even more remarkable, investigating authorities immediately laid the entire responsibility on the car driver as the cause of the accident."
— www.examiner.com/article/i-75-tanker-explosion-explained (no longer online)