In our order of 2 Nighthawk Ultralights, a Bantam HB 62 (aka Bantam HB-62) mini flashlight was included for our review.
The order was placed around the end of October 2013 and this review was originally written in early December 2013.
So Vicki had over a month to discover its pros and cons.
This review actually began with an overview of mini flashlights in general since Vicki wanted to find out the differences in designs between models.
The following photos reveal some important attributes.
Size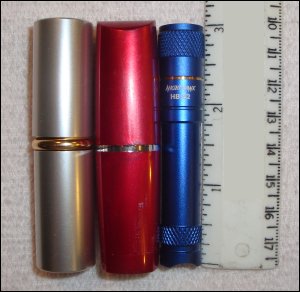 For comparison purposes, Vicki photographed the Bantam HB 62 alongside a ruler and two tubes of lipstick.
The mini flashlight is right around 3 inches in length and not as big around as a standard tube of lipstick.
The "head" and "body" of the unit have built in "grips" to make it easy to twist the unit open or closed.
This unit can easily fit into a pocket or purse.
Due to the position of the unit as shown, one cannot see that the end of the body has built-in holes to allow it to be attached to a key chain or key ring.(1)

Here are the two parts of the Bantam HB 62 — what we call the "head" and "body" — which have been separated as if being prepared for insertion or removal of a AAA battery.
Brightness
Vicki was very surprised at how bright the light was that came from the Bantam HB 62 unit.
We wish we had a way to show you the difference between the two sets of beams.
The mini flashlight gave a good account of itself when compared to the brightness of two of our other flashlights, each of which uses two "D" dry cell batteries.
A flashlight is only as good as its bulb and battery strength.
This unit uses a "a single Cree XP-E R2 LED" bulb.
Until researching "Cree", Vicki did not know that this is a manufacturer of light emitting diodes or LED bulbs.
This flashlight's beam was also noticeably long.
Battery Usage
Out of concern for dry cell battery — or alkaline battery — disposal, we started to use rechargeable batteries instead of single-use batteries.
Therefore, the only AAA batteries that have been used to test the Bantam HB 62 were Energizer Rechargeable Batteries.
Because of the brightness of the light, Vicki noticed that the charge of the single AAA battery used in the unit drew down pretty quickly.
She did not "time" how quickly the charge drew down.
At the time this flashlight was received, the manufacturer's website said that for alkaline battery usage, the unit had
Run Time up to 60+min. of use on high beam / 20+ hrs on low beam.(2)
Vicki had no benchmarks in place to know how long a rechargeable battery holds its charge when compared to an alkaline battery.
However, as quickly as the Bantam HB 62 used the battery's charge, she was glad she was able to recharge her battery instead of replacing it!
Options for Rechargeable Batteries
The following links are from Amazon.com, with whom we have an affiliate relationship.
AAA rechargeable batteries (4)
Family Battery Charger (charges AA, AAA, C, D & 9-Volt rechargeable batteries)
"Regulated Output"
While the manufacturer's site said
Regulated output maintains consistent light output over the lifetime of the battery
that was not Vicki's experience.
When the battery's charge drew down to a certain point, the light became noticeably weaker.
At least she knew when to recharge the battery!
Design
Ease of Turning "On" and "Off"Until obtaining the Bantam HB 62, Vicki had not used any flashlight designed to "twist" into on and off positions.This design has its pros and cons.One of the biggest "cons" is that it requires two hands to turn it on and off (twist the two parts together).So a professional truck driver who is in situations that require a flashlight that can be turned on with one hand will probably need a different unit.
"Dual" Modes?According to the manufacturer's website, this flashlight is a


dual mode flashlight perfect for every day carry (EDC). Simply turn on/off or go from high power/low power by turning the head of flashlight clockwise or counterclockwise.

In all the time that Vicki used this unit, she was never once able to get the "low power" light to come on, even when carefully and slowly twisting the head of the unit into the body.

WaterproofIn one photo above, one can see the black ring on the head of the unit. This is for the unit's


IPX-8 waterproof rating.

Vicki did not test the unit's ability to withstand water.

Prior to having the Nighthawk Bantam HB-62, Vicki was unfamiliar with IPX ratings.

A search for information lead her to this explanation, that "IPX-8" means:

Protected against water submersion – The equipment is suitable for continual submersion in water under conditions which are identified by the manufacturer.

For professional truck drivers, having a waterproof unit could come in very handy.

Hands-Free Operation?The Bantam HB-62 does not come with a way to attach it to one's hat for hands-free use (as the Nighthawk Ultralight does) but a clever trucker could easily devise a "holder" — perhaps made of Velcro — to attach it.Like many round flashlights with no "stand", this unit is not designed to be "propped" on or against something to allow hands-free operation.We do not recommend holding it between one's teeth during such work.
Cost vs. Value
The Bantam HB 62 was said to be
Crafted from rugged, hard-anodized anti-abrasive finish providing years of use and a positive grip.
There is no doubt that this is a durable unit.
Keeping the battery fresh, we could easily envision it being stored in one's tool chest until needed.
As of the date when this review was written, the price of the Bantam HB 62 on the manufacturer's website was $34.99.
Some similar units listed on Amazon.com are priced considerably lower.
However, Nighthawk Lights places a "Life Time Guarantee" (excluding misuse, abuse and tampering) on their unit — as long as the unit is registered within 30 days of purchase(3).
Do other similar or less expensive units come with such a guarantee?
Consumers should evaluate the cost versus the value very carefully.
---
Return from Review of Bantam HB 62 Mini Flashlight to our Tools and Equipment page or our Truck Drivers Money Saving Tips home page.
---
References:
1. nighthawklights.com/sites/default/files/HB%2062%20A_0.JPG (no longer online)
2. nighthawklights.com/led-flashlight-bantam-hb-62 (no longer online)
3. nighthawklights.com/product-registration (no longer online)