Introduction
Vicki was contacted about reviewing "Cheesy Mac", a packaged macaroni and cheese product, and two others from Valley Food Storage in late 2015.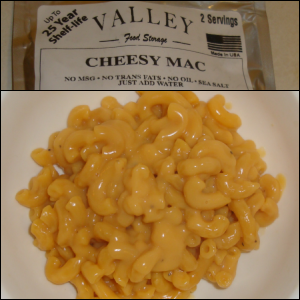 This page contains a review of the pasta product, complete with photos and commentary.
Cheesy Mac in the Storage Pouch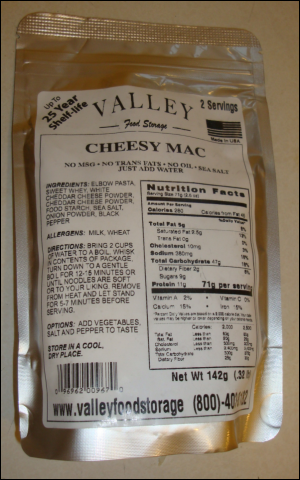 We received three of these products, each of which came sealed in a pouch like the one shown here.
This is a view of the front of the sealed pouch containing the macaroni and cheese product called "Cheesy Mac", which is made with dried cheese powder.
The label states: "NO MSG – NO TRANS FATS – NO OIL – SEA SALT – JUST ADD WATER"
The ingredients are:
Elbow pasta,
Sweet whey,
White cheddar cheese powder,
Cheddar cheese powder,
Food starch,
Sea salt,
Onion powder,
Black pepper
Each bag contained 142 grams of product, which supposedly made 2 servings.
Vicki transcribed the directions for stove-top preparation here (in mixed case, not all upper case as is shown on the pouch).
Directions: Bring 2 cups of water to a boil. Whisk in contents of package. Turn down to a gentle boil for 12-15 minutes or until noodles are soft or to your liking. Remove from heat and let stand for 5-7 minutes before serving.
A Look at the Product
This photo shows the dry product in the bottom of a bowl just after it had been poured out of the pouch.
Notice the amount of dry cheese powder in relation to the pasta. There is plenty of flavor in this product.
Cooking the Cheesy Mac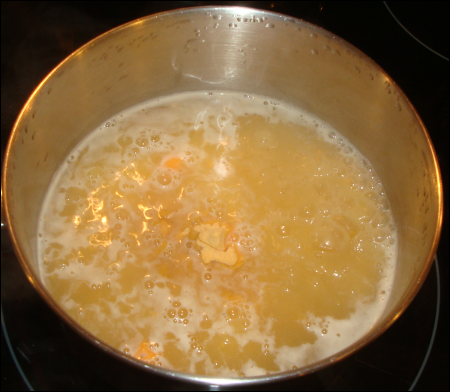 This photo shows the combined pasta and dry powder just after it had been added to the amount of boiling water called for in the directions.
As a personal note, Vicki has cooked a lot of macaroni cheese in her time, both packaged and from scratch.
She never recalls a time when any pasta product — outside of this one being reviewed — that could be cooked for 12-15 minutes without becoming very mushy.
This pasta product was cooked according to directions and did not become too soft.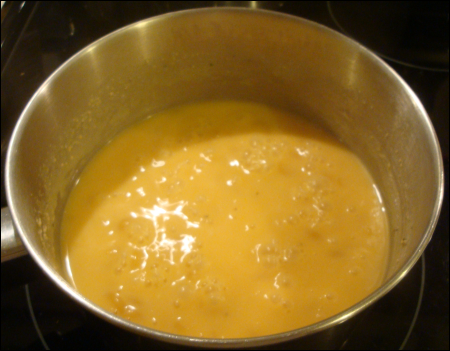 This photo shows the product about halfway through the cooking cycle.
Even after cooking for the full allotment of minutes and letting Cheesy Mac "stand" for 5-7 minutes, not all of the water had been absorbed.
The sauce was a bit "soupy".
Serving the Cheesy Mac
The pouch says that it contains two servings.
Yet the pouch contains only 142 grams of product, and hence the serving size is not very large.
This product might make a good side item with a meal but can not be considered a main course unless both servings were eaten by one person — or perhaps two pouches' worth of product were consumed at once.
The Third Preparation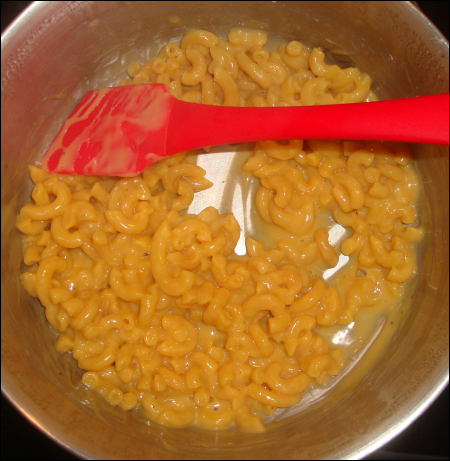 The two photos shown here reveal the results of Vicki's third and final preparation of Cheesy Mac.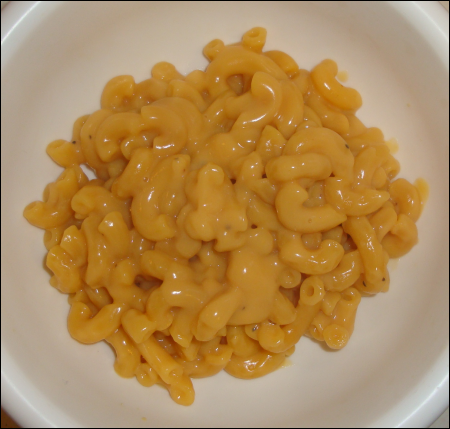 As stated above, the first two preparations had been done according to directions — using 2 cups of water — and the cooked product was still a little "soupy" (sauce not covering the pasta well).
For this reason, Vicki decided to reduce the water from 2 cups to 1½ cups.
As you can see, the sauce was "just right".
Cheesy Mac Review: Observations and Conclusion
Point of Evaluation
Observation and Rating
Quantity in bag or pouch
142 g (.32 lb)

The quantity 0.32 lbs is equivalent to 5.12 ounces. This "macaroni and cheese in a bag" product weighs slightly less than similar boxed mac and cheese "dinners".

Number of Preparations in Bag
The bag states "2 Servings".

In Vicki's estimation, the serving sizes are small and one serving could only be a "side dish" for a hungry trucker.

Ease of Preparation
Preparing this product was super easy: Just boil the stated amount of water, add the product, let it cook and stand for the specified times, and then serve.

This product can easily be cooked in a hot pot connected to a battery-connected inverter that has the power to operate it.

Texture and Appearance
Vicki expected that with 12-15 minutes of cooking and 5-7 minutes of "standing", the macaroni (pasta) would become mushy. Never in any of the three preparations did the elbow macaroni become mushy.
Water Absorption
Vicki cooked two of the three pouches' worth of this product with the stated amount of water (2 cups) and both times, the liquid did not completely "absorb" into the pasta.

On the third and final preparation, Vicki reduced the water to 1-½ cups of water and the sauce was perfect for the amount of pasta.

Taste
This product is full-flavored and has plenty of cheese sauce.

The taste of this product is slightly spicier than we are used to.

Longevity
The label states "Up to 25 Year Shelf-Life". The pouch is sturdy and is intended to have a long shelf life.
Cost
This product is no longer listed by that name on ValleyFoodStorage.com (as of February 2016).
There used to be a similar product called Mac and Cheese on the VFS website, the label of which read "Cheesy Mac". The price of this product (as of February 2016) was $6.95 (not including tax or shipping). From Amazon.com, with whom we have an affiliate relationship, one may purchase a 5.5-ounce box of one style of macaroni and cheese or this product. While the name brand boxed pasta product is not designed to last for 25 years, it may certainly be transferred to a vacuum-sealed glass jar for longer longevity.
This product — and others like it — may be kept on hand for emergencies.
---
Return from Review of Cheesy Mac by Valley Food Storage to our Product Reviews page or our Truck Drivers Money Saving Tips home page.
---