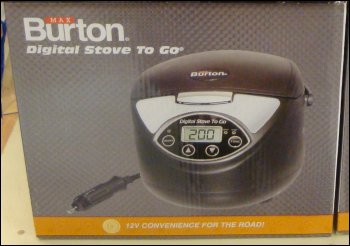 The Max Burton Stove to Go Digital Cooker (or Digital Stove to Go) is a 12-volt product that is advertised to be perfect for RVs, cars, trucks and boats.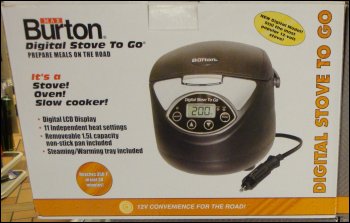 The photos at right show all four sides of the product's box as it is being sold in truck stops.
According to one panel, it is a stove, oven and slow cooker.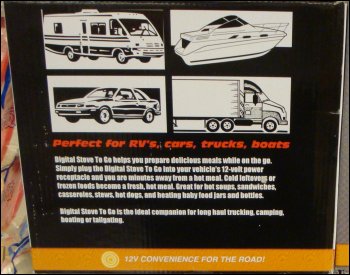 While we have personally used 12-volt cooking devices in the big trucks we have driven — including Burton's lunchbox-style Stove to Go — we have never used this specific product before.
According to the information on one panel:
"Includes:
Collapsible carrying handle on top
Non-stick aluminum cooking pan is easily removed for serving and cleaning
Dual function heating controls
Keep warm function
1.5 Liter capacity
Cool touch exterior
Quick heating – reaches 350° within 30 minutes
6-food power cord
Digital LCD control panel
Starter cookbook with over a dozen recipes & cooking tips"
The box also states, "Expand its use by using the Max Burton® 200 Watt Converter to adapt it to any 120-volt power source.
This product used to be available through Amazon.com, with which we have an affiliate relationship.
Its description was:
"The Stove To Go makes cooking on the road easy by helping you prepare delicious meals while on the go. Building on our
original Stove To Go, this digital model allows for greater cooking control, higher temperatures, and larger capacity. Use it as a stove, oven, or slow cooker! Make casseroles, soups, stews, hot dogs, and heat sandwiches, leftovers, or frozen meals."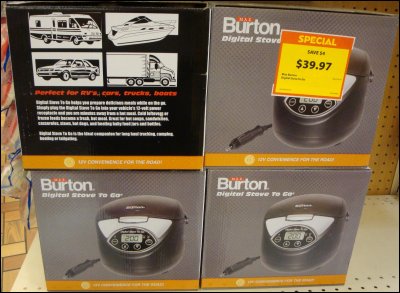 While the product sells (as of this writing in late August 2010) on Amazon.com for $69.99, it is being sold in truck stops for less.
The photo here shows the full display of the units on sale for $39.97 each, supposedly a $4 savings.
If you are a professional truck driver and you have purchased and used a Max Burton Stove to Go Digital Cooker (or Digital Stove to Go), we invite you to review the product
on this page through the form below, answering questions such as these:
What are the top 3 reasons why you bought and used one?
Did it function as advertised?
What did you cook in it?
How would you rate the quality of the product?
Do you think the product was worth the price you paid for it?
How did this product save you money?
Would you buy this product again and why?
---
---
Return from Max Burton Stove to Go Digital Cooker: Reviews from Professional Truck Drivers to our Product Reviews page or our Truck Drivers Money Saving Tips home page.
---