We acquired a Cobra Heavy Duty Bluetooth Headset in late October 2012.
Mike was eager to use it in connection with his local truck driving job, since he receives a continually changing number of work-related telephone calls about pick-up and delivery schedules from day to day.
One of the company's customers closes at 12 noon on Fridays.
One Friday, Mike had had some delays in leaving (tarping his load to protect it against rain, as an example) and figured that he was going to be able to arrive just minutes before they closed the gate.
He was able to stay in touch with the company on his phone, but ran the risk of getting a fine for using it while driving — unless he pulled over to call.
We had had another headset in the past that worked well for a number of years. Eventually, it just wore out.
We were glad to get the Cobra headset to see if it worked just as well.
Pairing
Mike had no trouble "pairing" the Cobra Heavy Duty Bluetooth Headset with his Smartphone as soon as it was charged.
(There is a minimum amount of time required for charging this device.)
If he was still driving OTR, he would charge his phone and the headset on a nightly basis, using a surge protector power strip plugged into a battery-connected inverter.
Noise Cancelling Technology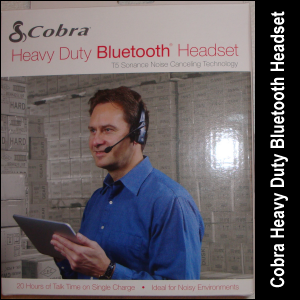 This particular device has "T5 Sonance Noise Canceling Technology."
It may work well to cancel noise on the driver's end.
However, Vicki has noticed every time she has talked with Mike while he was wearing the Cobra Heavy Duty Bluetooth Headset that she could hear static or a hum at times on her end.
It is not a constant sound, nor does it always happen at the same times (like after Mike stopped talking).
Mike attempted to adjust the boom near his mouth to see if that would reduce or eliminate this noise, but it did not.
The erratic hum or static on the receiver's end of a call made over this device is quite irritating to Vicki.
(She reflected this in her "grade" below.)
The only way that she could get "relief" from the noise was to put her phone on speakerphone and not hold it so close to her head.
She asked Mike if anyone else he called ever remarked about this and he said no.
What were the reasons for this?
Perhaps they are too kind to mention it.
Perhaps they think it is just a poor connection.
Perhaps it is something unique to our situation.
We don't know.
Adjustable Boom and Headband
According to the box, one of the features about the Cobra Heavy Duty Bluetooth Headset is that the "Adjustable boom & headband allows for infinite adjustment and the option to wear on either ear."
We don't recall specifically, but we don't think our other headset allowed the device to be worn on either ear.
You can see from the photos that this feature works very well.
Simplicity of Use; One Button Operation
One thing that drivers look for is simplicity of use.
Mike can easily and with one hand put the headset on his head.
Also, he can answer and end a call by pressing just one button.
In-Call Volume Controls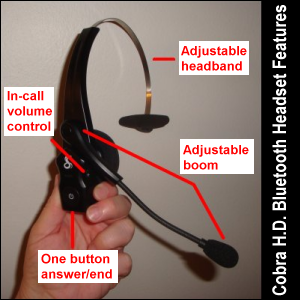 As you can see in one of the photos, there is a "+" button on one side of the earpiece.
The "plus" button allows the user to "increase" the volume from the receiver.
What you can't see is a "-" (or "minus") on the other side of the earpiece.
(Actually, the "-" has been aligned to look like a "|" on Mike's headset.)
The user can press this button to "decrease" the volume from the receiver.
Mike said that adjusting in-call volume on the Cobra Heavy Duty Bluetooth Headset is easy.
Note: The positions of "+" and "-" buttons will be reversed if the user reverses the way the headset is worn.
Single Charge Times
According to the box, "A single charge allows for 20 hours of talk time or 400 hours of standby time."
Mike has never experimented with the Cobra Heavy Duty Bluetooth Headset to see what its maximum length of talk time or standby time is because he always recharges the unit nightly.
However, we think that his Smartphone would need a re-charge before the headset did.
If the length of charge time is as stated, Mike says that the unit must have a great battery and that would be one of the best things about it.
He also says not to charge it for more than 24 hours, per the manufacturer's instructions.
An OTR driver who leaves the headset on all day while working and driving can plug it in to charge it overnight while he/she is sleeping and wake up to a fully charged headset.
Miscellaneous Observations
We're glad that the unit comes with a vehicle power adapter and USB charging cord.
To date, Mike has never charged the headset through the USB-only part of the charging cord.
According to Cobra.com (as of 12/10/2012), this device sells for $99.95.
cobra.com/detail/heavy-duty-bluetooth-headset-with-t5-sonance-noise-cancelation-technology.cfm (no longer online)
Also as of 12/10/2012 (if our search was comprehensive), other models of Cobra's headsets are available on Amazon.com, but not the heavy duty model.
Perhaps it will be listed soon.
We do not know what the difference is between this model of Cobra headset and other models.
Other than the fact that this unit is supposedly "Ideal for Noisy Environments," we don't know why this headset is labeled as "heavy duty."
Photos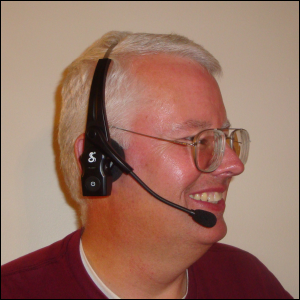 Mike is right-handed.
It is so easy for him in his truck to reach for a headset with his right hand, reach up and place the end of the adjustable headband over the left side of his head and pull the earpiece with the boom and buttons over his right ear.
When he was posing for the photos for this review, Vicki asked him to move the boom around to the opposite side so that he could wear the earpiece over his left ear.
While it worked fine, he said it felt awkward.
It's kind of like folding your hands; when you're used to one thumb being "on top," it feels awkward for the other to be on top.
But the point is that he had no trouble adjusting the boom for use on the opposite ear.
Conclusion: Grades
From the driver's (user's) end, the Cobra Heavy Duty Bluetooth Headset earns an A.
From the driver's home support team's end (the perspective of someone receiving calls made on the device), the Cobra Heavy Duty Bluetooth Headset earns a D.
Please share your comments.
Note: This article — which was originally written and published on December 11, 2012, by Mike and Vicki Simons — was updated slightly in 2018.
---
Return from Cobra Heavy Duty Bluetooth Headset to our Product Reviews page or our Truck Drivers Money Saving Tips home page.