This "Shower Review Pilot Alabama Priceville" is a review of the shower facility at the Pilot Travel Center in Priceville, AL, USA, based upon our own expectations of what a shower facility that caters to professional truck drivers of commercial motor vehicles should be like, our own preferences (especially in comparison to a home bathroom), and our observations.
Shower Review Pilot Alabama Priceville
Date: 7/6/2010
Location: Pilot Travel Center, Priceville, AL, I-65, exit 334
Overall Facility: Shower Review Pilot Alabama Priceville
Showers assigned automatically via kiosk
Keyless entry via keypad (code on printout from kiosk)
Shower number being called could barely be heard in the travel store
Shower customer number and shower number could be seen on display in the travel store
Shower is free with minimum 50 gallon purchase of fuel from a Pilot Travel Center anywhere in the nation within the last 5 days.
Shower #4
Pros: Shower Review Pilot Alabama Priceville"
Plenty of counter space at sink
Fan worked well
Mirror was well positioned on wall behind sink for both short and tall drivers
Water pressure from sink was good
Water pressure in shower was good
Electrical outlets worked well
Showerhead could be positioned where needed
There was a deadbolt lock on the door.
Towels were sufficiently thick
Washcloths were sufficiently thick
Toilet flushed well
One towel, one washcloth, one small packaged bar of soap and one paper bath mat were waiting for us in the shower room.
We were able to get two more towels from the attendant.
There was a light directly over the mirror, which can help male shower customers keep from getting nicked while shaving.
Shower water temperature did not seem to change when a toilet was flushed.
Built-in seat was almost big enough for an oversized shower bag.
Shower was designed so that the person sitting on the toilet did not feel cramped.
Mike liked the water spray that the showerhead delivered. This was definitely a step up from the typical "sand blaster" type showerheads that we've seen at many truck stops.
There was a roll paper towel dispenser in the room with paper towels in it. Paper towels come in handy for drivers who wish to wash their hands and dry off before showering without messing up the cloth towels — or clean their shoes.
Cons: Shower Review Pilot Alabama Priceville
Ventilation in the room was disappointing. Although the mirror did not completely fog up during a shower while the fan was on, condensation formed on the walls and the floor. It was pretty humid in the room after our showers.
The surface inside the sink was badly marred, as if acid had eaten it away.
The sink had no drain plug or stopper. We can imagine the problems associated with a small piece of jewelry placed on the back of the sink accidentally slipping into the sink's bowl and down the drain.
In the whole room, there was only one towel hook. There were none on the back of the door, none on the wall behind the door, and of the two places where towel hooks had been installed near the shower, one hook had been broken off.
Shower water could not be turned on and temperature adjusted without having to get wet
Showerhead was not positioned in stall to minimize splattering on floor outside stall
Shower water pressure lowered slightly whenever someone flushed a toilet
Photos: Shower Review Pilot Alabama Priceville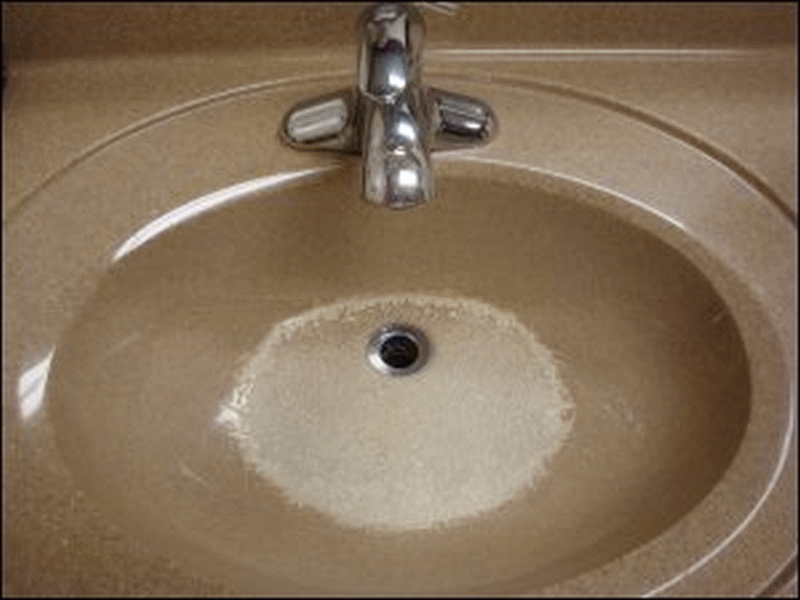 This shower room at the Pilot in Priceville, AL, has a sink bowl with a badly marred surface and a missing drain plug or stopper.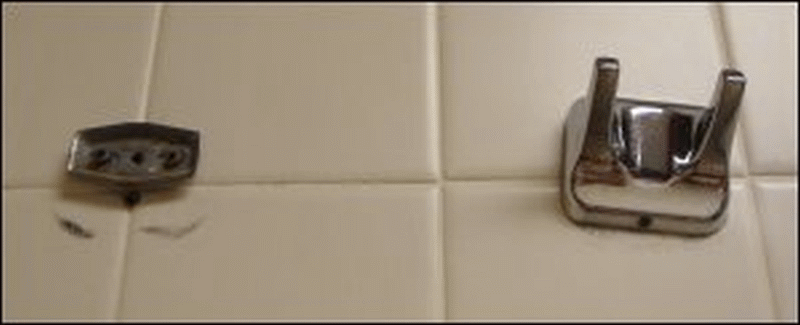 Of the only two towel hook spaces in this shower room at the Pilot in Priceville, AL, one is broken off.
Overall Grade
Overall grade for this shower at this facility on a scale of A+ to F- (with A+ being the best, F- being the worst): B
---
Return from Shower Review Pilot Alabama Priceville – Pilot Travel Center at Priceville, AL to our Truck Stop page or our Truck Drivers Money Saving Tips home page.
---