There are many different kinds of door mats for sale. However, the kind that you might use for your house may not fit or work well on or in your truck.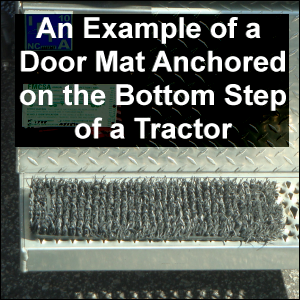 When we speak of doormats for trucks, two distinctly different kinds come to mind:
those mounted on an exterior step of a large truck tractor and
those that are on the floor just inside the doors.
Prevention
It should be obvious that the less stuff you drag into your truck on the bottom and sides of your shoes — that is, the more you prevent it from coming in — the less time you will have to spend cleaning your truck's floor.
The less time you spend cleaning, the more time you have to devote to other tasks. (We prefer not to think of drivers not cleaning their floors periodically.)
How Is It Attached?
This photo shows a door mat strapped to the step of a truck by cable ties run through the middle.

This photo shows a door mat strapped to a different kind of truck step where the cable ties loop around the outside of the step.
Where to Attach It On Your Truck
Does it matter where these cleaning devices are placed, that is, on which step? We think it is a matter of driver preference as shown below.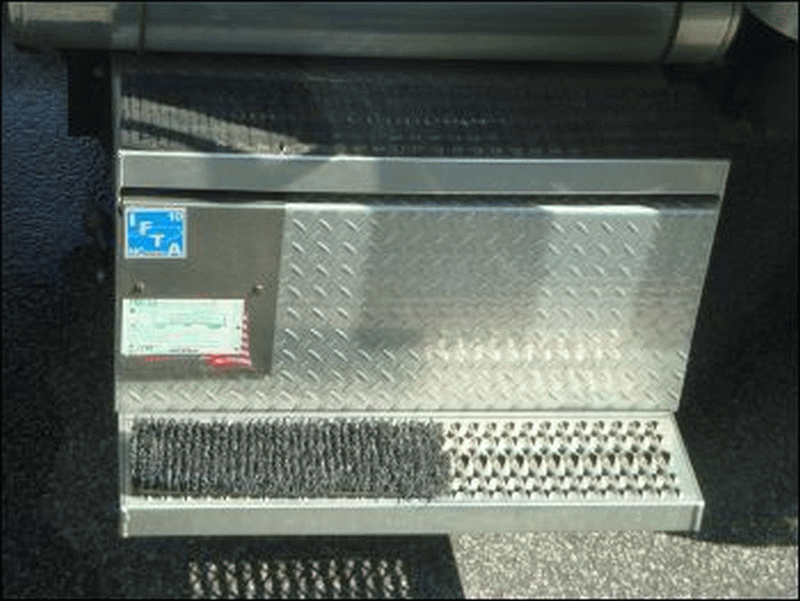 On this truck the mat was installed on the lower step.
On this truck, it was placed on the upper step.
Where to Buy Door Mats for Your Truck
We haven't seen these products widely available in truck stops.
However, we did find one…

Here is a "boot mat" designed for trucks on sale at a truck stop.
Notice that there is no price listed on the display or the product itself.
Vicki did find a resource online where a similar product is being sold for $16.99.(1)
There are installation instructions which are pretty self-explanatory.
If you look at the close-up photo, you can see the three sets of holes through which to run the "Ty-Raps" (cable ties) through the mat to anchor it to the step rail.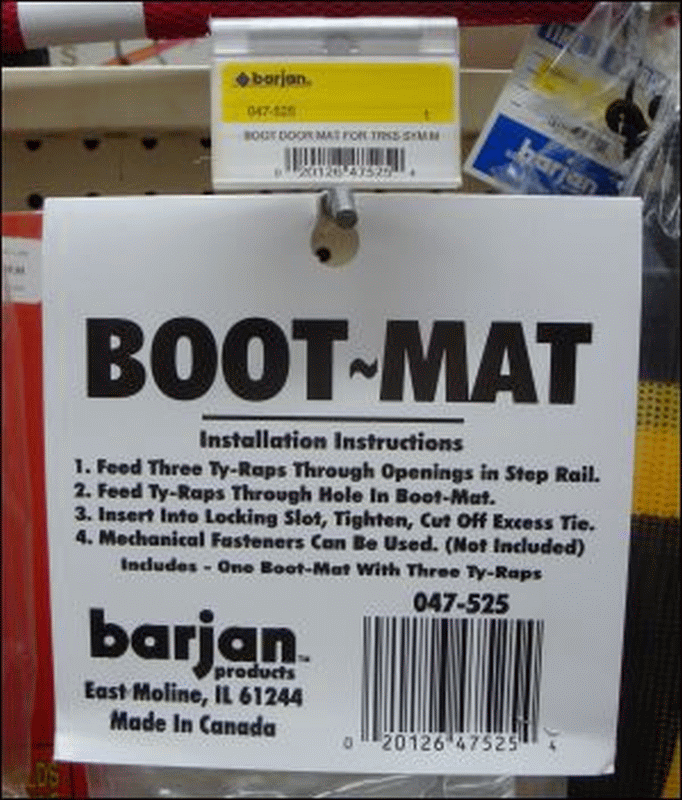 These astroturf-like mats are good at brushing dry dirt off your shoes but will not do as good a job if the debris is the least bit wet.
One good trek through dew-drenched freshly cut grass will show you that.
When it comes to mud, you can forget about their ability to clean it off completely.
For that, we expect you will need a mat that absorbs better.
Door Mats With Better Absorbency?
Do truck stops sell doormats that absorb at least a little? Sure they do.

Here's a cheap "floor mat" for sale at a truck stop.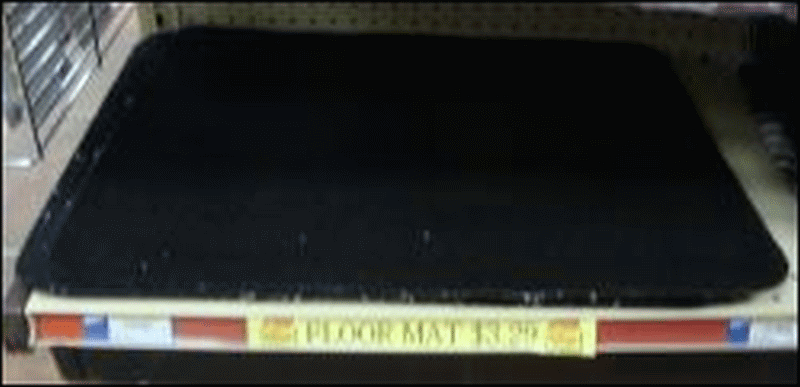 Here's another.
We bought one of these thinking that it would fill our need for a door mat when the carpet sample Mike had been using in the truck he drives for his trucking company became so dirty that he needed to throw it out.
We found the so-called floor mat to be of very inferior quality:
It was thin and did not wear well;
It didn't have much of a non-slip backing;
It could be kicked out of place easily; and
Due to the preceding features, it bunched up underfoot and even creased badly, becoming a tripping hazard on the floor.
It wore out very quickly.
Are There Any Better Values?
It must be noted that the backing of the "boot mat" shown above is harder or sturdier than that of a regular astroturf-type door mats.
On this page, we show products from Amazon.com, with whom we have an affiliate relationship.
Please note that you can get numerous truck step mats from a larger unit by cutting it into strips.
If the back is pliable enough, you can probably run holes through it for the cable ties with a screwdriver.
Camping World sells a high traffic door mat on their website.(2)
They also sell other products for RV steps.
Other Shoe Cleaning Devices
None of the products described so far on this page should be confused with a boot scraper, boot brush, or boot scrubber — such as the one shown here — all of which are designed to remove dirt from the bottoms and the sides of shoes.
This product is too big to fit on the step of many trucks on the road today.
We've never seen one mounted on a truck. We wonder if any professional drivers use them.
---

Money saving tip: The best success that we have had with door mats in the trucks we have driven is with carpet samples that have a good pile.
Years ago, we learned about a flooring company that was going out of business and had lots of carpet samples that were just going to be thrown away.
We asked if we could have them and they gave them to us at no charge.
You can search for "free carpet samples" online to find what you need.
---
Return from Door Mats Can Help You Keep Your Truck Cleaner to our Packing List page or our Truck Drivers Money Saving Tips home page.
---
References:
1. iowa80.com/DirectionsWEB/webcart_productDisplay.php?itemid=53900&itemdesc=Sym-Mat
2. campingworld.com/shopping/item/high-traffic-door-mat/29041 (no longer online)