Vicki grew up in a family that enjoyed homemade macaroni and cheese regularly.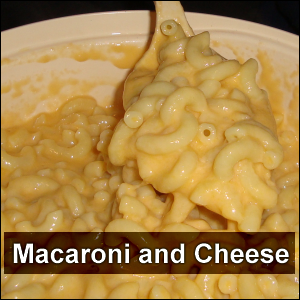 Her mom would boil the pasta, put it in a large glass baking dish, cover it with a homemade cheese sauce and then bake it until the top was beautifully browned and bubbling.
When she established a home of her own, Vicki adapted the recipe to omit the baking process and modified the cheese sauce to what she had on hand.
The recipe took a further turn after she and Mike married — since he likes to eat shredded cheddar and mozzarella cheeses.
Then, we got out on the road and had a limited number of cooking appliances that we could use in our truck (namely a hot pot, electric skillet and crock pot).
Each of these could be powered by an inverter — but only one at a time.
So, we experimented by trying both the two pot method and the one pot method with a crock pot.
We wanted to see if making crock pot macaroni and cheese was easier in terms of preparation and clean up, while at the same time not sacrificing taste.
Two Pot Method of Making Macaroni and Cheese
By the "two pot" method, we mean using a hot pot to boil the pasta and an electric skillet to make the cheese sauce.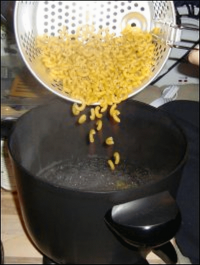 We used our hot pot with its fryer/steamer basket to boil the elbow macaroni.
For us, it took about 6 minutes for the pasta to become "al dente."
After that, we drained the potful into the basket sitting in a big bowl that could handle the heat.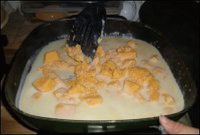 Vicki made the cheese sauce in an electric skillet.
One of the advantages of making mac and cheese this way is that you can control the thickness of the sauce.
If it's too thick, add more milk.
It it's too thin, you can either let it cook a bit longer (making sure you don't burn it) or add more cornstarch (preferably in some cold milk to avoid lumps).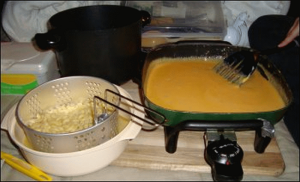 This photo was taken just before we were ready to pull the boiled pasta out of its "holding bowl" and add the cheese sauce to it.
We were using the cutting board as a type of small kitchen countertop.
Notice how "full" it was.
Everything just barely fit.
Vicki spooned the cheese sauce over the cooked and drained pasta.
There was a pretty good amount of pasta in the bowl.
It turned out that even after adding a good bit of sauce to it, there was sauce left over.
We planned to keep that sealed up in our ice chest for another meal later on.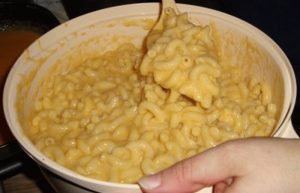 Vicki then stirred the cheese sauce into the boiled pasta.
The aroma was most tantalizing.
The pasta was cooked to perfection.
This is one of our favorite entrees!
Details about The Two Pot Method
You can see that making mac and cheese by the two pot method is pretty involved.
Clean up also takes longer.
Could it be simpler to cook home macaroni and cheese in one pot (a crock pot)?
Yes it is, but there are some things you ought to know before you do it this way.
Crock pots vary in size and temperature settings. Even though you may have set your appliance on "low," you need to remember that this macaroni and cheese contains dairy products that can burn easily if not monitored. We don't recommend that you plan on having a long driving session after turning this dish on to cook. It helps to stir this dish periodically during the cooking cycle (perhaps once an hour) to make sure that all of the pasta has a chance to cook well and the sauce doesn't burn.
The amounts of ingredients are subject to change based on your preferences. Some folks like their macaroni and cheese to have more "zip" or bite. For those who do, we recommend using a sharper cheddar cheese than we do.
You will want to be sure to brace your crock pot against spills if you cook it while you're traveling. There's nothing quite so disconcerting as looking forward to a really great-smelling dish cooking in your crock pot only to lose it when you have to brake quickly or you make a turn a little harder than the crock pot likes.
The cheese sauce's thickness can be adjusted by the addition of milk (to make it thinner) or cornstarch in milk (to thicken it). We haven't tried adding cornstarch to a batch of mac and cheese made in a crock pot, so we don't know how that would work out.
Bearing those things in mind, here is Vicki's recipe for:
Four Cheese Macaroni and Cheese
Ingredients
4 – 6 cups of cold milk (depending on how thick you want your sauce; this can be made by re-hydrating dry skim milk powder)
2 heaping teaspoons of cornstarch (mixed into cold milk, optional)
1 pound (half of 2-pound loaf) of Velveeta, diced
2 cups of shredded cheddar cheese
1 cup of shredded mozzarella cheese
6 – 9 slices of American cheese, diced
3 – 4 cups of dry elbow macaroni (again, depending on how much pasta you want to fix)
One Pot Method of Making Macaroni and Cheese in a Crock Pot
Dice the Velveeta and American cheeses.
If you desire, spray the inside of your crock pot with non-stick spray.
Put the dry elbow macaroni in the bottom.
Add all cheeses and milk. Stir thoroughly. Set on low.
Stir every hour until done (probably about 2 hours).
If crock pot cooks hot or fast, this dish may cook more quickly or even burn.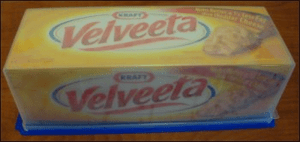 Velveeta pasteurized processed cheese spread in a box.
Note that we have never stored a loaf in this kind of container in an ice chest.
We have stored Velveeta at room temperature before opening it the first time and stored the remainder in its foil wrapper inside a plastic bag before putting it in a waterproof container in our ice chest.
That is smaller, neater and protects the cheese.
pot-m

Vicki sliced half a loaf of Velveeta pasteurized processed cheese spread to make macaroni and cheese, either by the two pot or crock pot methods.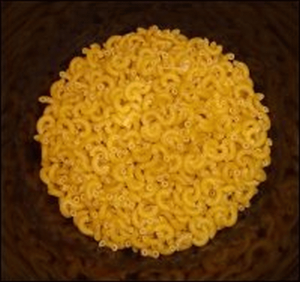 She layered the ingredients into the crock pot, first the dry elbow macaroni…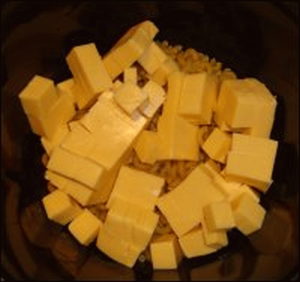 then the diced Velveeta…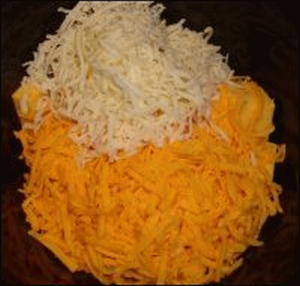 then the shredded cheddar cheese, shredded mozzarella cheese and diced American cheese (not shown).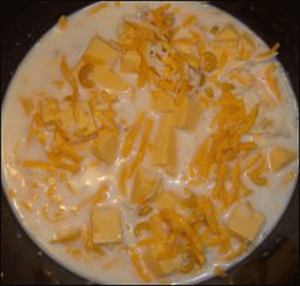 Then, she poured in the milk.
She stirred it up and turned the crock pot on low.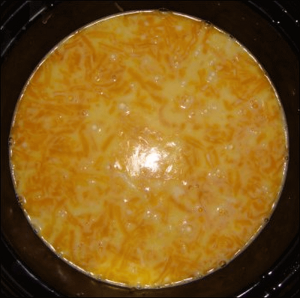 Part way through the cooking period, this batch of crock pot macaroni and cheese showed that some of the cheese had come to the top of the milk mixture.
Vicki simply stirred it all up again, making sure the cheese got blended in well.
Her goal when preparing this dish was to stir it at one-hour intervals.
Side Dish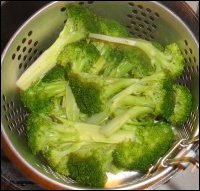 With our main dish, we like to serve a hot vegetable upon which cheese sauce tastes good.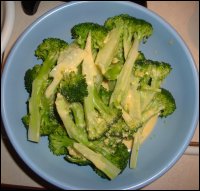 We usually choose broccoli or cauliflower.
With this meal, we chose to steam broccoli in a hot pot and then ladle some cheese sauce over it.
After some of the cheese sauce has been spooned out over the steamed broccoli, we're ready to serve our main course.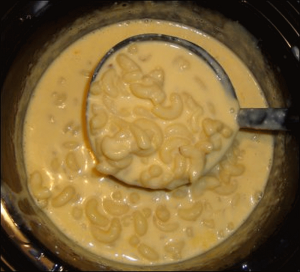 This particular batch of macaroni and cheese was made with 6 cups of milk, which rendered the cheese sauce a little thin.
However, the extra sauce worked pretty well on the broccoli (as shown above).
To thicken the sauce, either use less milk, add cornstarch to cold milk, or add a bit more pasta before the rest of the ingredients are mixed together.
Even as thin as the sauce was, it was still very flavorful.
No taste was sacrificed whatsoever.
Equipment Needed to Make Crock Pot Macaroni and Cheese
Plate for cutting Velveeta and cheese slices
Knife
1 cup measuring cup
1 Tablespoon measuring spoon (if using cornstarch)
Large spoon for stirring
Ladle (optional)
Bowl for serving
Utensils
Cutting board (to be used as a countertop during preparation)
Sealable bowl for leftovers
If you choose to use the two pot method instead, substitute for the crock pot a hot pot, electric skillet, pancake turner or spatula.
Estimated Cost of This Dish
Disclaimer: While we have estimated that this dish makes 6 servings, it never lasts that long for us as we eat this as a main dish.
We can usually consume this dish in two meals or 4 servings max.
However, we recognize that others may choose smaller portions.
| Ingredient | Estimated Cost |
| --- | --- |
| Dry elbow macaroni (3 cups) | $0.30 |
| Velveeta (1 pound) | $2.00 |
| Shredded cheddar cheese (2 cups) | $0.80 |
| Shredded mozzarella cheese (1 cup) | $0.40 |
| American cheese slices (9) | $0.45 |
| Milk (from dry skim powder) | $0.25 |
| Cornstarch (2 Tablespoons) | $0.05 |
| Total estimated cost | $4.25 |
| Per serving estimated cost (6 servings) | $0.71 |
One of the costs not figured above is the length of time it takes to clean up the dishes.
Obviously, it takes longer to clean up a hot pot and electric skillet than a crock pot, especially when cheese sauce has been cooked.
While it is possible to allow the crock pot to "soak" with some hot soapy water while traveling, we do not recommend letting an electric skillet soak because of the shallowness of the appliance.
This dish can also possibly be cooked in a 12-volt lunch box type product.
However, the dairy content of the ingredients may be more prone to burning in the metal interior of these devices.
We recommend where possible using a non-stick surface or ceramic surface for cooking this dish.
---

Money saving tip: It is possible to use all store brand ingredients in this dish. However, we have found that the one exception to the "taste test" is processed cheese.
The reasons why we list "Velveeta" over store brand cheese are taste, creaminess and consistency.
Unfortunately, we have found that the Wal-Mart store brand of processed cheese is way too greasy and not nearly as creamy.
You may spray non-stick spray in your crock pot to help prevent the macaroni and cheese from sticking.
We have never tried making this dish in a slow cooker liner.
We do not imagine that it would make much difference in the tendency for the dairy products to burn if cooked too long.
Calculate the cost of making your own food instead of buying it canned or in a truck stop restaurant.
Many restaurants in the USA that have hot buffets serve "mac and cheese" there.
We're not sure if you can buy this dish by itself at a truck stop without getting the buffet.
---
Return from Crock Pot Macaroni and Cheese: Ultimate Comfort Food in a Truck to our Food and Recipes page or our Truck Drivers Money Saving Tips home page.
---