IdleAir is an anti-idling service that according to its website "allows truck drivers to turn off their diesel engines and APU's and still enjoy heat, cooling, standard electric inside and outside the cab, Satellite TV, internet, and many of the comforts of home – all while saving money and getting better sleep without the noise, vibration, and exhaust fumes from idling."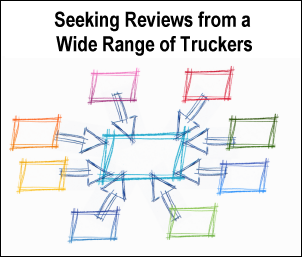 Drivers who wish to use the service buy a window adapter for a modest $10, install it on their trucks and then connect the service module to the adapter per the video on this page.
The per-hour use of the service is said to be about 1/2 the cost of idling, not including the wear and tear on the engine.
Some fleets pay for the service for drivers.
We are seeking reviews of this service from a wide range of truckers who use it.
IdleAir Photo Gallery
The following photos may have been taken when the service was marketed under its original name.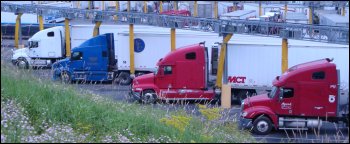 A photo of trucks parked in parking spots equipped with the anti-idling service modules.
Notice that the tractors have to park "nose in" to connect.
A photo of the new banner advertising the service under new management, courtesy of Jeff Maurer (Chief Listening Officer at the company).
A list of the services and prices is online here.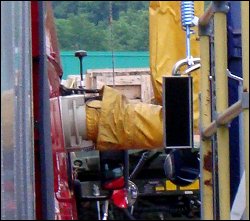 A view of the anti-idling control module connected to a window adapter in a truck's window.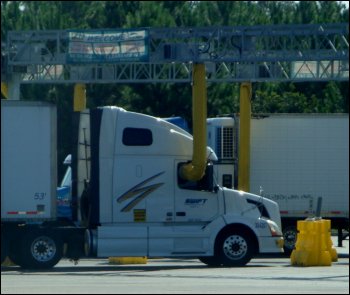 A truck with this service's anti-idling connection.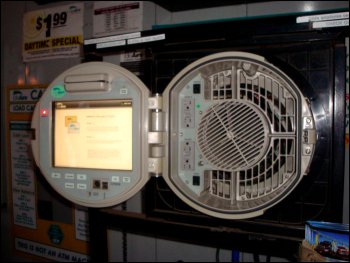 A close-up of the control module.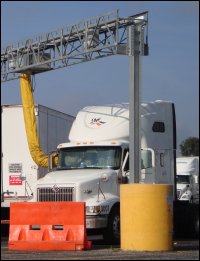 A bobtail tractor connected to the anti-idling service.
All users of the service are asked to park nose-in (with the hoods of their trucks facing the equipment for window installation).

We are unaware of any other truck stop electrification service that provides engine block and fuel heaters externally.
---

We previously covered the issue of idling, including giving a link to a calculator to determine how expensive it is to idle a large truck and providing anti-idling alternatives for drivers of commercial motor vehicles.
The system described on this page is one such alternative.
---

If you are a professional truck driver and you have used the IdleAir Anti-Idling Service within the last 6 months, we invite you to review it on this page through the form below, answering questions such as these:
Where did you use the service and for how long?
What services did you use and how well did they work?
How would you rate the quality and money saving ability of the service?
Do you think the service was worth the price you paid for it?
Would you use this service again and why?
---
---

Return from IdleAir Anti-Idling Service: Reviews from Professional Truck Drivers to our Service Reviews page or our Truck Drivers Money Saving Tips home page.
---