Need to adjust your trailer tandem settings? A tandem or trailer locking pin locator is designed to assist with making the adjustments while saving time and money.
Professional truck drivers who use this product are encouraged to review it below.
Vicki has permission from the inventor of this device, Arnold Diehl, to publish the image from his website, CommandElectronics.com, so that you may see how it works.
We have edited it slightly to fit on this page.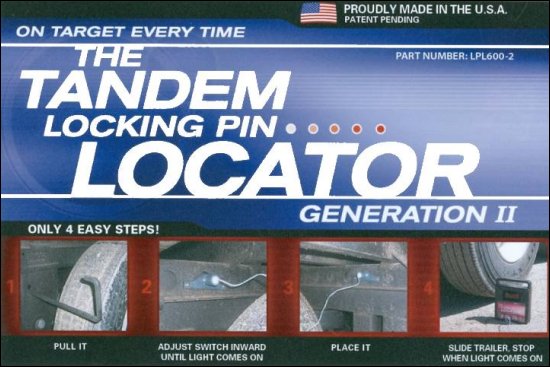 According to the image, the four steps involved with using this item are as follows:
Pull it
Adjust switch inward until light comes on
Place it
Slide trailer, stop when light comes on.
It can be a bit difficult to understand how it works until you see the video:
Mr. Diehl states that his device helps professional truck drivers save time and money when sliding trailer tandems to axle out loads to make them legal.
Here's a typical scenario:
A driver scales out a load and knows that the weights on the drive axles and trailer axles need to be adjusted.

The adjustment may be only a few holes.

How many times after doing an initial pull of the trailer's tandem release arm does a driver have to repeat this process

get out of the cab,
check on the setting,
get back in the cab, and
slide the trailer tandems more

until the setting is right and the release arm can be locked into place?
Every time a driver enters or exits his/her truck, he/she risks a slip and fall.
Not only that but the truck is burning fuel idling or working to move the trailer tandems the whole time.
This trailer locking pin locator (Generation II) uses an LED lighting system to tell you when to stop sliding the trailer.
---
If you are a professional truck driver and you have used the tandem or trailer Locking Pin Locator (Generation II) in the course of your work within the last 6 months, we invite you to review it on this page through the form below, answering questions such as these:
What kind of rig did you use it on, hauling what weights of loads?
On average, how many times did it used to take you to adjust your tandems before you used the product
versus when using the product?
How would you rate the quality of the product?
Was the product worth the price you paid for it?
How did the product save you time or money or both?
Would you buy the product again and why?
---
---
Return from Trailer Locking Pin Locator: Reviews from Professional Truck Drivers to our Product Reviews page or our Truck Drivers Money Saving Tips home page.
---