Note: This guest column on selling your truck was written by James McCormack with TruckertoTrucker.com, with slight changes to the format for easier reading.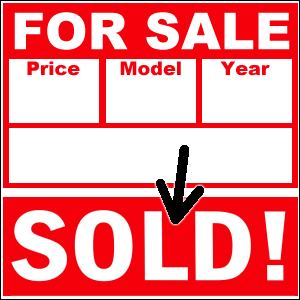 When the time comes to step up to a new rig or retire from the business, you might find yourself wondering what the best way to sell a truck might be.
Sure, the old-school way is to just post an ad in the newspaper classifieds, but really, how much time do you spend flipping through the classified ads these days?
Chances are good that you don't, and most people these days don't, either.
Some drivers end up trading in their old rig or selling outright to a dealership.
This is guaranteed to get you less of a return for your truck, though, as dealerships will low ball the value of the truck to try to boost their bottom line.
Selling Your Truck: Newspaper vs. Online Classified Ads
Instead of newspaper classifieds, consider the benefits of posting an online classified ad.
Online ads draw an audience that is far larger than your local newspaper, and allow you to post detailed descriptions and photos of the truck so that potential buyers can get a better idea of what you've got for sale.
Consider for a moment how you would prefer to buy an over the road truck.
Would you like to see a tiny, black and white photo and two lines of abbreviations, or do you want to see the condition of the interior, the engine, the tires and the body?
If that's what you'd like to see, than you can bet that people shopping for large trucks will want to see all that, as well.
Selling Your Truck: Specialized Industrial Machinery Classifieds
Before you start snapping pictures, though, check out a few of the websites out there that specialize in industrial machinery
classifieds.
Most charge a small fee to post your rig for sale, but will also keep the listing posted until you let them know that the truck has sold.
Free classifieds typically leave the listings posted, but after a few weeks, newer postings will tend to bury the older postings, and the number of people seeing your truck will fall off quickly.
In these cases, spending a few dollars for a good-quality listing on a large industrial classified site will get you closer to buyers who'll actually be interested in buying what you have to sell, rather than trying to horse trade your rig for something like a microwave oven or a beat-up '89 Tempo.
Selling Your Truck: Pre-Ad Preparation is Critical
Once you've found a site that will suit your purposes, it's time to get the rig ready for sale.
Like sprucing yourself up for a first date, the truck needs to put its best foot forward.
Give it a thorough cleaning, both inside and out.
It'll help to use degreaser on the dirty parts of the frame behind the cab, and use a pressure washer to get rid of the excess gunk.
Polish up all the chrome till it shines, and repair or replace any inexpensive broken components on the truck.
Next, get the wheels cleaned up so that all the road grime is cleaned off.
Selling Your Truck: Pictures in Your Online Ad Get More Views
Use some spray paint to clean up the wheels and the visible frame, wax the cab, and then start taking pictures.
You'll want to get pictures of the interior, engine, body and the frame, as well as the wheels and tires.
This is important because ads that you post with pictures actually get 85% more views than ads without pictures.
Next, get the truck's specifications together so that they're quick and easy to read.
Engine size, mileage, and service records are all helpful and will give prospective buyers a good idea of what they're looking at.
Selling your rig might seem difficult at first, but using an online trucks for sale classified can save you loads of time and money.
In fact, it's safe to say that you'll make back from the sale of the truck any money you invested in posting the classified ad in the first place.
---
Return from Tips for Selling Your Truck and Saving Money to our Truck Operations page or our Truck Drivers Money Saving Tips home page.
---