We saw a news release about the Fuel Shark compact fuel saving device, which "promises" or "guarantees" a 10% increase in miles per gallon (MPG), even for diesel engines.(1)
The question is: does it do what it claims to do?
Similar devices are on Amazon.com. Since this page was first published, we have removed all claims.
If you're a professional truck driver and you have used this product, see below to provide a product review.
---

We must confess that we are a bit concerned over two typographical errors discovered on FuelShark.com on June 2, 2011.
The screen shot below shows the words "testimonials" and "guaranteed" (highlighted with lime green rectangles) misspelled.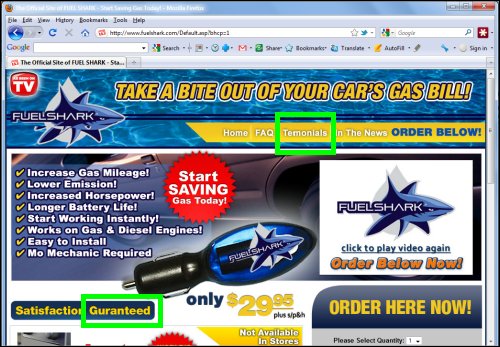 However, this situation may simply be an oversight and have no bearing on the quality of the product itself. We want to know how the product works, not how the website looks.
---

If you are a professional truck driver and you have used the Fuel Shark in the course of your work within the last 6 months, we invite you to review it on this page through the form below, answering questions such as these:
If you bought your product, did you buy it in a truck stop, online, from a truck dealership or somewhere else?
What was the primary benefit you were hoping to receive by using it?
How would you rate the quality and fuel saving ability of the product?
Do you think the product was worth the price you paid for it?
How did this product save you money?
Would you buy this product again and why?
---
---

Return from Reviews of Fuel Shark Compact Fuel Saving Device by Truckers to our Product Reviews page or our Truck Drivers Money Saving Tips home page.
---

Reference:
1. sacbee.com/2011/06/01/3670141/fuelshark-promises-to-deliver.html (no longer online)