During our trucking careers, we have been in a position of avoiding overweight fines numerous times.
We will describe the circumstances and what we did about them.
"Never Break a Seal"
We were told when we went through Swift's orientation that drivers were never to break a seal.
Granted, we were newbie drivers — greenhorns — but we took that instruction literally.
So, when we picked up a northbound load of beer at the Swift terminal in Eden, North Carolina, we didn't break the seal — even though the trailer seemed to be leaning to the right a bit.
The nearest truck scale at that time (because the one at the beer distribution center was not working) was at the truck stop up on I-81.
That required a long, winding, tortuous trek up U.S. 220.
Well, we got to the truck stop and Mike could not axle out the load.
He did his best three times.
He read his numbers to his fleet manager.
There was way too much weight on the drive axles, even with the trailer axles pulled all the way up and an adjustment on the fifth wheel.
He was told to take the load back to Eden.
So, we took that long, winding, tortuous trek back down U.S. 220. Argh!
When we got to the terminal in Eden, we took the paperwork back inside.
Whoever it was we dealt with told us that we should have broken the seal to look inside before taking the load.
We told him that we had been told in orientation never to break a seal.
He said — and we think he was just trying to cover himself — that that didn't apply to "beer loads."
He broke the seal himself and opened the doors.
The sight that simultaneously met all of our eyes was amazing.
The Evidence
The following illustrations will tell the story. (Note: The dimensions may not be to scale. They are for demonstration purposes only.)

This first image shows the view from the top of how the trailer should have been loaded, with
– a bulkhead all the way up in the nose of the trailer and
– all of the pallets staggered in alternate rows of 1 or 2 pallets each.

But this second image shows the view from the top of how it was actually loaded, with
– no bulkhead and
– all of the pallets bunched up in the right front corner of the trailer.
No wonder the trailer had been leaning to the right!
No wonder Mike couldn't get the load to axle out!
But that wasn't the end of the account…
The Claim Versus The Physics
The guy who came out had the nerve to claim that we had slammed on the brakes to cause the load to shift in the trailer!
Well, if that had been true, we would have expected to see
skid marks on the floor from the pallets moving,
some of the product leaning out of their upright shrink wrapped positions,
perhaps some of the product damaged and
definitely damage to the trailer wall when that much weight hit it.
None of that was apparent.
The guy just wanted a scapegoat.
He didn't want to have to deal with the beer distributor to get the load reworked (unloaded and then reloaded properly).
By the way, had Mike slammed on the brakes as the dispatcher claimed, we probably would have "rolled the truck over."
Those of you who have traveled that stretch of U.S. 220 know exactly what we are talking about.
The lesson to be learned here on avoiding overweight fines is to weigh your load, preferably on a certified full-length platform scale as soon as possible after getting loaded.
Weight Limited Regarding Fuel
When we drove for Swift, we once had to pick up a cotton load from the Long Beach, California, port.
The load was supposed to weigh only 43,000 pounds.
But when we scaled out — with only 1/3 tank of fuel in the truck, our weight was at 79,000 pounds!
There was no way that the load could have weighed only that much.
(We figured that the cotton had absorbed moisture by sitting at the port.)
Anyway, we contacted our fleet manager and he said that if we could axle out the truck, we were weight limited by how much fuel we could take on.
In our quest for avoiding overweight fines, we had to
calculate the weight of the fuel we could take on based on our scaled out weight,
know the weight of diesel per gallon (about 7.15 pounds according to Wiki Answers),
estimate how much diesel we would burn off (based on miles per gallon) until the next weigh station, and
make frequent stops for fuel up to our max weight.
auto.answers.com/Q/How_much_does_one_gallon_of_diesel_fuel_weigh (no longer online)
It was a pain in the neck to keep taking on a dab of fuel here and a dab of fuel there all the way to Texas!
But we weren't about to get an overweight fine.
Fortunately, never again did we have a load that we estimated to be over 50,000 pounds on that rig.
Thank goodness!
Our reward though is that we never had a problem with an overweight fine because we never took on so much fuel that it caused our rig to be overweight.
No Scale Between Here and There
Mike had a situation when Vicki was riding with him when he was coming out of Virginia with a heavy load.
There was no truck stop where he could scale out between the shipper and the next nearest weigh station.
Fortunately, there was a legal truck route — a U.S. highway — where he could go around the permanent scale.
He had no problems.
The obvious danger in going around a scale is that the state DOT can pull out their portable scales to weigh your truck at any time.
The image shown here is a map from a commercial motor carriers atlas map (truckers atlas) showing truck routes in the Front Royal and Winchester, Virginia, area.
There are permanent truck scales (denoted with the red dots) along I-81 (more vertical blue line), but there are two other truck routes somewhat parallel to I-81. It is perfectly legal to take an alternate truck route to get around truck scales.
I've Done All I Can Do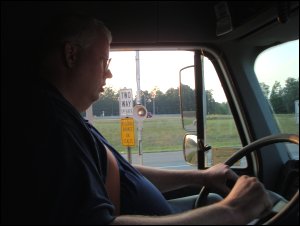 During the years Mike has driven solo, he has had numerous occasions when he has called or sent a message to his company about the weight of the rig.
He had done all he could do to make the load "legal" (weight-wise) while bearing in mind two occasionally opposing things:
– making the load legal while axling out, and
– not pulling the trailer tandems back so far that it violates the most restrictive of the bridge laws of the states he was going through or to.
He explained the situation to his company and asked if they would cover him if he got an overweight fine. They always did.
In at least one situation when Vicki was riding with him, he figured for sure when he drove through a weigh station that he would get "the signal" to pull around for a closer look.
We were both calm, cool and collected as Mike pulled onto the scale.
Instead of getting pulled around, he got the signal to go! Whew!
We don't know if DOT was particularly lenient that day or what.
But the point is that Mike notified his company in advance of the possibility that there might be a problem and asked for coverage.
If he had waited until he got the fine — too late!
Specialty Overweight Loads
If you routinely haul overweight loads (those that render your rig heavier than 80,000 pounds), make sure that you have an overweight permit in advance each time.
And stick to the route given to you.
---

Money saving tip: Mike's rule of thumb when driving regionally is to scale out his rig whenever his load is 35,000 pounds or more.
What do you do if in spite of your best efforts you get an overweight fine anyway?
Well, if you scaled out on a CAT Scale (Certified Automatic Truck Scale) and you were legal then, they are supposed to go to bat for you.
That's their guarantee.
If you didn't scale out and didn't contact your company about them covering the fine for you, then our recommendation is to have the attorneys through your legal services plan fight it for you.
Note: Even if you are successful in having an overweight fine overturned, there is a possibility that the violation could go on
your MVR (motor vehicle record),
your DAC report and
even be counted against you regarding your CSA score.
You may want to check all of these to make sure the violation was expunged from the pertinent records.
We are not sure if it is even possible to have an overweight fine removed from a CSA record.
Make sure that if you try to avoid a DOT weigh station that the "secondary routes" you take are all legitimate truck routes.
You don't want to run the risk of taking non-truck routes while avoiding overweight fines.
Some owner-operators may choose to have an on-board weighing device on their trucks so that they don't have to depend on stationary scales.
Learn how to calibrate them for accurate measurements.
---
Return from Avoiding Overweight Fines: Various Options for Pro Truck Drivers to our Truck Operations page or our Truck Drivers Money Saving Tips home page.
---