Based on the good success that our friend David had had with one, Vicki purchased a Seagate Portable Hard Drive with 1 TB (terabyte) of space for the purpose of backing up all of the data on both of our laptop computers.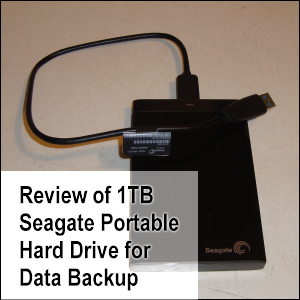 If you've ever had a hard drive crash or any other kind of data loss, you know what a blow it can be to lose files that you didn't back up or save elsewhere.
Some files are simply irreplaceable or took a lot of time to create.
We didn't want to run into any (more) problems with data loss.
So, on this page, we summarize our experiences for your benefit.
Back-up Device or Service Considerations
When it comes to backing up files, there's a lot to consider.
The first point to consider is whether you want
a physical device upon which to back up files or
a cloud-based online storage system.
There are pros and cons to both.
At a minimum, here is a short list:
While a physical device may be purchased just once, it can be lost/stolen or damaged such that the files are rendered unreadable.
While a cloud-based system can't be "lost", it can be hacked and usually requires payment of a monthly fee.It also requires the use of Internet bandwidth to upload your files to the cloud. (For sensitive files, WiFi is not recommended.)
Physical Device Considerations
Through the years, we have been through a series of physical media upon which to back up data:
a tape back-up (remember those?);
a second internal hard drive;
DVDs (about 4.7 GB of storage each);
USB flash drives (most of ours had either 8 GB or 16 GB of storage each — and now there are 32 GB, 64 GB, 128 GB, 256 GB, 512 GB and even higher capacity flash drives); and
(now) a portable hard drive (aka external hard drive).
The problem with having a lot of files (especially space-intensive photos) is that you have to find a way to back them up systematically.
If the content of a folder into which you've sorted some files doesn't all fit on one media, splitting it up can get messy.
Backing up a lot of files on small back-up devices can become wearisome, what with having to take out the full one, put in the empty one, write to it and repeat — over and over, until all of the files are backed up.
Experience With One Large Back-Up Device
To back up files on our laptop while we were on the road, we once bought a WD® 2TB external hard drive (like the one shown from Amazon.com, with which we have an affiliate relationship).
With 2 terabytes of storage space, we thought we'd never ever need another back-up device.
We encountered two main problems with this device:
The interface for backing up files was awkward and
The device simply stopped working after awhile (possibly due to road vibrations).
To be fair, this device was probably not designed to withstand a lot of vibration — just like the compact refrigerators that died in our trucks were not built to withstand road vibrations.
Still, it hurt financially when that $100 media died. (Perhaps there is a way to recover files from such a device, but we don't know what it is.)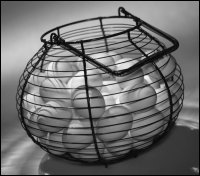 We sure were glad we didn't have a problem with our laptops between the time this device died and we got our portable hard drive.
There may be a lesson here about "putting all of your eggs in one basket" (or backing up your files to only one backup device).
We leave it to your discretion as to whether or not it is wise to "back up your data backup" (just to be sure).
Read our damaged flash drive page for a vivid understanding of why this might be a good idea.
Portable Hard Drive
After talking with our friend David, Vicki researched Seagate devices on the website of a national office supply store.
She thought she read that the devices were available via online purchase only.
However, when she visited our local office supply store shortly before our business trip in June 2013, she was pleased to find a Seagate Portable Hard Drive in stock and on sale!
With Mike's approval, she bought it.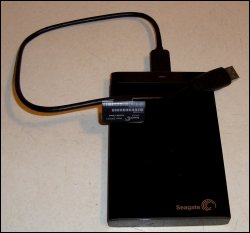 Upon removing it from its packaging, Vicki found the device completely covered with pieces of plastic film. She removed all of those. She inserted the plug into the device.
At right is a photo of the device with the connection wire attached.
After attaching the connection wire (or cord), Vicki plugged the USB end into a USB port on her laptop computer.
The associated software needed to be installed.
After the software was installed, the first prompt that came up was for device registration online.
Seamless and smooth, Vicki says that the online registration for this device was the easiest one she has ever experienced because its serial number came up automatically in the registration form.
She didn't have to go looking for it on the device or the box. (Very nice!)
Once registration was complete, Vicki followed the menu prompts to begin backing up her files.
It didn't take as long as she thought it would.
Saving Edited Versions of Previously Saved Files
Following one back-up session, Vicki edited a file and ran a back-up.
The device detected which file had been changed and backed it up in a separate folder.
It is possible that the reason why files are backed up in separate folders is so that if a file needed to be reviewed at a specific time in the past, it can be found.
Off-Site Data Protection
We purposely left this external hard drive at home during our business trip in case we encountered a situation like the I-5 bridge collapse in Washington state.
You will need to determine if "off-site data protection" is right for you and if so, where you will store your device.
Portable Hard Drive Considerations
The device we purchased is identical to the one shown.
Before you buy a portable hard drive, you may want to consider:
How many files you have;
How large the files are;
Which files are critical for backing up;
How much storage space (in MB, GB or TB) you will need to store files (not just now but also in the foreseeable future);
The physical dimensions of the devices you're considering;
The price of the devices in the size range you need;
The warranty on the devices;
Whether or not you also want to protect data from your social networks (the model we bought does);
Whether or not you "need" a device with an exterior color other than black or white (which could cost more and have limited availability); and
Whether or not you need additional cloud storage.
If you require additional storage (as we did), at the time the 2TB portable hard drives had better reviews than the 3TB devices.
The one below is similar to the device we purchased except that it has cloud storage, too.
See below a screenshot from the results of a July 10, 2013 search on the website of an office supply store for three Seagate portable hard drives — where the capacities of storage space and prices are highlighted with a lime green box.
(Courtesy of Staples.com)
If you subscribe to an email mailing list from office supply stores in your area, you may be able to find out when devices like these go on sale.
What if an item is popular and the store runs out of devices before you get there?
Some stores may have a "while supplies last" clause.
Or, you may be able to request a "rain check" to obtain the same product later at the sales price.
Please note that many computers and peripheral devices may go on sale seasonally or even qualify for a sales tax holiday before the start of the school year.
Conclusion
After successfully backing up all of the files on Vicki's laptop, she decided to see what would happen if she tried to back up all of the files on Mike's laptop.
After installing the software on his laptop, she backed up the files.
Vicki found afterwards that the files from Mike's laptop were stored in a separate folder altogether.
From what we could tell, the back-up worked perfectly. We are pleased.
We do not leave the portable hard drive plugged in all the time, so we need to make sure that we back up all of our files on a regular basis.
As of the publication of this page on July 10, 2013, we have had our unit only about a month.
We will see if we continue to be pleased with the device and its performance in the long run.
Will a used device work just as well as a new one?
We don't know because we've never tried it.
Remember that a new device comes with product registration and a warranty — something that may not be available with a used device.
Caveat emptor (let the buyer beware).
---
Return from Seagate Portable Hard Drive for Data Backup: A Review to our Product Reviews page or our Truck Drivers Money Saving Tips home page.
---