Newsworthy, expensive, and preventable are all words to describe a railroad crossing accident.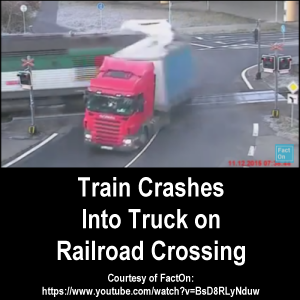 It's bad enough when it happens to a four-wheeler, but there is no excuse when it comes to a semi tractor trailer or a commercial motor vehicle being driven by a professional truck driver.
We will elaborate.
And so that you can see the truck-train collision for yourself, the image here was take from this video.
FMCSA Regulations
From the time a student driver is in truck driver training school, he/she should know that the Federal Motor Carrier Safety Administration's regulations cover the following:
While there are varieties of railroad crossing signals, they all share things in common.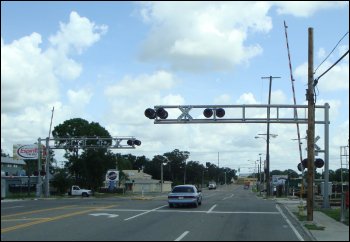 This photo shows a railroad crossing with three sets of lights on each side and a cross arm that lowers to block traffic when a train is approaching or crossing the road.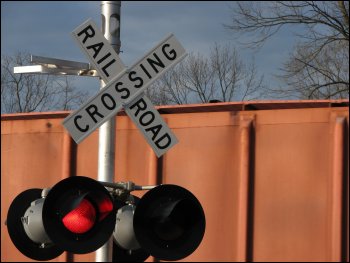 This photo shows a railroad crossing sign with one of the lights illuminated and a container on a train in the background.
This railroad crossing sign is evidently along a rural road and has no lights.
The commonality between these railroad crossings is that they are all marked.
Examples of Truck Train Railroad Crossing Accidents
On January 5, 2011, a truck that was straddling the track was cut nearly in half after being hit by a train.(1)
The driver whose semi tractor trailer was involved in one railroad crossing accident exited the vehicle before the strike (2); another walked away after such a collision (link); and another died as a result of the crash.
highbeam.com/doc/1G1-164266214/ (no longer online)
A truck driver died in a crossing crash in early 2011(3), as did one in September 2011 (4).
Here's an article about a truck-train accident (link).
A March 2012 railroad crossing accident(5) resulted in flames reaching high into the air and dark, toxic smoke that billowed for three hours. According to the article, "Investigators said it appeared [the driver] was just about to make a delivery when he collided with the train and his truck burst into flames." The driver died.
On July 28, 2011, the driver of a 2012 Peterbilt tractor trailer caused a "major train derailment" in Red River Parish, LA, "sent four people to the hospital" and "has been ticketed for failure to yield at the railroad crossing." According to the article, "For unknown reasons, Valdez disregarded the active warning signals and continued east onto the tracks." The oncoming train hit the truck, causing a railroad crossing accident.
If a truck hits a passenger train, the potential for injuries goes up dramatically. An Amtrak train with 219 passengers hit a truck in a California crossing (link), sending 20 to the hospital for treatment. Of particular importance with this situation is that "Police say the signals and caution arms at the crossing were working properly at the time of the crash."
A September 2011 railroad crossing accident involved a truck carrying tomatoes and an Amtrak with 163 passengers. Twenty people required medical care.(6)
Maps of Road and Rail Intersections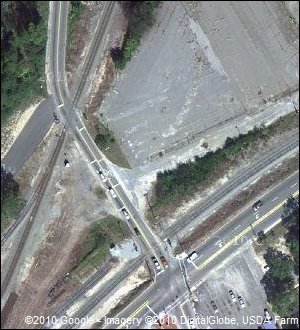 This is a Google satellite image of an intersection in Aiken County, SC, with two railroad crossings.
It is near a former manufacturing site where trucks entered and exited a textile plant.
One railroad track as shown is almost vertical to the left of the image.
The other track as shown runs almost horizontal toward the bottom of the image; it has two traffic lights, one ahead of the track, the other behind.
[Our thanks go to David Adams for providing more information about this intersection.]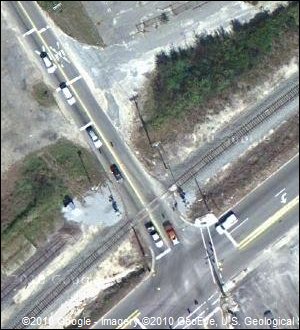 This Google satellite image is a close-up of the horizontal intersection shown above.
Notice how there is one four-wheeled vehicle ahead of the railroad track and 4 four-wheeled vehicles behind it.
Obviously, a large truck should not pull up to the line right at the intersection but stay behind the track until the light turns green and it is safe to proceed.
To straddle the track by pulling one's large truck up to the intersection when a train is coming is to invite a railroad crossing accident.
Instructions About Driving a Truck On or Near Railroad Tracks

Truck drivers should never stop or even shift gears while proceeding over a railroad crossing.
And for heaven's sake, don't park your rig on the tracks.
wfmz.com/news/area/berks/truck-driver-charged-after-train-slices-semi-in-half/article_e38340af-7a37-5660-a912-d7e8355a1610/ (no longer online)
Shortly after this accident, the trucker was facing felony charges!
Once, when Mike was a driver trainer for his trucking company, he had a student who — during his road test — failed because he shifted gears while going over a railroad crossing.
If it had not been for that, he would have been employed immediately.
This illustration of a railroad crossing sign indicates that there are 4 tracks in the crossing.
Drivers of all vehicles — especially large trucks — need to be aware of the number of tracks they are preparing to cross and wait to proceed until they can safely cross them all at one time, never straddling any tracks.
Costs of Truck-Train Collisions
The University of Iowa published a document in 1998 entitled "External Costs of Truck and Rail Freight Transportation" that cites in Table 3-1 (in 1994 dollars, page 30) the "Estimated external accident costs per ton-mile for freight trucks and trains…." (We're sure the costs have gone up in the years since the data was gathered.)
Apart from the injury to people (even those nearby who are struck by debris caused by the accident), there is the damage to the truck and trailer to consider.
In one railroad crossing accident, the truck was tipped on the driver's side (link).
Depending on how fast the train is going, where the train strikes the rig and what the rig is hauling, there may be a great deal of clean-up required — even more so if a HazMat load is involved. The problem is even worse if the train derails.
Confusing Railroad and Traffic Signals?
In almost all cases, regular road traffic is given plenty of warning about a train approaching on the tracks.
In rare cases, signals at railroad crossings can be confusing or downright contradictory, as the following video shows (a green traffic light but flashing railroad lights):
Still, whenever a truck driver approaches a railroad crossing, he/she must take special precautions to "stop, look and listen."
Conclusion
In addition to
the cost of human lives (including potential wrongful death lawsuits),
the cost of recovery and rehabilitation from injuries,
damage to or loss of equipment,
damage to or loss of freight,
the cost of towing and clean-up and
loss of work time,
all stemming from a railroad crossing accident, there is the almost-certain increase in insurance costs.
Work to prevent these costs.
Furthermore, the professional truck driver who is involved in a preventable railroad crossing accident will more than likely lose his or her job — and the loss could be permanent.
---

Money saving tip: Professional truck drivers should always be aware of their surroundings, including
watching for railroad crossing signs and lights and
listening for train whistles and railroad crossing bells.
Never ever try to "beat the train." It's bigger and heavier than your rig is.
Coming from a perpendicular angle, a train's impact is sure to damage your rig, potentially rendering it unusable or even totalled.
Even if you are a company driver and the vehicle does not belong to you, you are still responsible to keep it safe.
Yes, some trains take a long time to proceed through intersections.
But it's better to wait 10 or 15 minutes than risk something you could regret the rest of your life.
Remember how much it cost you to get your CDL and the importance of keeping a clean MVR and DAC report.
Consider, too, your career and your future.
Don't risk getting involved in a railroad crossing accident!
---
Return from Railroad Crossing Accident Prevention for Semi Tractor Trailers to our Truck Operations page or our Truck Drivers Money Saving Tips home page.
---
References
1. www.fox19.com/Global/story.asp?S=13789533 (no longer online)
2. www.wsbtv.com/news/news/train-slams-semi-truck-in-downtown-acworth/nJcWK/ (no longer online)
3. www.wivb.com/dpp/news/southern_tier/Train-crash-claims-semi-drivers-life (no longer online)
4. www.edmontonsun.com/2011/09/18/truck-driver-dies-in-collision-with-train (no longer online)
5. www.wftv.com/news/news/local/fiery-crash-between-train-semi-truck-causes-sr-60-/nLM4f/ (no longer online)
6. www.modbee.com/2011/09/19/1867662/train-hits-stopped-tomato-trailer/ (no longer online)