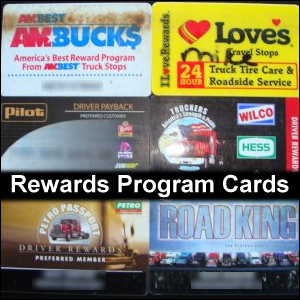 Chain truck stops in the USA have their own branded rewards program through which professional truck drivers can earn points good toward selected products or services.
Before Mike started driving locally, the six driver rewards program cards that he used when driving OTR (shown here) were from
AMBEST,
Love's,
Pilot,
WilcoHess,
Petro and
TA (TravelCenters of America).
We have researched the programs and provided the links below so you can see the details of each one.
We have also provided some information and asked some questions so that you know what to look for before and when using them.
Where to Use Rewards Program Points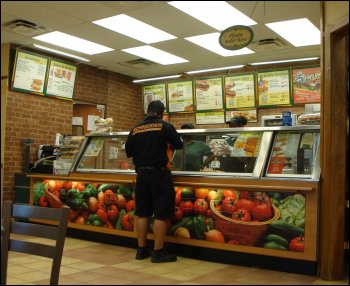 The photo here shows a professional driver for Schneider placing an order at a Subway restaurant at a truck stop.
If he has a driver rewards card, he can use his points toward his purchase.
The most common form of driver reward issued by truck stops is receiving a "point" — equivalent to a penny, but not redeemable for cash — for each gallon of fuel purchased, that can be redeemed for products and services.
Depending upon the program:
– The products may include items for sale in the travel store; and.
– The services may include a shower (especially if a driver runs out of those obtained for free when fueling).
Loyalty programs would seem to be like getting "free stuff" except if you're earning points by buying fuel (even getting company-paid fuel).
So, you're really paying for it with your sweat equity (driving your truck miles, using up fuel, requiring you to get more).
So whatever you've earned in rewards, enjoy them to the full!
How Many Rewards Program Points Can You Earn?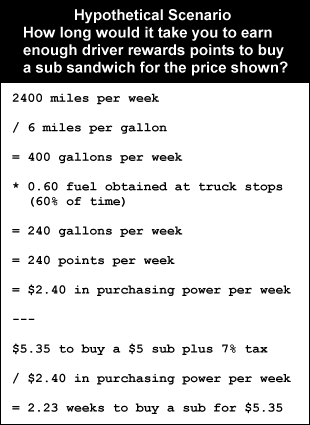 Let's look at a hypothetical scenario.
If you drive an average of 2400 miles per week commercially — and your truck's fuel consumption is 6 miles per gallon — that comes to 400 gallons of fuel used per week.
If your company routes you through one of its own terminals — or you stop there to take care of business — 40% of the time that you need to get fuel, meaning that you get 60% of your fuel at truck stops.
And having calculated that, how long would it take you to get, say, a sub sandwich for free with rewards program points?
Obviously, you would need to fill in the calculation with your own figures to get your own numbers.
Truck Stop Chains Offering a Driver Rewards Program
The following is a list of links to the driver rewards program information offered by chain truck stops (listed alphabetically):
Our Use of Driver Rewards Program Points or Loyalty Points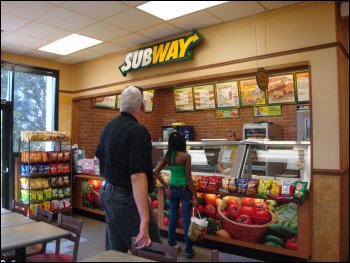 In the photo here, professional driver Mike Simons waited his turn to order a meal for him and Vicki at a Subway fast food restaurant at a truck stop with rewards program points.
Per the scenario described above, in order to get two $5.00 subs plus tax "for free," Mike has to get over 1,000 gallons of fuel to get over 1,000 rewards points.
We have personally used Mike's rewards program points to buy a shower and merchandise from a truck stop travel store. Most often, Mike bought food from either a truck stop restaurant or fast food restaurant in the truck stop with his rewards program points.
Truck Stop Restaurants That May Accept Rewards Program Points
As we mentioned on our truck stop page:
"In recent years, numerous truckstops have brought in fast food offerings such as Arby's, Chester's, Dairy Queen, McDonald's, Pizza Hut, Subway, Taco Bell and Wendy's.
"Depending on the location, drivers may be able to use their rewards program points to buy this kind of food."
Other Kinds of Rewards Programs Not Covered Here
Please note that we do not include info on this page about:
credit or debit cards offered by truck stops (or other entities) that have rewards tied to them;
discounts for "loyalty" for staying with an insurance carrier for an extended period of time; or
automatic savings at grocery stores for using a store's own branded customer card when buying selected merchandise.
Those are subjects for other pages.
---

Money saving tip: You will need to read the fine print to understand what each specific rewards program offers, such as:
What minimum number of points (if any) must you have to redeem points?
Must driver rewards points be redeemed in batches or can any amount of points — up to the total and even if the amount is odd — be put toward a purchase?
Do the points ever expire?
If a truck stop chain merges with another, what changes will be made to their respective loyalty programs and cards? At what point will the old cards no longer be accepted?
Which products or services can you buy with rewards program points? (For example, review our truck wash page for an example of one service offered on a truck stop lot that may or may not be paid for with driver reward points.)
If you purchased with rewards program points any product that didn't work right — and you want a refund within the refund period — will those points be put back on your rewards program card or account? What sorts of complications might arise?
How do some truck stop locations go about letting a driver redeem points? (For example, at one restaurant we visited, in order to use his rewards points to help pay for the meal, Mike had to go get a "voucher" from the kiosk and then return to the cashier. It would have been much simpler had the restaurant been able to accept the points directly off the rewards program card.)
Can you get a similar item in a different (non-truck stop) store for significantly less money and save your points toward something else? (For example, read what we had to say about the cost of heavy duty scissors in a truck stop compared with three other vendors.)
Can you combine other discounts with your driver rewards points redemption? For example:Mike strongly encourages you as a driver to set goals and save up your rewards points toward something you really want as a discipline. In his case, for a truck he used to drive, he wanted chrome lug nut and hub wheel covers. The estimate price for the total set was (at the time) about $100. Not only did he use his driver rewards points (which took a considerable amount of time to accumulate) to pay for them, but he waited until they came on sale until he made his purchase. By timing his purchase, he was able to buy about $100 worth of chrome for $40 (a 60% savings). The combined discount and use of driver rewards made the purchase that much sweeter.
Monitor your rewards program points periodically and use them selectively.
Work out with a co-driver whose rewards card will be used when during fueling. Don't let this become a bone of contention between you and your team driver.
---
Return from Truck Stop Rewards Program Information for Professional Truckers to our Truck Stop page or our Truck Drivers Money Saving Tips home page.
---