This "Shower Review Pilot Ohio Hebron" is a review of the shower facility at the Pilot Travel Center in Hebron, OH, USA, based upon our own expectations of what a shower facility that caters to professional truck drivers of commercial motor vehicles should be like, our own preferences (especially in comparison to a home bathroom), and our observations.
Shower Review Pilot Ohio Hebron
Date: 7/22/2010
Location: Pilot Travel Center, Hebron, OH, I-70, exit 126
Overall Facility: Shower Review Pilot Ohio Hebron
Showers assigned automatically via kiosk
Keyless entry via keypad (code on printout from kiosk)
Able to get more towels from attendant.
Shower number could be seen on display and heard announced in the travel store.
There seemed to be a glitch in the shower announcement, as it kept repeating our assignment some time after we'd already entered the room.
Shower is free with minimum 50 gallon purchase of fuel from a Pilot Travel Center anywhere in the nation within the last 5 days.
Shower #4
Pros: Shower Review Pilot Ohio Hebron
Shower supplies in the room included a towel, washcloth, paper bathmat and a small packet of soap.
One of the two towels received from the attendant was rolled up and also contained a washcloth and bar of soap.
There was plenty of counter space at the sink. This particular counter was stainless steel.
Fan worked well
Mirror was well positioned on wall behind sink for both short and tall drivers
Light over the sink enabled male customers to shave without getting nicked.
Water pressure from sink was good
Electrical outlets worked well
Even though it was in pretty sorry shape, at least there was a shower curtain on a rod over the shower entrance to keep water from splattering on the floor outside.
Towels were thick and thirsty.
Washcloths were sufficiently thick
Toilet flushed well
Moveable seat was wide enough for an oversized shower bag.
There was space for 5 towel hooks in the room, only four of which were actually in place: 2 of 3 hooks were on the wall behind the door, one was on the wall opposite the shower and one was directly outside the shower stall (which is great for those who want to dry off in the stall).
Although the shower room showed signs of hard usage, it appeared to have been renovated (at least re-tiled) sometime fairly recently.
The mirror did not fog up even when the shower water was on when someone was showering, indicating good ventilation.
In contrast to our most recent previous shower experience, the towels at this shower facility were fairly soft. (Hurray!)
There was a door restrictor in place.
Cons: Shower Review Pilot Ohio Hebron
Showerhead delivered water in a "sand blaster" type delivery.
Shower water pressure dipped slightly when a toilet was flushed.
Shower water temperature was inconsistent. Vicki noted that it decreased (got cooler) when the toilet was flushed. Mike said that he wondered if he was going to be able to finish his shower with hot water because it cooled down apart from his adjustment.
One of the towel hooks (the one in the middle) was missing from the 3-hook rack behind the door.
This shower room showed lingering signs of hard usage, one of which was the aging shower curtain that did not have enough hooks on it to hang properly from the shower curtain rod.
Shower could not be turned on without getting wet.
There was a bit of rust in some areas and a tiny bit of mold or mildew starting to form in the corner of the shower stall.
Although it may be appropriately sized for one shower customer, this room was a little small for a team.
Photos: Shower Review Pilot Ohio Hebron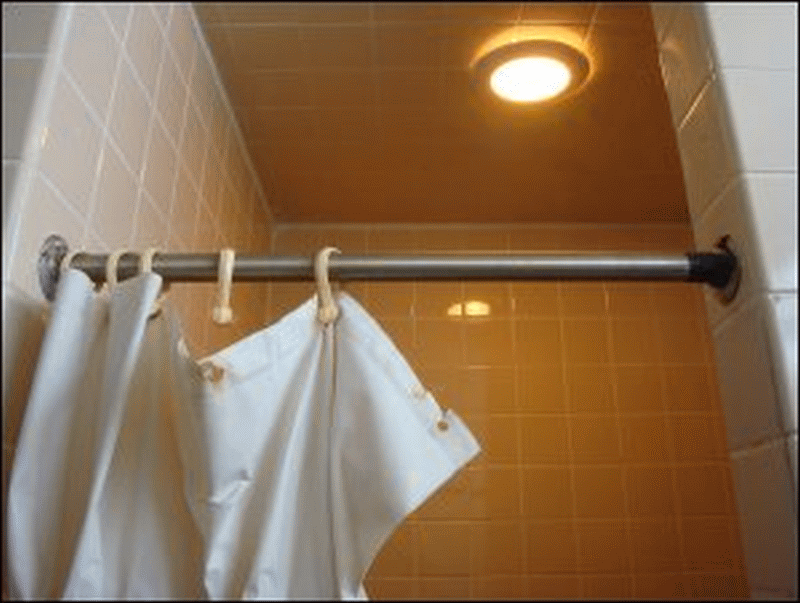 The shower curtain in Shower #4 at the Pilot in Hebron, Ohio, shows signs of hard usage and needs more shower hooks to let it hang correctly..

The middle towel hook in this 3-hook rack is missing in Shower #4 at the Pilot Travel Center in Hebron, Ohio.
Overall Grade
Overall grade for this shower at this facility on a scale of A+ to F- (with A+ being the best, F- being the worst): B-
---
Return from Shower Review Pilot Ohio Hebron – Pilot Travel Center at Hebron, OH to our Truck Stop page or our Truck Drivers Money Saving Tips home page.
---