This is the TDMST Weekly Round-Up of news affecting professional truck drivers, written by Vicki Simons for the week ending February 18, 2017.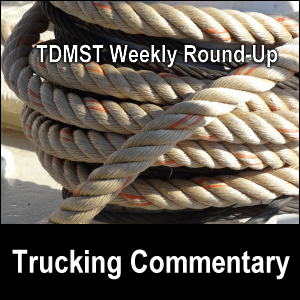 1. If "88% of young millennials engaged in at least one risky behavior behind the wheel in the past 30 days", according to this February 15, 2017, article, how can you protect yourself, trucker?
Besides driving defensively and having your insurance paid up, check out our Truck Cam page for help.
Are there other helps out there?
2. If there are no nearby facilities that truckers can use to remove snow and ice from the tops of their trailers and if "the Occupational Safety and Health Administration prohibits anyone on the job to climb to such heights without proper safeguards" (a), then how can truckers win against state laws specifying this?
Must all trailers come equipped with snow removal "sweeping" devices or should truckers be equipped with something like a Big Rig Rake?
What's your solution?
3. Which of these 6 Reasons to Use a Fuel Card is most important to you, trucker?
4. When you're driving a big truck of any kind, always assume that warning signs posted along your route are directed at you.
Know the height, width, length and weight of your vehicle at all times.
5. Do you save money "effortlessly" by using a mobile app?
Which app listed in this article is your favorite — or do you have a different one?
6. The consequences for doing drugs while being employed as a professional truck driver can be severe.
In the case of this trucker, he was detained before he could kill anyone in his impaired state.
However, now he has a criminal record and will most likely never driver professionally again.
This is a very expensive lesson to learn.
Don't do drugs and drive — ever.
7. According to a poll, the results of which are shown on Overdrive.com, 35% of truckers have at some time been forced to use a form of self-defense while trucking.
Truckers, which form of self-defense would you use on the road?
Does it depend on the situation?
Is the type you would use listed on our Self Defense page?
Contact Us or connect with us through our social media channels.
We wish you safe travels and lots of money saving opportunities on the road.
---
---
Return from TDMST Weekly Round-Up: 2017.02.18 to our TDMST Weekly Round-Up Trucking Commentary or our Truck Drivers Money Saving Tips home page.
---
Reference:
a. www.landlinemag.com/Story.aspx?StoryID=32815#.WKjyGPLjXrM (no longer online)