This is the TDMST Weekly Round-Up of news affecting professional truck drivers, written by Vicki Simons for the week ending August 24, 2019.
We welcome your comments, thoughts and feedback on the items of your choice below.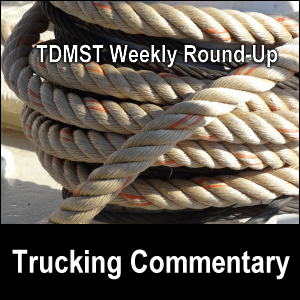 1. Regarding autonomous trucks and drone deliveries:
Several recent articles have reported that United Parcel Service (UPS) has partnered with "self-driving startup TuSimple". (link, link and link)
This article goes so far as to say that UPS made a "minority investment" in TuSimple for the purpose of replacing truckers.
Ouch!
According to an August 15, 2019, article, the two companies "are testing self-driving tractor-trailers on a route in Arizona to determine whether the vehicles can improve service and efficiency in the UPS network."
Another article announced that autonomous trucks are on Texas interstate highways.
Separately, we read that "Delivering things by drone" overcomes the woes associated with "Traffic congestion, road work and limited parking options".
As advances are made regarding self-driving trucks and alternative means of transporting and delivering freight, truckers would be wise to start preparing now for an encroachment on the movement of freight by people.
That's why we offer info about truckers earning a second income from the cabs of their trucks.
2. Regarding electric vs. battery-operated trucks:
Be watching for an increase in the manufacture and reporting about electric and battery-operated tractors in the days to come.
Trucking companies that plan to make their fleets autonomous don't want to have to deal with taking on liquid fuel, so they will need to have self-contained units.
That being said, between only these two options, I would like to know which type of tractor that is still driver-operated you prefer:
Please comment below on your choice, why it's your choice, and the pros and cons, etc.
3. Regarding distracted driving:
A trucker hauling a tanker loaded with jet fuel struck the rear of a vehicle in stopped traffic, instantly killing the 20-year old driver.
Our condolences go to the family of the deceased motorist.
What is so horrible about this situation is that the trucker was "was viewing pornographic material on his phone at the time of the crash".
This is the second time in the last 10 years that I've read about how a trucker looking at porn while driving ended up killing another motorist, the other fatality of which occurred in 2010 on the New York Thruway.
Do not allow yourself to be distracted while you drive.
Even if you are not holding your phone in your hand, do not allow it to distract you.
And speaking of distracted driving, the author of an August 15, 2019, article says that it is "Time to get tougher on the motoring public's distraction" — and I agree.
4. Regarding trailer security and smuggling:
A Texas trucker stated that he was unaware that 27 illegal aliens were inside the trailer he was hauling.
However, during a two-day trial, the jury didn't believe him and convicted him.
For the sake of argument, though, what if the illegal aliens were smuggled into the trailer without the trucker's knowledge?
That has happened in the past.
So, how can a trucker keep situations like this from happening?
Keep a heavy duty padlock in place on your trailer everywhere you travel — even when it's empty — to prevent unauthorized access.
A similar article stated: "A U.S. trucker was arrested and will face prosecution for human smuggling after seven illegal immigrants were discovered inside of his tractor-trailer…"
Do not smuggle people inside your tractor or trailer — or attempt to transport them across a border.
It is inhumane and the price is too high.
5. Regarding firearms in the possession of truckers:
Two recent articles have highlighted the sticky situation that truckers have gotten themselves into regarding carrying firearms in their trucks.
After one trucker "allegedly [pointed] a handgun at another driver" in an "apparent road rage incident", he was arrested on a number of felony charges.
An August 12, 2019, article revealed that a trucker who
lost control of his truck,
left the roadway,
crashed through a guard rail, and
overturned down an embankment,
"was arrested… for unlawfully carrying a loaded AK-47-style rifle in the cab of his tractor-trailer."
While we totally believe in self-defense, truckers need to understand that different jurisdictions have different laws, regulations or ordinances regarding firearms.
All motorists need to abide by the law in every jurisdiction in and through which they travel.
6. Regarding truck driver appreciation:
I've said for years that we appreciate truck drivers all year long, so I'm pleased that fleets or trucking companies are starting to follow suit.
According to an August 14, 2019, article, "A newly published compilation of ideas to help carriers make the most of National Truck Driver Appreciation Week (NTDAW), Sept. 8-14, is available from Stay Metrics, a provider of driver retention tools for motor carriers."
Even though "Driver amenities at home terminals and ultra-luxurious sleeper cabins" inside trucks are a good start toward demonstrating appreciation to truckers, are those the things that truckers really want?
I think that appreciation is in the eye of the beholder and that what one trucker appreciates, another might not appreciate.
What do you think?
Even if it is not monetary compensation or something tangible, what "form" of appreciation means the most to you?
Please comment below.
7. Regarding equipment failure causing accidents:
An August 15, 2019, article opens by saying:
A Florida truck driver is facing numerous charges after a motorist was tragically killed last Sunday afternoon along I-75 when her vehicle was struck by a tire that came loose from the trucker's big rig.
Our condolences go the family of the deceased motorist.
As of the time that the article was written, the fatal accident was still being investigated, but the trucker was charged with "2nd degree vehicular homicide, unsafe vehicle/equipment, and defective tires – all misdemeanors."
Did the trucker do a thorough pre-trip inspection on his vehicle — or was this a mechanical failure that could not have been prevented?
If you need it, access our free download entitled, "Pre-Trip Inspection Combo (.pdf)".
8. Regarding work by the SBTC:
After the FMCSA denied the "request for a permanent exemption from the ELD mandate for independent contractors and small carriers with less than 50 employees" — which was made by the Small Business in Transportation Coalition (SBTC) — the organization called the "handling of its [first] application 'fraudulent.'"
There may be others, but the SBTC is the only organization that I know of that is continuing to fight for an ELD exemption on behalf of the group of truckers so identified.
Furthermore, we read that the SBTC "has issued a call for transportation department officials to look into whether there has been an uptick in speeding-related deaths involving commercial vehicles since the ELD Mandate went into effect."
9. Regarding Brake Safety Week:
Recall that "The Commercial Vehicle Safety Alliance's annual Brake Safety Week is scheduled for Sept. 15-21 with a focus on brake hoses and tubing."
Even if you are certified to adjust your truck's brakes yourself, regarding checking and maintaining brake hoses and tubing, you will:
either need to know how to do it yourself;
or get a certified mechanic to do it;
so as to keep your truck safe, legal and in compliance.
10. Regarding crossing railroad tracks.
A video captured the collision of a train into a car hauler that straddled the tracks in El Paso, Texas, and sent a single Prius flying off the top.
When it comes to crossing a railroad track, remember some common sense best practices, like:
not crossing in places that are marked "no trucks";
not crossing where it is inappropriate for "low clearance" vehicles to pass;
not shifting gears while crossing over railroad tracks; and
not stopping while any part of your truck is still on or hanging over the tracks.
11. Regarding how a disagreement led to a fatality:
Do not allow disagreements to escalate to the point where tragedy happens.
We read that a trucker and his wife were traveling together and had an argument that became so bad that she "demanded to be let out of the truck."
The way that we understand the timeline occurred,
the trucker pulled onto the shoulder,
his wife exited the vehicle,
he began to pull back onto the roadway,
she "apparently had a change of heart and ran in front of the truck",
he never saw her, and
the truck struck and ultimately killed her.
Our condolences go to the trucker who lost his wife inadvertently at his own hands.
Recall that some weeks ago, one trucker was so irritated that his co-driver allowed their truck to get "messy" that the first trucker stabbed the second — and the stabber was instantly in trouble.
It's a good idea for couples and team drivers to learn how to communicate effectively and come to reasonable compromises.
12. Regarding increased truck parking fines in NYC:
According to an August 12, 2019, article, the New York State Senate is working on S3215, which "would allow for a large increase in fines for truck drivers who are caught parking overnight in residential areas in New York City."
Specifics about the size of the fines are in the article.
13. Regarding a failure to merge:
A trucker failed to see or otherwise negotiate around an electronic merge sign in time and ended up flipping his truck on its side in a construction zone.
This was a totally preventable accident!
All drivers — and especially truckers — need to continually scan ahead and prepare for anything that would disrupt the flow of traffic down the road, including:
stop signs,
stop lights, and
lane closures.
14. Congratulations!
We applaud all 427 truckers who advanced to compete in the National Truck Driving Championship.
Congratulations also to the "Ten rookie driver military veterans [who were] named finalists in the Transition Trucking: Driving for Excellence contest".
Finally, congratulations to the 3 truckers who here named as "finalists in Pilot Flying J's Road Warrior contest, which awards the winner with a $10,000 grand prize."
I'm interested in reading about the final winners or grand champions of these competitions.
My husband Mike and I wish you — and all professional truck drivers — safe travels and lots of money saving opportunities on the road.
---
---
Return from TDMST Weekly Round-Up: 2019.08.24 to our TDMST Weekly Round-Up Trucking Commentary or our Truck Drivers Money Saving Tips home page.
---