This is the TDMST Weekly Round-Up of news affecting professional truck drivers, written by Vicki Simons for the week ending March 11, 2017.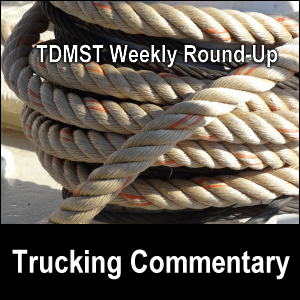 1. Two news articles from New Zealand reported how dash cameras are being used to show bad driver behavior on the road.
A March 6, 2017, article was about a female trucker who films "near-misses" and a March 4, 2017, article recorded a truck driver that rammed into the back of a car and drove off.
www.tvnz.co.nz/one-news/new-zealand/dashcam-video-shocking-moment-truck-driver-does-runner-after-ramming-car-auckland-motorway (no longer online)
The video taken of the "runner" (hit-and-run driver) was posted on Facebook and has rightly sparked outrage over the trucker's leaving the scene of an accident.
More and more dash cams are in use. We advocate the use of outward-facing truck cams to help protect the truckers. But be aware that you are also being watched!
What are your thoughts about dash cams? Please share them below.
2. A March 9, 2017, article from FleetOwner.com opened with this statement: "If the nation's infrastructure were a student in school, it would most likely be held back, based on the second consecutive D+ grade it received Thursday from the American Society of Civil Engineers."
Given that report, do you agree that the solution for "Incentivizing private companies to invest in U.S. infrastructure with cheap financing and tax breaks" will be for them to create toll roads?
If you're a trucker based in the USA, have you found that the toll roads upon which you've driven have been maintained commensurate with the amount of money you've paid to drive on them?
Please share your thoughts below.
3. Didn't we know all along (or predict) that the 2013 change to the Hours of Service (HOS) regulation was not going to help?
A March 9, 2017, article stated, "Not only did the drivers operating under the more restrictive regulations show no greater levels of safety, in some cases they were less safe, according to FMCSA's summary of the research provided to Congress this week."
A March 6, 2017, article from FleetOwner.com contained this quote: "We concur with the Department's conclusion that the study did not explicitly identify a net benefit from the use of the two suspended provisions of the restart rule on driver operations, safety, fatigue, and health," the OIG letter states.
Other articles about this HOS situation are: here, here, here, here, here, here and here.
Please share your thoughts below.
4. How do you protect your rig from being overturned in high winds(a)
If you were driving a rig that was flipped on its side in winds approaching or at 70 mph, would your trucking company in any way blame you?
Would this kind of accident be called "preventable"?
What if in the process of your rig flipping over, your truck hit another vehicle? What if someone was injured or killed?
If you had no dash cam — and no one behind you had a dash cam — that proved it was the wind's fault, how could you prove you didn't swerve and cause the accident?
Please share your thoughts below.
5. The failure to pay tolls is catching up with some drivers.
One "Trucker [was] arrested for owing more than $300K in tolls," stated this March 9, 2017, article.
There were other drivers who owed more than that!
Furthermore, "New technology the state put in place on some of New York City's bridges and tunnels this year has helped cops bust more toll scofflaws."
Be honest. Pay the stated toll to drive on a toll road.
6. According to a March 7, 2017, article, "Truckers have asked the National Labor Relations Board to intervene in a string of cases in which the drivers say they have become victims of workplace retaliation, including termination, as they pushed for collective bargaining and better working conditions."
Have you been retaliated against as a truck driver because you engaged in activity that your trucking company didn't like (such as voting to join a union)?
Have you experienced "dispatch delays" or a lack of loads or some other financial penalty as a result?
How much would you say it has cost you?
Please share your thoughts below.
7. A March 6, 2017, article from Fox40.com reported that I-80 had been closed "from the Nevada State Line to Applegate due to heavy snow."
The amount of snow that had fallen as of that writing was 32 inches and drifts were reported at up to 5 feet.
The interstate was finally reopened almost 24 hours later.
The article stated that "the financial impact to truckers and the companies they work for could be huge."
One of the truckers indicated that if his refrigerated load went bad, they were forced to bear the financial cost.
Have you ever had to bear the cost for a product being ruined in-transit when you were delayed by weather, an accident or something else beyond your control?
How much did you have to pay?
Please share your thoughts below.
8. Which kind of Electronic Logging Device (ELD) do you prefer:
– one that gives away or leases the hardware and charges a monthly fee for software usage; or
– one that charges "a onetime charge for their ECM-connection hardware" with no monthly fees?
If you have an ELD and if you had the opportunity to buy one all over again, would you choose another brand, model or type of service?
If you use ELD capability on your Smartphone, would you prefer to get a separate Smartphone to record your logs?
Which Electronic Logging Device do you use and how well is it working for you?
Please review your unit on our Product Reviews page.
On behalf my husband Mike and me, we wish you safe travels and lots of money saving opportunities on the road.
---
---
Return from TDMST Weekly Round-Up: 2017.03.11 to our TDMST Weekly Round-Up Trucking Commentary or our Truck Drivers Money Saving Tips home page.
---
Reference:
a. www.landlinemag.com/Story.aspx?StoryID=32972#.WMIq1fLjXrM (no longer online)