This is the TDMST Weekly Round-Up of news affecting professional truck drivers, written by Vicki Simons for the week ending September 19, 2020.
We welcome your comments, thoughts and feedback on the items of your choice below.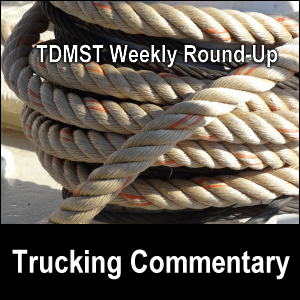 1. Regarding trucker appreciation:
This week has been designated as "National Truck Driver Appreciation Week."
While I'm glad that they are being recognized, truckers really ought to be appreciated all year long.
We do!
Here are some of the most recent articles about this topic:
2. Regarding Hours of Service (HOS):
According to Everything you need to know about U.S. HoS changes:
"Changes to truck driver hours-of-service rules take effect at 12 a.m. eastern time on Sept. 29, meaning they'll take effect earlier for drivers in other time zones – drivers on the West Coast, for instance, will start operating under the new rules at 9 p.m. Sept. 28."
The most recent articles about this topic — including those about how the FMCSA is being legally challenged regarding the changes — are below.
One September 17, 2020, article — Safety Groups Mount Last-Minute Legal Challenge to FMCSA's New H.O.S. Final Rule — listed some very interesting detail about the legal challenge:
The coalition of safety groups — recently joined by another safety advocacy group — "filed a Petition for Reconsideration with the FMCSA to stay the effective date" of the HOS regulations change back in June, but "the FMCSA reportedly dismissed the Petition in August";
a reason why the Court should stop the new rules from going into place is "the alarming rise in trucker crash deaths"; and
the Teamsters stated, "By issuing this HOS regulation FMCSA has bowed to special trucking industry interests at the expense of highway safety, seeking longer workdays for drivers who are already being pushed to the limit."
In my Comments to FMCSA on Hours of Service, submitted on October 10, 2018, I wrote in part:
A September 12, 2018, article
https://www.overdriveonline.com/hours-regs-suspended-for-11-states-and-d-c-for-hurricane-florence-s-c-reversing-highways-for-coastal-evacuations/ stated in advance of Hurricane Florence, "The Federal Motor Carrier Safety Administration has… issued a regional emergency declaration for" 13 states and Washington, D.C. Furthermore, the article states, "The declaration exempts truck drivers providing direct support of relief efforts related to the hurricane from Parts 390 through 399 of the Federal Motor Carrier Safety Regulations. The declaration is effective immediately and will remain in effect through the duration of the emergency, or through Oct. 10, whichever is less."

A similar waiving of the regulations has been issued in 8 states in advance of Hurricane Michael.
https://www.ccjdigital.com/regs-waived-for-relief-load-haulers-in-8-states-for-hurricane-michael/

The actions described in these two articles mean that in advance of and during major weather events, the FMCSA places trust in targeted truckers driving in targeted locations to operate their vehicles safely apart from the stated regulations. Why then can the FMCSA not trust truck drivers to drive safely apart from the Hours of Service regulations at other times of the year?

Should the argument be raised that the FMCSA can't trust truckers based upon their individual circumstances to make their own decisions regarding the hours when they can safely and productively operate commercial motor vehicles, let the agency remember that these truckers have been entrusted with tractors, trailers and freight that may be valued in the millions of dollars. If trucking companies can trust truckers with valuable physical commodities, why can the FMCSA not trust them regarding the safe movement of those commodities? Some truckers may simply require training on how best to order their driving schedules to maximize both safety and productivity.

If it is the FMCSA's goal to work with professional truck drivers to improve safety and increase productivity, then it is time to let those who are most affected decide which hours are best for them to move both trucks and freight: the professional truck drivers themselves.
When will the FMCSA ever really listen to truckers?
3. Regarding trucker's feedback:
Sometimes professional truck drivers are asked for their opinion regarding changes to regulations and laws that affect their work.
What is sad is when their feedback is discounted or ignored altogether, such as when comments are requested and submitted through Regulations.gov.
Be those things as they are, here are the most recent articles about truckers being asked for feedback:
---
A September 17, 2020, article stated: Poll says 'lack of respect' is the top source of stress for OTR drivers.
What can be done to reduce that stress?
Please comment below.
4. Regarding truck accidents and enforcement:
Truck Accidents
Why are some truck accidents — that are caused by truckers — taking place?
Are some of these truckers:
not looking far enough ahead of their vehicles to anticipate changes in traffic;
relying too much on their technology (like a cruise control);
under the influence of something that has caused cognitive decline (like drugs or alcohol);
simply not getting appropriate or enough training before being allowed to drive a truck; or
purposely being used by Big Tech, whose goal is to replace human truckers with autonomous, self-driving, or driverless truck technology in the USA?
Here is a short list of some of the most recent truck accidents:
---
Enforcement
You can see at the top of the article Border Patrol warns truckers they can lose their CDL for life under 'Texas Hold'Em' initiative that an X-ray of the tractor clearly shows at least one person and possibly other people above the trucker's head.
It is never worth it to try to smuggle illegal aliens, drugs or other contraband across a border.
Meanwhile, CMV driver was stopped for seatbelt violation, but Georgia cops find so much more…, including: "the discovery of suspected marijuana, two different narcotics, two firearms, and the driver was a convicted felon. The driver was also placed out service for not having an Electronic Logging Device."
5. Regarding technology:
Speeding Sleepers
Do you remember back in February when Apple engineer Walter Huang died after his Tesla Model X hit a concrete barrier on a Silicon Valley freeway?
A February 25, 2020, article stated:
[NTSB] Chairman Robert Sumwalt said at the start of a hearing Tuesday that partially automated driving systems like Tesla's Autopilot cannot drive themselves. Yet he says drivers continue to use them without paying attention. …

"If you own a car with partial automation, you do not own a self-driving car," Sumwalt said in opening statements. "This means that when driving in the supposed 'self-driving' mode, you can't read a book, you can't watch a movie or TV show, you can't text and you can't play video games."
Well, now it appears that owners/users have gone one step further in their reliance on technology:
Tesla driver speeds past semi while asleep with seats 'completely reclined' — at a speed of over 90 miles per hour!
Stay alert to situations like this.
I'll wrap up this section by asking a question about the legal implication:
If Tesla is actually using the phrase "self-driving" mode in their vehicles — even though the mode is not completely for hands-off operation — can the company not be sued for false representation?
---
Other recent articles about technology include:
6. Regarding border crossing delays:
According to a September 15, 2020, article — 8 hour wait times at the Cali Port of Entry could spell bad news for drivers, consumers — "Casillas, who works on a salary, pointed out that these excessive wait times could be detrimental to truck drivers paid per load or per mile. The long wait times reduce the number of loads drivers can complete, affecting trucking companies and eventually trickling down to consumers."
Other articles about this topic include:
If you are adversely affected by this, please speak up to someone in a position of authority to do something about it.
7. Regarding the economy:
The following are the most recent articles about the economy from the standpoint of the trucking industry:
8. Regarding exemptions:
Yes, the FMCSA creates or extends exemptions at will:
9. Regarding Walmart demands:
I've never seen freight terms described this strictly before.
A September 11, 2020, article — Walmart tightens on-time, in-full requirements — states:
"Effective Sept. 15, the Bentonville, Arkansas-based retail behemoth will require its suppliers and their carriers to deliver all orders as Walmart required and by their 'must-arrive-by' dates 98% of the time or be fined 3% of the cost of the goods";
"known in the retailing trade as 'on-time, in-full' (OTIF)"; and
"Currently, 95% of all general merchandise orders must be filled exactly as Walmart wants it. For food and consumables, that figure is 97.5%. "
A September 15, 2020, article — On time. In full. Right now — states:
"Walmart launched its OTIF initiative in mid-2017 with the goal of eliminating lost sales because store shelves were not restocked fast enough";
"Like many retailers, Walmart has struggled with delivery consistency, and empty or poorly stocked shelves, during the COVID-19 pandemic";
"The pain may be most keenly felt by LTL carriers that have long worked under a very comfortable compliance buffer at 70%"; and
"The goal of the threatened 3% fines is not for Walmart to build a revenue stream, but to incentivize suppliers and carriers to get products where and when the customer wants them, experts said. In this most unforgiving environment, stock-outs won't be tolerated."
Even though the first article states that these terms apply to "suppliers and their carriers," it is not unrealistic to suppose that some owner-operators and independent truckers fall under these requirements as well.
Read all of your freight contracts thoroughly so that you know what you're getting into.
You may wish to read Financial Penalty for Missed Appointment, Late Arrival by Trucker?
10. Regarding safety, inspections, and insurance:
Safety
---
Inspections
---
Insurance
11. Regarding truck operations, trucker pay, tolls, fines:
Truck Operations
---
Trucker Pay
---
Tolls
---
Fines
12. Regarding violence:
Be alert for reports of violence and avoid areas where violence is taking place:
I was saddened to read Police say person who climbed under tractor trailer was dragged to death, but very surprised to learn that police stated that "the person climbed under a UPS tractor trailer while the vehicle was stopped in traffic."
Bear in mind that some people may crawl under a trailer while it is parked, which is added incentive to always do a thorough pre-trip inspection before you leave.
13. Congratulations!
We offer our heartiest congratulations for each of the truckers who have been recognized and/or awarded:

My husband Mike and I wish you — and all professional truck drivers — safe travels and lots of money saving opportunities on the road.
---
---
Return from TDMST Weekly Round-Up: 2020.09.19 to our TDMST Weekly Round-Up Trucking Commentary or our Truck Drivers Money Saving Tips home page.
---