This is the TDMST Weekly Round-Up of news affecting professional truck drivers, written by Vicki Simons for the week ending April 8, 2017.
We welcome your comments, thoughts and feedback on the items of your choice below.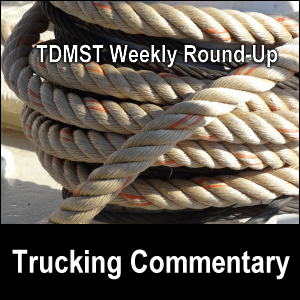 1. A March 30, 2017, article stated that a truck driver who appears to have driven non-stop "from Seattle to Deerfield, Massachusetts earlier this week" was high on "crystal methamphetamine, LSD and cocaine".
Fortunately, no one was injured by this trucker.
However, he is "being charged with Operating Under the Influence of Drugs" and "will be facing many additional charges".
Other truckers have been caught hauling various kinds of drugs, according to an April 7, 2017 article.
One trucker charged with drug possession hit a utility pole and caused a local power outage, stated an April 5, 2017, article.
Don't take — or haul — illegal drugs and drive commercially.
It isn't worth it.
2. A March 31, 2017, article stated: "Swift Transportation Co. is appealing a federal district court ruling that said the giant carrier improperly classified five of its drivers as independent contractors rather than employees."
The plaintiffs' attorney said that the drivers had effectively already won the case but that "Swift is now trying to delay in order to keep other drivers from finding out about the case and minimize its liability."
This is a legal challenge because:
– Swift failed to pay the truckers all the wages due them under "federal and state wage and hour laws, including the Fair Labor Standards Act";
– "Swift controlled every aspect of their work schedules"; and
– Swift controlled the trucker's equipment, including "maintenance and condition".
What part of "don't misclassify your drivers" — and "pay truckers what the law says to pay" — do these trucking companies not understand?
3. LandLineMag.com reported on March 28, 2017, that "Higher fuel taxes [are] up for consideration in 16 states".(a)
If this matters to you, please contact your elected state officials to voice your concern.
4. A truck driver "is facing charges of child solicitation and attempted sexual misconduct with a minor", having "solicited the sex through an exchange online", according to an April 6, 2017, article.
5. An April 6, 2017 article stated, "truck driver retirement rates jumped to 33% last year, up from 22% in 2014".
Another article published on the same date said that "transportation companies are using more tech-oriented recruitment strategies to attract younger drivers."
Will they be successful?
6. According to an April 5, 2017, article, the trucker involved in a single vehicle truck rollover accident in Phoenix was ejected from his truck because he was not wearing a seatbelt and died from his injuries.
7. "Cargo theft in the United States is estimated to cost shippers and trucking companies at least $30 billion a year, according to the FBI," stated an April 1, 2017 article.
The article went on to list a number of "top targets for cargo theft", including items for home and garden, food and beverages, and electronics.
Always follow the best practices for security concerning your truck, trailer and load.
8. According to an April 1, 2017, article, a transportation planning director from Indiana stated that "Higher tolls on Interstate 80 in northern Indiana may have shifted some traffic to Interstate 70 and imposing tolls on that highway could result in more traffic on U.S. 40."
When you are deciding whether or not to take a toll road, what is the tipping point?
9. Congratulations to the seven truck drivers who drive for XPO Logistics and "have achieved 3 million consecutive miles of accident-free driving"!
10. An April 7, 2017, article stated that in order to raise the tax on diesel by 20 cents per gallon in the state of California, a concession was made to "restrict the state from requiring owners to retire or retrofit trucks to meet new greenhouse gas regulations before they're 13 years old or reach 800,000 miles."
LandLineMag.com quoted a state senator who cast doubt on the tax increase as going to transportation: "This state is already diverting a billion dollars in weight fees away from our roads every year."(b)
Do you think the added fuel tax will actually go to road maintenance and improvement?
11. In 2010, Crete Carrier Corp. put in place a policy that "requires all driver applicants with a body mass index of 35 or greater to be screened for sleep apnea via an in-lab study".
In 2013, a trucker sued the company, "arguing the carrier's apnea-screening program violates drivers' rights within the American Disabilities Act."
The 8th Circuit Court of Appeals sided with the company and the U.S. Supreme Court has ruled that they will not hear the case.
12. Inquiring minds want to know: Why can't all road construction projects be completed in "approximately 10 weeks" like it is estimated that the reconstruction of the Atlanta bridge over I-85 is scheduled to take?
On behalf of my husband Mike and me, we wish you safe travels and lots of money saving opportunities on the road.
---
---
Return from TDMST Weekly Round-Up: 2017.04.08 to our TDMST Weekly Round-Up Trucking Commentary or our Truck Drivers Money Saving Tips home page.
---
Reference:
a. www.landlinemag.com/Story.aspx?StoryID=33081#.WN8HYWe1vIV (no longer online)
b. www.landlinemag.com/Story.aspx?StoryID=33150#.WOhT_We1vIU (no longer online)