This is the TDMST Weekly Round-Up of news affecting professional truck drivers, written by Vicki Simons for the week ending September 21, 2019.
We welcome your comments, thoughts and feedback on the items of your choice below.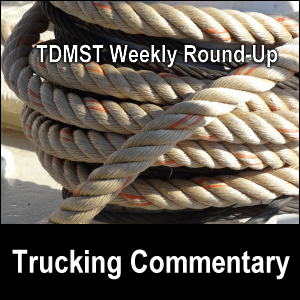 1. Regarding flooding in Texas:
Tropical Depression Imelda has brought a lot of rain to southeast Texas, so much so that parts of Interstate 10 — some 23 miles' worth — were shut down and some drivers were left stranded.
One article stated that in 72 hours, more than 40 inches of rain fell.
Occasionally, someone thinks he can outsmart a flood and keep on driving, only to get stuck later or have to be rescued by others.
Commercial motor vehicles were designed to be driven on land, not through high water. So never attempt to drive into flood waters!
Numerous articles have been written about this storm, including those here, here, here, here, here and here.
For the most recent road information in Texas, click here.
2. Regarding Hours of Service:
Compliance versus truck accidentsFederal Motor Carrier Safety Administration (FMCSA) director of enforcement and compliance Joe DeLorenzo "estimates [that] 99% of those being inspected are compliant with HOS regulations," according to a September 17, 2019, article."DeLorenzo reviewed some of the FMCSA's findings of ELD usage" with compliance being up to 99% but some drivers supposedly "misapplying the rule".You may read more here about the comments that were given in persona at a "listening session" on September 17, including one "'jaw-dropping' admission".Among the concerns with the proposed Hours of Service regulations change was the "risk" that truckers would be forced to work longer hours.Drivers and carriers were said to offer "mixed reactions" to the proposed HOS regulation change.
ELDs being updatedAs was reported on September 18, 2019, one author is castigating ELD providers who didn't plan ahead to make it easy to change Hours of Service rules within their units.The article stated, "Any delay would, of course, be at the expense of the truck driver, as well as safety."As you know, the ELD mandate was another expensive regulation handed down from Congress in the name of safety, although it has not delivered any quantifiable safety benefits."Furthermore, the article correctly stated that the FMCSA shares some of the blame for this since they "allowed ELD providers to self-certify, and the providers created the devices in a way aimed at 'flagging' any violations a trucker may have made rather than just recording the information."
3. Regarding California's independent contractor or owner-operator law:
Numerous articles were written this week about how California Governor Gavin Newsome signed into law Assembly Bill 5 (AB5) "that trucking interests in the state say will wipe out the ability to use owner-operators" and yet others say will not create a "doomsday" scenario.
This topic was also written about here, here, here, here and here.
4. Regarding Operation Safe Driver numbers:
Almost 47,000 citations were issued during the CVSA's Operation Safe Driver Week this past July according to articles written here, here, here, here and here.
The top 3 violations were:
Speeding/violation of basic speed law/driving too fast for the conditions;
Failure to wear a seatbelt; and
Failure to obey a traffic control device.
Truckers were reported as receiving "nearly 1,500 tickets" during the event.
Ouch!
5. Regarding testing for and reporting on drugs and alcohol:
According to a September 19, 2019, article, "The Drug and Alcohol Clearinghouse is a substantial step towards eliminating unqualified drivers and improving road safety, not just for truckers, but for all drivers."And yet the article says that there are ways to improve that.
A September 17, 2019, article quotes the Trucking Alliance as saying that "Some 300,000 truck drivers would fail a hair test for drugs, … but most of those would pass the DOT-required urine test."Separately, one article said that a "hair test [is] 14.2 times more likely to spot drugs than urinanalysis".
A September 16, 2019, article lists 7 things that folks need to know about the new Drug and Alcohol Clearinghouse:

the first one on the list being that the Clearinghouse goes into effect in January 2020, and
the last one being that "drivers need to know their rights and responsibilities".
6. Regarding being in too big of a hurry:
When one trucker made a triple mistake of trying to pass another trucker — "in a no-passing zone, on a grade, and on a corner" — another motorist lost his life in the resulting head-on collision.
This was totally preventable!
Although at times it is frustrating to be "stuck" behind a slower-moving vehicle, consider the cost of passing illegally in terms of both life and property.
Our condolences go to the family of the motorist who died.
7. Regarding trucker turnover:
The author of this article wrote:
After many conversations with these young men and women, I think I can safely say that, unless there's a bona fide likelihood of making $100,000 or so a year in trucking, these kids are not going to waste their time. They are simply not interested. They're not stupid. They look at the average cost of a home, the average cost of a new car, and so much more — they know that if they do not want to be in debt for the rest of their lives, they need an income to match.
Of course, there's more to the issue of the trucker churn rate, like burnout.
But pay plays a big part of this lifestyle occupation.
8. Regarding traffic stops:
You may appreciate the advice given in the column "Trucking Law: Protecting yourself during a traffic stop".
9. Regarding paid truck parking:
According to a September 17, 2019, article:
While there's a definite planning benefit to paid reservations that can serve to minimize time wasted hunting out a space in an unfamiliar or congested area, a relative few readers seem to actually use reservations to that effect.
The sentiments expressed ranged over this spectrum, which I summarize as:
Truck stops already sell things at a high price and paid parking is a ripoff;
Paid parking is a convenience that lets me maximize my drive time;
I never know when I'm going to be free from a shipper or receiver, so paid parking doesn't really help me; and
By the time I want a spot, many times the paid spots are already sold out.
10. Regarding regulatory changes and trucking mandates:
According to a September 17, 2019, article, there are five federal trucking regulatory changes in the works:
Drug and Alcohol Clearinghouse
Entry-Level Driver Training
Hours of Service Rule Changes
CSA Changes
Under-21 Driver Initiatives
Another article said that a coalition of 30+ trucking-related trade associations — led by the Owner-Operator Independent Drivers Association (OOIDA) — is writing to Congress to oppose "four trucking mandates that have been proposed in Congress recently":
underride guards,
speed limiters,
automatic emergency braking systems and
a liability insurance minimum increase.
11. Regarding CAT Scale prices:
Starting on September 18, 2019, the cost of a "first weigh" at a CAT Scale will cost $12 and each subsequent reweigh will cost $2.50.
More on this was written here.
12. Regarding fuel prices:
A September 16, 2019, article stated that "a drone attack struck oil plants in Saudi Arabia, shutting down production by half, [and] oil prices skyrocketed at a record rate."
According to a September 18, 2019, article, "The price of gasoline crept higher after a weekend attack devastated Saudi Arabian oil output, but if the disruption to global supplies is short-lived, the impact on the U.S. economy will probably be modest."
More on this topic was written here.
13. Regarding safe driving:
Several unrelated articles have recently been published that may help truckers:
14. Regarding new truck route:
A September 13, 2019, article stated that after 20 years of planning, "On the morning of Friday, September 13, Florida transportation officials officially opened the [new seven-mile long, four lane] Starke Truck Route (also known as State Road 223), which is intended to cut down on traffic congestion on U.S. 301."
Hurray!
My husband Mike and I wish you — and all professional truck drivers — safe travels and lots of money saving opportunities on the road.
---
---
Return from TDMST Weekly Round-Up: 2019.09.21 to our TDMST Weekly Round-Up Trucking Commentary or our Truck Drivers Money Saving Tips home page.
---