This is the TDMST Weekly Round-Up of news affecting professional truck drivers, written by Vicki Simons for the week ending March 31, 2018.
We welcome your comments, thoughts and feedback on the items of your choice below.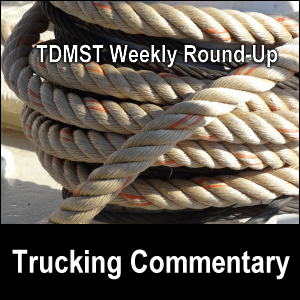 1. This coming Sunday, April 1, 2018, is the date when enforcement of the Electronic Logging Device (ELD) mandate is scheduled to begin. According to a March 29, 2018, article:
There has been resistance to the regulation, especially among drivers and owner-operators, and the ramp up to full implementation has been slow and fractured. There also was some confusion among drivers, fleets, and even enforcement officials about some points of the rule.

So, since the rule went into effect in December, violators have not been subject to being placed out of service or having the violation affect their CSA scores. But starting April 1, any driver operating a commercial vehicle without a compliant ELD or Automatic Onboard Recording Device will be subject to the full weight of the law if caught.
We don't agree with industry-wide forced use of ELDs — especially since there have been "technical glitches and other equipment issues" with some units and "there are still problems with the technology."
However, we urge those who wish to keep driving commercially to stay legal and compliant, avoid "a firehose of violations" issued roadside by law enforcement", and check out the article for "10 Things You Need to Know Before April 1" about the mandate.
More info about the "four core areas" in the ELD final rule is available by registering for it here.
2. Perhaps one of the only good things to come out of the ELD mandate is that now there is documentation of "problem shippers and receivers" regarding long waits for loading or unloading.
A March 26, 2018, article stated, "Truck drivers lose an estimated $1,281 to $1,534 per year because of wait times at loading docks, costing the industry an estimated $1.1 billion to $1.3 billion in income annually, according to a Department of Transportation office of inspector general audit."
One example of why we think the cost is much higher is this…
One long-haul owner-operator, Laird Fuller, recently stated, "Shippers and receivers don't have to work for free, why should we"? One documented delay cost him "around $1,200", which is how much he would have generated had he been driving "and not sitting on a dock."
In his opinion, shippers and receivers "should be given 1 hour to load or unload his trailer, anything after an hour past the appointment time they set, they should be held accountable and required to pay detention time."
His quote appeared in a March 30, 2018, article which also stated, "The reality is that many shippers and receivers simply don't care [about the 'the risk and personal sacrifice truckers take to hold up their end of the bargain'] and are all too happy to treat truckers like second-class citizens."
Well, now with ELDs, "Data is king and for the first time every trucker has ELD data at their disposal that can quantify the opportunity costs of loading dock inefficiency."
Although we disagree with truckers providing any "free time" in a dock, "Freight-booking company Convoy has built a web-based solution to the detention problem where shippers can book and truckers can accept loads via a mobile application … [and] drivers who are in the Convoy network get paid for detention regardless of whether or not the shipper pays detention. Convoy will pay the driver $40 per hour for detention following 2 hours of free time."
Another example of the problem was described in a March 27, 2018, article: "Drivers say it can take up to 5 hours to pick up their cargo and they are not compensated for that time.
They want the Port [of Virginia] to cut down on wait times."
Furthermore, the ELD mandate is bringing to light the failure of facilities to provide a safe place to park when leaving the facility would violate a trucker's Hours of Service regulation.
A March 29, 2018, article detailed "How to blow the whistle on problem shippers/receivers when delays force violations."
Check out the details about how to report a "Truck Complaint" and specifically being "Coerced to commit a violation."
3. A poll on OverdriveOnline.com asked, "With the ELD mandate in play, which of these choices best describes what you've seen on your routes in terms of parking availability?"
As of March 30, 2018, 1,031 votes had been cast.
There were 668 votes (64.79% of the total) cast for the option, "I've noticed lots full or very close to full earlier in the evening and/or later in the morning than before."
I once read in an anti-ELD mandate Facebook group where some truckers asserted that now that the ELD mandate is in place, many truck stops are taking advantage of drivers by increasing the number of reserved paid parking spaces in their lots.
I pressed for documentation on that and so far have not seen an actual connection between the two (the mandate and the number of paid parking spaces).
On March 30, I read a Facebook post in which an owner-operator provided a screenshot of a mobile app listing of the TA truck stop in Commerce City, Colorado.
Of the 224 truck parking spaces, 122 were "Reserve-It Parking" (meaning paid parking). That's about 54.5% of their parking lot being set aside for paid parking.
One lady wrote, "Turn your receipt in and company will put it back on your check".
I asked, "Are there any reports of trucking companies not reimbursing company drivers for paid parking? Thanks."
She responded, "Some probably don't but ours will pay you back just gotta turn in a receipt".
Company drivers, before you pay for paid parking, ask your company:
– Will you pay for me to park your truck?
– If someone says yes, ask what procedure you need to take to make sure their truck stays secure.
4. "According to the recent study, the median salary for a truckload driver working a national irregular route increased 15% to over $53,000 annually, when compared to ATA's last survey which covered pay for 2013.
Private fleet drivers have seen an even larger salary increase in the same period, jumping 18% to $86,000 a year", according to a March 27, 2018, article.
Drivers, have you seen your pay increase 15% – 18% since 2013 (5 years)?
Isn't 5 years a bit too much time between surveys?
5. LandLine Magazine published an article on March 27, 2018, that opened with this:
"As policies for autonomous technology in passenger vehicles continue to move forward, federal regulators are seeking input on regulations governing autonomous commercial motor vehicles.
Addressing the issue, the Federal Motor Carrier Safety Administration is accepting comments aimed at identifying regulatory barriers to the implementation of automated driving systems on CMVs."(a)
We encourage you to speak up about this.
6. A survey of professional truck drivers about why fleets have "a hard time recruiting drivers" was reported on March 22, 2018.
– "Less than 2 percent of drivers said a sign-on bonus would motivate them to change carriers";
– "9 percent of respondents said they aren't making enough money";
– "three out of four respondents … cited low pay"; and
– the number one reason, given by 44 percent of respondents, is "regulations… [that] make it harder to work and make a living".
Do you agree with this list?
Comment below.
7. "The 12% Federal Excise Tax on new heavy trailers may be added twice if a vehicle is bought and sold within six months," says a March 21, 2018, article.
8. Without a dash cam or witnesses, how will the trucker who lost control of his rig, crashed, experienced a diesel spill, and shut down Interstate 4 for hours, prove that that another driver cut him off?
9. What is it with truckers attempting to take their commercial motor vehicles under clearly posted low clearance bridges?
This time, it was a trucker hauling a hazmat load who attempted to get his 13'6″ rig under a 12'6″ bridge!
The bridge strike caused a barrel of a hazardous chemical to leak, which prompted an evacuation of "homes and businesses within a 300 foot perimeter of the crash site", according to a March 29, 2018, article.
Read and heed the signs!
If your CMV-specific GPS unit led you to a low clearance, report it here.
My husband Mike and I wish you — and all professional truck drivers — safe travels and lots of money saving opportunities on the road. Have a blessed Resurrection Day!
---
---
Return from TDMST Weekly Round-Up: 2018.03.31 to our TDMST Weekly Round-Up Trucking Commentary or our Truck Drivers Money Saving Tips home page.
---
Reference:
a. www.landlinemag.com/Story.aspx?StoryID=72014#.Wr47_3Yh3cs (no longer online)