This is the TDMST Weekly Round-Up of news affecting professional truck drivers, written by Vicki Simons for the week ending September 30, 2017.
We welcome your comments, thoughts and feedback on the items of your choice below.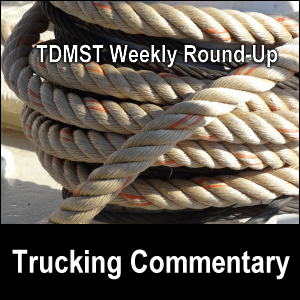 1. In this September 21, 2017, article, we read:
"Blockchain, a technology that stores incorruptible blocks of information across a shared digital network, could revolutionize the future of trucking and logistics by creating a new system of completing transactions, tracking shipments and managing fleets."
An example given in the article was how "distributors can trace a contaminated shipment to its source".
Another is "… the creation of a streamlined payment system. Blockchain technology can create a 'digitized roadmap' of routes, and smart contracts written into the blockchain can trigger the transfer of funds to a driver instantaneously once a delivery has been completed."
I'd love to see truckers get paid instantaneously for completing their work!
2. Are you in a truck driver training school on a federal student loan? Then watch out for missing checks.
According to a September 17, 2017, article, the director of a Tucson school "is accused of intercepting checks and depositing them into a business bank account he opened behind the school owner's back" and "embezzling nearly $1 million from students and his ex-employer".
Both the auditors and the bank have denied wrongdoing despite their involvement.
3. Are you driving in the Champaign, Illinois, area? Then be particularly careful about construction and the likelihood of encountering low clearance bridges and viaducts.
"Since the beginning of 2012, there have been 41 viaduct accidents, with one at Logan Street, 11 at Springfield, 14 at Washington Street and 15 at Green Street", a September 17, 2017, article stated.(a)
Besides being costly, "When trucks collide with the viaduct, it ties up traffic for hours." Depending on the load being hauled, it could tie up the area for up to 6 hours.
Pay attention to low clearance signs, regardless of what your GPS unit says.
4. According to a September 15, 2017 article:
"Thom Albrecht, president of Sword and Sea Transport Advisors, pointed to four radical changes in consumerism that could dramatically alter trucking industry operations … painting a picture of a near-future trucking industry that leans more heavily on less-than-truckload hauls, medium-duty straight trucks and vans, shorter routes and final-mile delivery. He predicts reefer to remain strong, despite shifts in reefer freight movement. Dry van, however, will see a decay in the coming years, he says."
How will these changes affect your job?
5. According to a September 15, 2017, article, a truck driver who arrived at a Zephyrhills, Florida, Home Depot store too late to be off-loaded ended up giving away the plywood on his trailer when the area people were desperate for the product in the face of Hurricane Irma.
While the load wasn't his to give away, some people are calling him a hero.
The article quoted the driver as saying that he had been fired from his job, but his trucking company's CEO wrote, "We understand what was probably going through his mind during these extraordinary circumstances, which is why we did not fire him, and have no plans to do so."
"Western Express said the company and the Home Depot would be 'writing off the cost of the plywood.'"
The only hitch in the situation was that evidently, for whatever reason, the driver either did not — or was not able to — communicate with his trucking company about giving away the plywood.
My husband Mike hauled dimensional lumber for a period of time and he said that in the same situation, he would have contacted his trucking company before giving away the product.
6. Arising from the news of the trucker who gave out plywood in advance of Hurricane Irma was this little nugget:
"…he arrived too late, delayed by the seven hours he spent Friday getting a flat tire changed in South Carolina."
This is a business opportunity in the making: helping truckers get their tires fixed or replaced in a more timely manner.
7. The subtitle of a September 18, 2017, article summed up a couple of presumptions about truck drivers in light of the December deadline regarding Electronic Logging Devices:
"Drivers worry about lost income with a December rule requiring electronic logs".
The first presumption is that many truckers are currently falsifying their log book entries.
The second presumption is that truckers will lose money when ELDs start being used.
The third presumption is that when faced with the ELD mandate and lower wages, many truckers will leave the industry.
Some years back, I seem to recall that one country (Japan?) had an on-time air transportation efficiency that was extremely high. I realize that this is not the same as truck transportation. However, if extremely high efficiency has been done in one industry, why can't the principles of that industry be applied to others?
What I'm saying is that
– if the Hours of Service regulation was more flexible;
– if shippers and receivers upped their games regarding drastically reducing loading and unloading times; and
– if truckers were truly paid what their skill sets and job responsibilities were worth;
then trucker income would go up regardless of electronic logs.
Just saying…
8. The opening paragraph of a September 13, 2017, article reads:
"Self-driving trucks, rather than throwing millions of drivers out of work, might actually increase the number of trucking jobs, two industry representatives told a U.S. Senate committee hearing Wednesday."
The article also stated: "Chris Spear, president of the American Trucking Associations, argued that completely autonomous trucks capable of driving themselves in all situations – a technology referred to as level 5 automation – remain decades away."
Meanwhile, "A U.S. trucking trade group and truck maker Navistar International Corp (NAV.N) urged a U.S. Senate panel on Wednesday to include self-driving commercial trucks in proposed legislation intended to speed autonomous vehicles to market", according to this September 13, 2017, article.
9. Watch where you park, even in the face of a storm.
A September 13, 2017, article stated: "A local driver carrying dangerous cargo said he got caught in Monday night's storm and had no other choice but to pull over into a strip mall parking lot and ride it out. But when the storm was over, he was blown away by the penalty he says he had to pay."(b)
Kevin Gray pulled into "a strip mall in Decatur off of I-20 and Wesley Chapel Road" instead of "fighting 40 to 50 mph wind gusts". However the strip mall was marked with Private Property and towing signs.
"Gray said because he's an independent operator, he agreed to pay the $650 out of his own pocket", the article stated.
Ouch!
10. A September 12, 2017, article shares the true account a trucker who had been badly beaten for having gone into a "a wayside in Kenosha County".
Not only was the trucker beaten but his wallet was stolen.
We sympathize with the trucker and nothing like this should ever happen to anyone.
In my opinion, this is another reason why it is a good idea for truckers to have a portable toilet in their trucks.
11. "The Owner-Operator Independent Drivers Association is speaking out against a bill that would force the U.S. Department of Transportation to push through a rule to mandate sleep apnea testing for trucker drivers", according to a September 29, 2017, article.(c)
12. A September 28, 2017, article revealed that the Compliance, Safety, Accountability [CSA] safety measurement program — that was supposed to result in a reduced number of crashes — underwent "a congressionally mandated study" that "concluded that the safety measurement program is defendable on paper but falls short on execution."(d)
13. A September 27, 2017, article stated: "The Owner-Operator Independent Drivers Association (OOIDA) led a 31-organization coalition in calling for passage of a bill U.S. Rep. Brian Babin (R-TX) introduced back in July – the ELD Extension Act of 2017 (HR 3282) – that would postpone the ELD implementation deadline till December 2019."
14. In a September 2017 article, we read that two results from the 7 trucks in the "Run on Less" contest were:
– 17 days in length; and
– 10.1 average miles per gallon!
Wow!
My husband Mike and I wish you — and all professional truck drivers — safe travels and lots of money saving opportunities on the road.
---
---
Return from TDMST Weekly Round-Up: 2017.09.30 to our TDMST Weekly Round-Up Trucking Commentary or our Truck Drivers Money Saving Tips home page.
---
Reference
a. www.news-gazette.com/ben-zigterman/2017-09-17/bridge-too-low-trucker-too-late-crash-too-often.html (no longer online)
b. on.11alive.com/2jOgiz3 (no longer online)
c. www.landlinemag.com/Story.aspx?StoryID=70927#.Wc77AXRrzcs (no longer online)
d. www.landlinemag.com/Story.aspx?StoryID=70918#.Wc7-eXRrzcs (no longer online)