This is the TDMST Weekly Round-Up of news affecting professional truck drivers, written by Vicki Simons for the week ending May 20, 2017.
We welcome your comments, thoughts and feedback on the items of your choice below.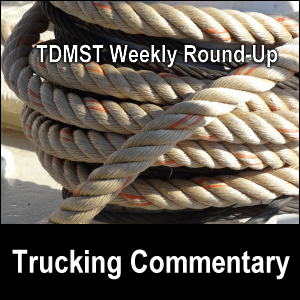 1. Having deployed the road-facing SmartDrive video system, Averitt Express "is now able to capture and analyze nearly every accident, which has had measurable impact on driver satisfaction, litigation costs and safety," stated David McDowell, director of risk management.
According to the May 19, 2017, article, once drivers "clearly understood the SmartDrive system can prove they did the right thing – and protects their records and livelihood – they embraced the technology."
Do you have a road-facing dash cam in your commercial motor vehicle?
If so, how has it helped you save money?
2. Carbon pricing systems are currently in place in the Canadian provinces of Alberta, British Columbia, Ontario and Quebec, as opposed to Saskatchewan, Manitoba and the Atlantic provinces, which do not have it, according to a May 18, 2017, article.
The Canadian Trucking Alliance (CTA) stated that they "would have liked a more consistent, transparent and revenue-neutral national framework, with all monies being put back into industry programs to accelerate investment and early adoption of fuel-efficient technology".
Instead, each province is "doing its own thing … [which] increases the administrative burden on industries like trucking."
If you drive in Canada, what has been your experience with carbon pricing systems?
3. As PrePass and Bestpass enter into an agreement to use a single transponder, according to a May 18, 2017, article, I would like to know if this move will help truckers save money — and if so, how?
4. A May 17, 2017, article reported what the American Transportation Research Institute (ATRI) revealed:
"Traffic congestion on the US National Highway System (NHS) added more than $63.4 billion in operational costs to the trucking industry in 2015 … [that totaled] more than 996 million hours of lost productivity, which equates to 362,243 commercial truck drivers sitting idle for a working year."
This is another reason why I think that professional truck drivers should push for a system of payment that includes being paid for time spent on the job, whether or not their trucks are rolling due to congestion.
Why do you agree or disagree?
5. There has been a battle between some professional truck drivers who have (or could have) sleep apnea and trucking companies that require that truckers be tested for it (at the truckers' expense).
This past April, the U.S. Supreme Court decided "not to hear a case from a driver who claimed a carrier violated his rights by requiring him to be tested," according to a May 16, 2017, article.
The article stated:
"Factors contributing to sleep apnea include obesity, lack of physical fitness, bad diet, smoking and poor sleep patterns";
"Complications from OSA [Obstructive Sleep Apnea] include fatigue, cardiovascular problems, eye troubles and complications with medications and surgery"; and
"The risk for truckers is they could become drowsy while driving and crash."
Two conflicting opinions are stated in the article regarding whether or not there's a link between truck crashes and sleep apnea. The spokeswoman for the Owner-Operator Independent Drivers Association, Norita Taylor, said there isn't one.
Trucking companies are seeking to reduce their liability by requiring at-risk truckers to be tested for sleep apnea.
The two-fold rub for truckers is it could be deemed an invasion of privacy and that they could be forced to pay for the sleep study, the cost of which "averages about $1,200."
I know of no other occupation besides transportation where employees may be forced to undergo such a study.
I wonder how many truckers — who previously didn't know that they had sleep apnea, underwent a sleep study, and were outfitted with a CPAP machine — began to experience better sleep as a result.
My husband Mike and I know of a trucker who already knew that he had sleep apnea and was using a CPAP machine every time he slept. Yet, when he went to work for a new trucking company, he was forced to undergo — and pay for — a new sleep study!
Where do you stand on this issue?
6. Do you think that the use of the mascot being used by "Trucking Moves America Forward, in partnership with Pilot Flying J" — and as shown in this May 18, 2017, article — enhances or diminishes the image of professional truck drivers?
Please also share why you think that.
7. A May 18, 2017, article states, "Uber has launched a new app to connect freelance truck drivers with freight loads."
news.fastcompany.com/memo-to-foreign-leaders-heres-how-to-win-over-and-influence-president-trump-4038371 (no longer online)
According to a second article on this subject, "another big pain point when it comes to small trucking companies and independent drivers [is] payment speed." Instead of forcing drivers to wait 30 days for payment, "Uber Freight will pay 'within a few days, fee-free, for every single load'".
How successful do you think Uber Freight as an additional means of obtaining loads will be?
8. An undated article about "Gamifying the driver experience" stated:
"driver scoring and gamification systems rely on the river of data generated by ELDs and fleet management software to create a program that allows carriers to score drivers on performance, efficiency, safety and more" and
"While the systems aid in fleet efficiency and cost savings, carriers also employ gamification programs as retention tools by creating a more engaged driver force, tracking drivers' progress and rewarding them with bonuses or products."
Do you support or oppose "gamification systems" to reward professional truck drivers for improved performance on the job?
If you're currently using one of these systems, what are the pros and cons?
My husband Mike and I wish you safe travels and lots of money saving opportunities on the road.
---
---
Return from TDMST Weekly Round-Up: 2017.05.20 to our TDMST Weekly Round-Up Trucking Commentary or our Truck Drivers Money Saving Tips home page.
---