This is the TDMST Weekly Round-Up of news affecting professional truck drivers, written by Vicki Simons for the week ending November 21, 2020.
We welcome your comments, thoughts and feedback on the items of your choice below.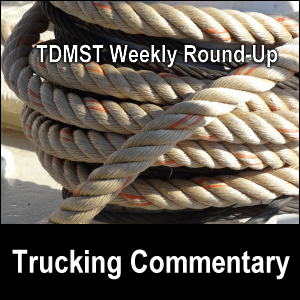 1. Regarding electric vehicles, fuel, and brakes:
Electric vehicles
Regarding the article, Thousands of Electric Vehicles Recalled by GM due to Battery Fires:
We realize that there are differences between electric cars and electric trucks.
However, if electric cars can experience battery fires, is it possible that electric trucks can, too?
Other articles on this topic include:
---
Fuel
Quote from the article, "UK Announces "Green Industrial Revolution" With Ban On Gas Cars":
In addition to banning gas and diesel cars in the next 10 years, the plan also calls for a 4x increase of offshore wind power capacity in the same period of time. Although it is important to note that the sale of some hybrid cars and vans will still be legal until 2035.
Question: If cars that operate on gasoline and diesel will be banned in the UK in the next 10 years, can the ban on diesel-operated trucks be far behind?
---
Brakes
Daily Infographic: Semi Trucks' Brakes
2. Regarding AB5, Ag HOS, HOS, and breaks:
All of the articles below concern regulations and laws.
AB5
---
Ag HOS
---
HOS
---
Breaks
3. Regarding 5G, technology, routing, and Stop the Tires:
5G
---
Technology
---
Routing
---
Stop The Tires
Well, the proposed days-long strike about which I wrote last week has been "canceled" by the "organizer":
Again, there are better ways to make your point than engaging in a "stop driving" protest.
If you don't like certain laws, get in touch with your lawmakers — regularly!
4. Regarding truck accidents, near misses, and bridge strike prevention:
Truck accidents
The Minnesota State Patrol wants the motoring public's help in finding a truck driver who may have contributed to a 29-vehicle pileup on Thursday, November 12 — on westbound I-94, east of Monticello, Minnesota — whom they say may have stopped "in the active lanes of traffic to clear snow from the windshield of his or her truck."
If you have to take care of issues like this, please pull safely out of the lanes of travel before doing so.
Once, as I driving through Nebraska in our company-issued truck, the windshield wipers and defroster could not keep up with the amount of snow that was accumulating on the wipers.
I parked our truck on the shoulder of the next nearest interstate ramp and used the kingpin puller (fifth wheel pin puller) to help remove snow and ice from the wiper blades (and affected assembly parts) on both driver and passenger sides.
—
Regarding the article, Semi rear-ended Louisiana trooper before hazmat explosion, police say:
I speculate that at 4:30 a.m. in the morning, the trucker who was involved in this accident may have allowed his truck to veer onto the shoulder of the interstate, thus preceding his impact into "the rear of a fully marked LSP patrol vehicle stopped" there.
This could have been caused by:
being distracted,
being drowsy, or
being oxygen-deprived (if he had created an oxygen-deficient atmosphere by wearing a face mask).
If you find yourself getting inattentive behind the wheel of a vehicle, find the nearest safe and legal place to do so — and park your truck.
Do not persist in driving when you cannot think clearly!
---
Near misses
The evasive action that two different truckers took to avoid a more hazardous outcome is impressive!
---
Prevention
5. Regarding COVID-19, reefers for the dead, and vaccines:
I wrote the following on Facebook in response to the posting of the article entitled,
See Coronavirus Restrictions and Mask Mandates for All 50 States:
OK, folks, watch for the number of cases of a respiratory illness to spike in states with mandatory face mask wearing.

The reason why many people are getting sick while wearing face masks is **because** of the masks!

There are a number of issues going on, including (but not limited to):

– the materials in the masks not being healthy;

– the stuff that people exhale not being released away from their faces; and

– (in my opinion, most importantly) the reduced amount of oxygen that is getting through to them (creating an oxygen deficient atmosphere, according to the US Code).
nytimes.com/interactive/2020/us/states-reopen-map-coronavirus/ (no longer online)
God created the human body with an immune system.
When the immune system is weak, the human body is more likely to get sick.
When the immune system is strong, the human body is less likely to get sick.
I share the following as a courtesy…
COVID-19
---
Reefers for the dead
---
Vaccines
Please be aware that, according to the package or insert, some of the ingredients that are being put in vaccines could harm human health.
Due your due diligence regarding any ingredients:
from other humans,
that may alter your DNA,
that may cause you to become very sick,
that may track or monitor you, or
may, in essence, cause you to be owned by some other entity.
I share these articles only as a courtesy:
6. Regarding automation, ELDs and autonomous vehicles:
Automation
The title of this article says it all:
Study: The more you automate driving, the less drivers focus.
---
ELDs
---
Autonomous vehicles
I'm sharing these articles as a courtesy to help you stay informed.
7. Regarding drugs:
8. Regarding economy, supply chain and roads:
Economy
---
Supply Chain
---
Roads
9. Regarding Thanksgiving holiday and theft:
Thanksgiving
---
Theft
10. Regarding miscellaneous trucking issues:
11. Regarding competition, rates, recalls, and weather:
Competition
---
Rates
---
Recalls
---
Weather
12. Congratulations!
We extend our heartiest congratulations to those named as award winners — and those who will be:
My husband Mike and I wish you — and all professional truck drivers — safe travels and lots of money saving opportunities on the road.
---
---
Return from TDMST Weekly Round-Up: 2020.11.21 to our TDMST Weekly Round-Up Trucking Commentary or our Truck Drivers Money Saving Tips home page.
---