This is the TDMST Weekly Round-Up of news affecting professional truck drivers, written by Vicki Simons for the week ending June 17, 2017.
We welcome your comments, thoughts and feedback on the items of your choice below.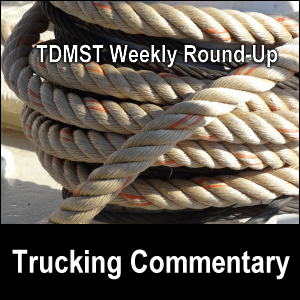 1. A June 16, 2017, article contains an amazing quote:
Panelist John Woodroffe, head of transportation safety analysis at University of Michigan, explained that it is important for truck manufacturers and tech developers to make autonomous trucks even more reliable and safer than the trucks already on the road. "We should be designing trucks that refuse to crash," he noted. "If the truck refuses to crash, then society's perception will improve, and it will reflect the industry well."
Do you think that it is possible to create a "truck that refuses to crash"?
2. A one-vehicle accident reveals how dangerous it can be to overcorrect your truck.
According to a June 10, 2017, article, after overcorrecting, the truck "collided with a temporary construction guard rail", the impact of which "ruptured the fuel tank of the tractor-trailer", causing an explosion and fire.
More than 40% of the driver's body was burned and he was in critical condition at the time the article was written.(a)
If one of your truck's steer tires go off the pavement, it is better to slow down to regain control on the road.
3. An excellent June 12, 2017, article from Trucks.com addressed the topic of truckers carrying guns for protection. Of interest was this statement:
"Yet drivers of armored vehicles have had the legal right to carry firearms across state lines since the passage of the Armored Car Industry Reciprocity Act, or ACIRA, in 1993."(b)
Do you think that professional truck drivers ought to be able to carry a firearm anywhere they travel, no matter what jurisdiction they travel in?
4. Here's an interesting question that came up as a result of this June 12, 2017, article:
If your trucking company saves money on its insurance by installing cab-facing cameras in its trucks, do you feel that you deserve to have a slice of those savings if you're one of the drivers on-camera?
5. The U.S. Supreme Court has refused to consider OOIDA's petition "to hear the trucker trade group's argument against the Department of Transportation and the Federal Motor Carrier Safety Administration requirement to install [Electronic Logging Devices] or ELDs, in heavy-duty trucks," according to a June 12, 2017, article.
"Equipping roughly 500,000 U.S. trucking firms with ELD looks to be about a $1-billion business, according to FMCSA estimates."
Another article on this topic states, "OOIDA Vows to Continue Fight Against Mandatory ELDs".
What are your thoughts on this?
6. A June 13, 2017, article reveals a tragedy of errors.
First, the trucker hauling a flatbed with a container on top didn't know how tall his load was.
Second, when the container struck a railroad bridge, "the force of the collision caused the fastening straps that were holding the cargo to break."
The article does not say how much time elapsed between the bridge strike and the container falling off the flatbed.
Third, when the container fell off the flatbed, it fatally crushed a bicyclist.
The "truck driver has been charged with vehicular manslaughter" and if he is convicted, "he faces up to six years in prison."
Always, always, always know how tall your load is and which routes you need to take to avoid a low clearance accident.
7. In time for Father's Day is this June 13, 2017, article about four generations of fathers and sons in one Pennsylvania trucking company.
BTW, Pilot Flying J is offering free coffee to dads on Father's Day, according to this June 15, 2017, article.
8. A June 15, 2017, article stated that grocery retailer Kroger experienced "a 50 percent reduction in collisions, a 71 percent reduction in handheld cell phone use, and an 82 percent reduction of Driver Unbelted incidents" as a result of using DriveCam technology.
Another article about this topic is here.
Would this kind of "pay back" make you willing to have a cab-facing camera in your truck?
9. "Imagine this: a tire that is airless, made of recycled materials, and will never inflate. That is what Michelin calls its Vision Concept."
This was the opening paragraph of a June 14, 2017, article that has me completely fascinated.
I'll be looking to learn more about this, since it was pointed out to me that using something like TyrFil is not suitable for on-road usage.
I've got lots of questions:
– If it is airless and will never inflate, can it ever go flat?
– Will it ever need to be retreaded?
– Can it be retreaded?
– What are the pros and cons of using these on a truck?
10. A June 13, 2017, article stated, "Truckers entering New York City by bridges and tunnels operated by the Metropolitan Transportation Authority (MTA) will receive a 50 percent discount on tolls … From July 10 and Sept. 1…."
11. OK, I have a question stemming from this opening paragraph (emphasis added) of this June 16, 2017, article:
"A federal jury awarded $779,127 in damages in a class action suit against Werner Enterprises Inc. and a subsidiary after the company allegedly violated minimum wage laws by failing to pay driver trainees for 20-minute rest breaks."
If one group of truckers is subject to minimum wage laws, why aren't all truckers subject to it?
Hmm…
12. A June 3, 2017, article stated another reason why automation is sought by stakeholders in the transportation industry:
"Driverless trucks won't need health insurance, vacations or pay. They also won't need dispatchers, compliance departments or human-resource managers."
Did you catch that?
Not only will the truckers themselves be replaced by robots, but the robots won't need the folks behind the scenes.
That means that others whose jobs depend on truckers' jobs will find themselves out of work, too!
Separately, it was reported that a Russian trucking company "has taken steps to replace 20 percent of its fleet with vehicles that have autonomous capabilities this year. In 2018, the goal will double."
The article that also stated, "Truck manufacturers are already starting to offer semi-autonomous features that could impact the role of the driver…."
So hang on, folks.
This shift to self-driving trucks is going to be economy-changing.
My husband Mike and I wish you — and all professional truck drivers — safe travels and lots of money saving opportunities on the road.
---
---

Return from TDMST Weekly Round-Up: 2017.06.17 to our TDMST Weekly Round-Up Trucking Commentary or our Truck Drivers Money Saving Tips home page.
---
Reference
a. on.wtsp.com/2sku7Go (no longer online)
b. leb.fbi.gov/2012/december/armored-car-industry-reciprocity-act-and-local-law-enforcement (no longer online);
replaced with
leb.fbi.gov/articles/featured-articles/armored-car-industry-reciprocity-act-and-local-law-enforcement (no longer online)