This is the TDMST Weekly Round-Up of news affecting professional truck drivers, written by Vicki Simons for the week ending June 20, 2020.
We welcome your comments, thoughts and feedback on the items of your choice below.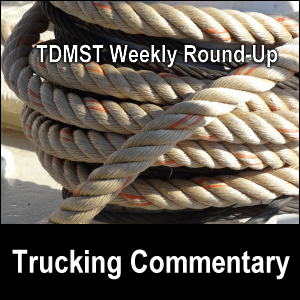 1. Regarding proposed mandatory insurance increase:
Among the biggest pieces of news this week was an amendment to the highway bill that would make it mandatory for truckers to have $2 million in insurance.
The Owner-Operator Independent Drivers Association (OOIDA) opposed this and it was said that small trucking companies might not be able to stay in business with such a requirement.
This amendment to the INVEST in America Act was passed by the U.S. House
Articles that covered this news included:
Quoting Todd Spencer, President and CEO of OOIDA, on this:
This amendment will do absolutely nothing to improve safety on our highways. What this proposal will do is destroy small trucking businesses in every corner of the country. …

Small business truckers have been working around the clock to keep the country healthy, while risking their personal well-being and struggling to stay in business due to historically low freight rates caused by COVID-19. Unnecessarily increasing their insurance rates is not the way to thank them.
If you feel strongly about this mandatory insurance increase from $750,000 to $2 million, please contact your U.S. House member and U.S. Senators immediately!
2. Regarding protection from police and guns:
Over the last month, there have been various protests (news of which I'll cover below).
Here, I want to consolidate some articles that address various aspects of police presence in various places.
---
These articles address trucker self-defense:
3. Regarding protests that affect truckers:
These articles address protests that have taken place — or were planned — and some of the ramifications of them.
---
These articles address the problem of one trucker threatening protesters:
Self-defense is one thing.
Seeking to deliberately harm other people is wrong.
As hard as it may be right now, we need to love one another.
4. Regarding paycheck protection and trucker pay:
As I wrote in my April 4, 2020, TDMST Weekly Round-Up regarding small business loans to keep businesses afloat in the days following the government-imposed shutdowns:
It may be overly pessimistic of me, but until all possibility is eradicated that the government can push another shutdown upon the people, you have no guarantee that you will be able to pay back the loan according to the terms outlined (whatever those terms may be).
As much as I disagree with the "Paycheck Protection Program" (PPP), here are articles that may be of use to you:
In Earl Nightingale's "The Strangest Secret," he said:
Our rewards in life will always be in exact proportion to our contribution, our service.
Life happens.
That's why having a back-up plan — like having a Second Income for Truckers — can help.
---
These articles address different aspects of truckers being paid and trucking business survival:
5. Regarding truck operations:
First, for owner-operators with older trucks, this article may help you evaluate your situation:
To keep or not to keep: What to consider when engine problems arise.
The following two articles have to do with high temps in the summer:
6. Regarding AB5:
Here's the latest: California's owner-operator law on hold until late 2020.
7. Regarding autonomous vehicles:
Even with the amount of freight being lower right now, the push for autonomous or self-driving trucks has not abated.
Here are some of the most recent articles:
If you feel strongly about these situations, please contact your elected officials!
---
Honest question: How will autonomous trucks be able to deal with bush fires, variable speed limits, and dust storms?
8. Regarding brokers:
9. Regarding COVID-19 and trucker health:
Are you tired of hearing about coronavirus (COVID-19)?
I know that I am.
However, articles are still being published about it, the most recent being:
---
Those things being said, here's my take on truckers staying well and healthy:
Year-round, Mike and I strongly urge each professional truck driver to do the following to help stay well and healthy:
My husband Mike and I take supplements specifically to help boost our immune systems and keep them boosted.
If you would like to know more about those, please contact me through the form below.
---
Do you remember the articles about truckers being given masks and urged to wear them?
Well, here are two articles (and a video) from a trustworthy source that are well worth your time to read/watch:
---
Here's one "before" article and one "almost back" article related to business in light of the government-imposed shutdowns.
10. Regarding trucker safety, deaths and crashes:
According to the National Safety Council, June is National Safety Month.
Here is a list of their National Safety Month Free Materials.
---
I am deeply grieved when anyone dies, is injured, or is involved in an accident on the job.
Let's see if we can learn from the situations in which some truckers were killed or got injured so that we don't repeat any mistakes.
Meanwhile, we can learn from these articles:
---
From the article The "Big 3" Factors in High-Severity Crashes, we read "the primary causes for… high severity incidents" are:
Drowsy driving
Speed management
Distracted driving
Meanwhile, the Zebra listed full, non-texting, distracted driving behaviors that 2,600 survey respondents engaged in.
11. Regarding saving money:
This list of 2020 state and local idling regulations could save truckers from a costly fine.
Watch out for and do not engage with "brake checkers," like the pick-up truck driver whose actions were caught on video.
There's a "Push on for Congress to suspend federal excise tax."
Be aware of the various safety tips in the article: How to truck safely through tornado season.
12. Regarding announcements of giveaways to truckers:
A June 19, 2020, article stated:
In its fifth year, the Transition Trucking award seeks to discover America's top rookie military veteran driver who has made the transition from serving in the U.S. Armed Forces to driving for a commercial fleet.
During Landstar's 2020 All-Star Truck Giveaway on Wednesday, July 8, "the company will give away a 2020 Freightliner Cascadia to one of [the named] four owner-operator finalists."
We look forward to learning who the winners are!
My husband Mike and I wish you — and all professional truck drivers — safe travels and lots of money saving opportunities on the road.
---
---
Return from TDMST Weekly Round-Up: 2020.06.20 to our TDMST Weekly Round-Up Trucking Commentary or our Truck Drivers Money Saving Tips home page.
---