This is the TDMST Weekly Round-Up of news affecting professional truck drivers, written by Vicki Simons for the week ending December 30, 2017.
We welcome your comments, thoughts and feedback on the items of your choice below.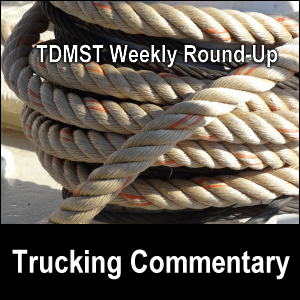 1. Thanks for being with us on TDMST Weekly Round-Up this year.
Vicki started these weekly round-ups of news affecting professional truck drivers this past February.
She has commented on many news articles and plans to continue doing so each week.
Please pay attention to both direct and indirect ways that truckers can or did lose money so that you don't fall in the same trap.
2. Thanks to Allen Smith of AskTheTrucker.com, Vicki found the FMCSA's rule on coercion.
The opening paragraph begins: "Coercion occurs when a motor carrier, shipper, receiver, or transportation intermediary threatens to withhold work from, take employment action against, or punish a driver for refusing to operate in violation of certain provisions of the Federal Motor Carrier Safety Regulations (FMCSRs), Hazardous Materials Regulations (HMRs) and the Federal Motor Carrier Commercial Regulations (FMCCRs)."
Remember that you as the driver must be satisfied that the equipment you're driving or hauling is safe. Review the wording from our Condition of Employment page.
According to this article, "Specifically, the 'Prohibiting Coercion of Commercial Motor Vehicle Drivers' rule forbids motor carriers but also shippers, receivers, and transportation intermediaries from coercing CDL holders to violate certain provisions of Federal Motor Carrier Safety Regulations. The covered regs include drivers' hours-of-service limits as well as CDL, drug and alcohol testing, and haz-mat rules."
3. A December 22, 2017, article stated, "Holiday weekends can be a prime time for cargo theft — with more truck shipments left unattended for longer amounts of time — and incidents of theft can spike 50%, according to data from cargo theft prevention technology company Sensitech. Couple that with the end-of-year holiday season's increased e-commerce and retail goods movement, and right now is a good time to be extra mindful as a driver or trucking operation."
Since this weekend is a long holiday weekend — Friday, December 29, 2017, through Monday, January 1, 2018 — please take appropriate precautions to "reduce the risk of cargo theft".
4. If necessary, review the article, "Safety Tips for Winter Driving Conditions".
5. "With the electronic log rule now in effect, the Federal Motor Carrier Safety Administration is considering revising a much older but related regulation," states a December 19, 2017, article.
"Per an announcement published in the Federal Register for Dec. 19, the agency is proposing to revise its regulatory guidance on commercial-vehicle drivers legally using trucks as 'personal conveyance' while off duty."
According to this December 20, 2017, article, "The Federal Motor Carrier Safety Administration is requesting public comments on the guidelines revision. The comment period closes Jan. 18. Comments may be submitted electronically…"(a)
6. According to ATA President and CEO Chris Spear, "The benefits of [the ELD mandate] exceed the costs by more than $1 billion, making it a rule the ATA can firmly support and easily adopt. … [December 18, 2017,] marks the start of a new era of safety and efficiency for our industry and we thank the champions in the Department of Transportation and Congress who have gotten us to this point."
OK, Mr. Spear, here are a few questions:
– What happens if the costs of the ELD mandate approach or exceed the benefits derived?
– What happens if the ELD mandate doesn't improve safety and efficiency across the trucking industry?
– Will you be willing to backtrack, issue and apology, and fight for the removal of this rule?
7. "Now that the electronic logging device mandate is in effect in the United States, the government of Canada is moving forward with its own law requiring the devices in commercial motor vehicles," stated a December 22, 2017, article.(b)
This raises two interesting questions:
– If American truckers must comply with this rule, why aren't Canadian and Mexican truckers automatically forced to comply as well?
– Will truckers from other countries be subject to the same ELD penalties as American truckers if caught on U.S. soil?
8. A December 22, 2017, article stated, "A 4-cent increase in [Oregon's] 30-cent fuel tax rate takes effect Jan. 1. Additionally, 2-cent increases will follow every two years through 2024. At that time, the gas tax rate will reach 40 cents."(c)
Let the fuel buyer beware.
9. Don't throw away your paper logbook yet!
According to a December 18, 2017, article, "Doug Morris, OOIDA's director of safety and security operations, says drivers experiencing technical difficulties [with their Electronic Logging Devices] should continue to record their hours of service the old-fashioned way. 'The rule does require drivers to have paper logs available just for this reason … So, just make sure you have paper logs available because we know there will be problems.'"(d)
10. To fix a problem, you have to understand its roots.
There's an interesting historical overview of "Why truckers are paid by the mile instead of by the hour".
11. Both the states of Iowa and Kansas(e) are attempting to improve their respective truck parking situations.
According to a Dec. 19, 2017, article, "Pilot Flying J announced new myPilot app capability to better deliver real-time parking information in partnership with Sensys Networks."
12. So if FedEx's profit jumped to $775 million, will they be sharing any of that with their truckers?
13. "Truckers traveling the Pennsylvania Turnpike in 2018 will notice an increase in tolls, effective Jan. 7," stated a December 18, 2017, article.
Expect a 6 percent increase now and "annual increases of 3 to 6 percent … through 2044".
Is this Turnpike toll increase getting to be a habit?
According to the article, yes!
"2018 will be the 10th consecutive year to see an increase."
Ouch!
14. "Truckers occupy one of the nation's deadliest jobs. Last year, 786 drivers were killed while working. … That's an increase of 5.5 percent from 2015…", stated a December 26, 2017, article.
Our condolences go to the family of every trucker who was killed on the job last year.
15. Truckers who are seeking to earn more income than their trucking jobs can provide are encouraged to get the free "Second Income for Truckers Video Mini-Course".
My husband Mike and I wish you — and all professional truck drivers — safe travels, lots of money saving opportunities on the road, and a prosperous New Year!
---
---
Return from TDMST Weekly Round-Up: 2017.12.30 to our TDMST Weekly Round-Up Trucking Commentary or our Truck Drivers Money Saving Tips home page.
---
Reference:
a. www.landlinemag.com/Story.aspx?StoryID=71442#.WkMF5HZG3cs (no longer online)
b. www.landlinemag.com/Story.aspx?StoryID=71459#.WkMFlnZG3cs (no longer online)
c. www.landlinemag.com/Story.aspx?StoryID=71462#.WkMFnXZG3cs (no longer online)
d. tandemthoughts.landlinemag.com/trucking-regulation/my-eld-doesnt-work-day-one/ (no longer online)
e. www.landlinemag.com/Story.aspx?StoryID=71435#.WkMGNnZG3cs (no longer online)