This is the TDMST Weekly Round-Up of news affecting professional truck drivers, written by Vicki Simons for the week ending July 15, 2017.
We welcome your comments, thoughts and feedback on the items of your choice below.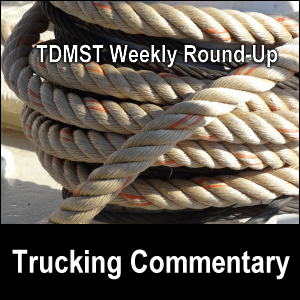 1. A July 12, 2017, article stated that the driver of a delivery truck "swerved to avoid" an object (a "log") that had been thrown at it.
I speculate that it was the swerving that caused the truck to flip over on its side.
There are two issues here:
– The object being thrown at the truck (which the trucker could not control); and
– The swerving of the truck (which the trucker could control).
Had the driver not swerved, the "log" may or may not have caused the truck to crash. But we will never know because that's not the action the driver took.
If you're driving in the Tyngsborough, Massachusetts, area, especially Route 3, near exit 34, be on your guard for debris either in the road or being thrown.
I encourage all truckers to review their trucking company's safety procedures when it comes to collision avoidance with objects that suddenly appear in the lane of travel.
This includes live animals, such as the one that another trucker swerved to avoid, according to a July 13, 2017, article.(a) In this case, the truck hit a guardrail and went down an embankment — and the trucker was "ticketed for improper lane usage".
2. An article published on July 12, 2017, stated that a fuel truck driver had overdosed.
"Drugged driving has overtaken drunk driving as one of the leading perils of the road, according to recent data from the Governors Highway Safety Association."
If you see something that looks like a medical emergency, please take appropriate action.
3. It could be a vast oversimplification of the reason, but from what I can tell, the fatal truck crash described in a July 12, 2017, article was caused by a food delivery truck driver who "tried to beat a red light".
The driver also had a phone to his ear, possibly contributing to being distracted.
No matter what you're driving, be aware that your actions have consequences.
In this case, the driver "was convicted of one count of criminal negligence causing death and two counts of criminal negligence causing bodily harm".
Not only were people injured and one person killed, but this kind of accident damages equipment, freight, and one's future career options.
As a former trucker and now instructor for a commercial drivers license training program stated in a separate July 2, 2017, "Safety comes first".(b)
4. This is urgent: Please call your elected officials in Washington about one or more bills that could affect trucker wages.
According to a July 13, 2017, article, "The full [U.S. House] Appropriations Committee is set to debate and consider the legislation Monday, July 19."
The article linked here describes the bill in polite terms.
What the bill actually does is strip states of their right to impose on trucking companies the need to pay truckers for certain things, like "state-mandated breaks" (link).
Once truckers' wages are federalized, this matter will almost certainly never be reversed.
I am seeking information about the exact bill number(s).
For now, scroll down to page 38 to read "SEC. 134. FEDERAL AUTHORITY." of this document.
The U.S. House Appropriations Committee members who consider various pieces of legislation — as well as your own elected officials — can be reached by calling the U.S. Switchboard: 202-224-3121.
Thanks to Allen and Donna Smith, here's what to say:
Tell them to SAY NO TO FAA (F4A) bill with Anti-Trucker Wage Preemption Amendment (Denham language):
As a trucker, I'm against the Denham amendment and the Fisher amendments to the FAA bill which will nullify state laws that require trucking companies to pay for rest breaks, detention time, and all time working. These amendments work against the interests of trucker rights to be paid for all time worked and are also anti state's rights and anti safety.
5. Thirty percent of trucks on the road are now "equipped with clean diesel engines and advanced emissions control systems", according to the Diesel Technology Forum (DTF) in a July 13, 2017, article.
That's all well and good, but has this technology led to any kind of financial savings?
Yes!
DTF's Executive Director stated, "Over a 5 year period, the newest generation commercial vehicles have saved 4.2 billion gallons of diesel fuel, and reduced 43 million tonnes of carbon dioxide (CO2), 21 million tonnes of nitrogen oxides (NOx) and 1.2 million tonnes of particulate matter."
Saving fuel is good! Saving fuel and not pumping particulate matter into the atmosphere is even better!
6. Don't start your trip before you have the proper permit in-hand.
One crane company did that and ended up having to pay an extra $60,000. Ouch!
7. Now that's clever!
The "Sygic Truck Navigation app on Android … projects navigation information onto a driver's windshield, so the driver never has to take eyes off the road to look down at their navigation software".
A July 13, 2017, article says that one million users have already downloaded (installed) the app.
If you have this app installed on your Android device — and you use it — would you please review it?
8. A July 13, 2017, article quotes the delivery and fleet manager for a Washington state-based beverage delivery company:
"Trucks are targets for accidents because they think companies have deep pockets… We do a good job training our drivers, and now with the DriveCam video, we're able to prove where fault really lies."
The system is being used as a "coaching tool" and to address driver "deficiencies".
What are your thoughts on this?
9. The date keeps moving all over the map, but according to a July 13, 2017, article, "Self-Driving Trucks Could Be on Highways in 3 to 4 Years".
Will this technology throw millions of truckers out of work?
"We see our technology as complementary to drivers," said Alden Woodrow, product lead for self-driving trucks with the Uber Advanced Technologies Group. "We have a much more optimistic view about the implications for driver livelihoods, employment and productivity due to some of the ways we see the industry shifting with the technology."
The article specifies that the level of automation being described is Level 4.
"The National Highway Traffic Safety Administration defines a Level 4 autonomous vehicle as one that can drive itself in most situations, with some exceptions, such as weather or construction, where a human may need to take control."
In the July 8, 2017, issue of TDMST Weekly Round-Up, I linked to an article that showed a photo of a Level 5 truck with no place for a driver to sit.
Truckers, as it concerns truck driving jobs, do you see self-driving trucks as being complementary or a threat?
10. Heads-up: The headline of a July 12, 2017, article states, "Wal-Mart Will Punish Its Suppliers for Delivering Early".
Whether the receiver is Walmart or not, I strongly encourage you to read every dispatch fully — before you accept a load — so as to understand:
– what "early delivery" means (as in "how" much time before your delivery appointment you can arrive without financial punishment); and
– what sort of fine will be involved for early and late deliveries.
11. Were you ready for the CVSA's "unannounced Brake Safety Day on May 3"?
Nearly 2,000 trucks were put out of service and of those, over 1,100 were sidelined due to brake issues, according to a July 13, 2017, article. That's 12 percent, stated Land Line Magazine.(c)
As I wrote in our June 3, 2017, TDMST Weekly Round-Up, "Save yourself the time and expense of violations by always being ready for an inspection."
On another note — and being a bit futuristic — as long as there will be self-driving trucks on the road one day, why can't trucks have self-adjusting brakes?
Hmm…
My husband Mike and I wish you — and all professional truck drivers — safe travels and lots of money saving opportunities on the road.
---
---
Return from TDMST Weekly Round-Up: 2017.07.15 to our TDMST Weekly Round-Up Trucking Commentary or our Truck Drivers Money Saving Tips home page.
---
Reference
a. www.news-gazette.com/news/local/2017-07-13/truck-driver-treated-injuries-i-72-crash.html (no longer online)
b. www.bonnercountydailybee.com/business/20170702/trucking_not_just_a_job__its_a_lifestyle (no longer online)
c.  www.landlinemag.com/Story.aspx?StoryID=33709#.WWgUnlEpDIU (no longer online)