This is the TDMST Weekly Round-Up of news affecting professional truck drivers, written by Vicki Simons for the week ending August 5, 2017.
We welcome your comments, thoughts and feedback on the items of your choice below.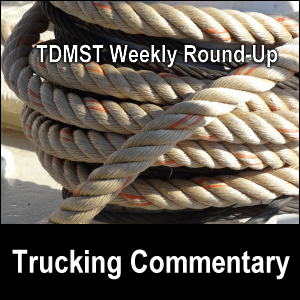 1. Although it's not known why he did so, "A 57-year-old man who stepped out of his truck after parking along the shoulder of Interstate 78 Monday afternoon was struck and killed by a passing tractor-trailer", according to a July 26, 2017, article.
Be careful where you park and look for oncoming traffic.
2. A July 27, 2017, article quoted a trucker about his thoughts regarding autonomous (or driverless) trucks:
"I think of it this way: Computers crash every day, and there are always issues with computers. … To me, if you put a truck out here (that) runs on a computer, computers screw up daily. Do you really want a computerized truck driving right beside you? And let's say it decides to have a hiccup. That's an 80,000-pound truck coming at you. And without a driver behind it to get the truck in control again, you are dead.

"If one of these trucks hits you, you are lucky if you survive. And then you are going to have a computer trying to tell it what to do? Sooner or later it is going to mess up – no ifs, ands or buts about it. It will mess up. And when that happens, the only thing that is going to happen is it'll kill somebody. Somebody can't just run down the freeway and jump in the truck. I don't understand their philosophy. I understand they want to basically be able to run freight cheaper so they can get rid of us as the driver, and all they have to do is push a couple buttons, and bam, it's on its way so they can haul freight cheaper. But when that things goes kaput, there are going to be dead people … I don't want to be anywhere near a computerized truck. I would be scared to death."

– Chris Richardson, who is based out of Conway, Arkansas, and has been driving trucks since 1999.
3. Yes, trucking is a deadly occupation.
– A July 8, 2017, article stated that a 53-year-old professional truck driver died in a single-vehicle New Jersey accident that "closed two of the highway's three eastbound lanes for much of the afternoon and led to delays up to 45 minutes that backed up traffic across the Delaware River into Pennsylvania."
– A 50-year-old driver is believed to have "suffered a medical episode" prior to the crash in which he died in Florida, according to a July 11, 2017, article.
– A July 13, 2017, article stated: "A crash involving four tractor-trailers and two other vehicles claimed three lives, including that of a truck driver, Tuesday afternoon along I-35 in Waco, Texas". In this case, when a trucker came over the top of a hill, he "did not recognize that the traffic was stopped."
Our condolences go to the families.
4. A box truck driver blamed a bee (yes, an insect) for causing him to cross the centerline and cause a crash, according to a July 25, 2017, article.
If a bee entered your tractor while you were driving, what would you do?
Please comment below.
5. Which of the "6 money-saving tips that will make you feel smart" would work best for you?
6. Yes, taking a turn too quickly and rolling over a truck can have fatal results — even if you're wearing a seat belt — according to a July 25, 2017, article.(a)
7. If you're hauling an over-dimensional load, check your route and make sure your load isn't too tall to go under overpasses.
A July 24, 2017, article stated that "a tractor trailing hauling a large telescopic boom lift on a low boy trailer hit the U-S 441 overpass" and did damage.
The trucker was cited for a height violation.(b)
8. A July 24, 2017, article states that there are "sharp divisions within the trucking industry" over a bill introduced by U.S. Representative Brian Babin, that "seeks to delay implementation of the electronic logging device (ELD) mandate for two years".
trucker.com/regulations/trucking-divided-over-eld-delay-effort (no longer online)
In my opinion, the most ridiculous revelation in the article is this:
[Babin] added that FMCSA itself "refuses to certify any ELD as compliant with the rule, thus leaving consumers with no idea if a device they purchase is indeed compliant."

The agency does maintain a list of "registered ELDs" but the providers on that list self-certify their products; the agency itself is not involved in that certification process.
Imagine for a few moments what will happen to truckers who "invest" in electronic logging devices, thinking that they're doing the legal thing, and then some time down the road, the devices they chose don't do what is needed!
Argh!
A July 27, 2017, article indicates that the bill to delay ELD implementation is not likely to get far.
9. Should ex-convict — nonviolent felons — be given an opportunity to enter the trucking industry?
Some trucking companies see to think so, according to a July 24, 2017, article.
What pros and what cons would this pose?
Would these drivers be limited to running within the continental USA only — or have other limitations put on them?
10. The Commercial Vehicle Safety Alliance (CVSA) will be holding Operation Safe Driver Week from Oct. 15-21, 2017, according to a July 26, 2017, article.
What struck me as odd about this event is that "enforcement personnel will identify and issue warnings and/or citations to commercial motor vehicle (CMV) drivers and passenger-vehicle drivers exhibiting unsafe driving behaviors on our roadways."
Did you catch that "passenger-vehicle drivers" will also be watched and held accountable for their behaviors while driving?
Is this the first time that has happened during a CVSA event?
11. A July 25, 2017, article stated,
In piloting the SmartDrive program in its St. Louis, MO service area, Postal Fleet Services improved its SmartDrive Safety Score by 85 percent within a few weeks, and successfully used video footage to exonerate drivers in three collisions – leading to cost savings that more than paid for the SmartDrive platform.
12. Are you ready for the "10th consecutive" fee increase on the Pennsylvania Turnpike, scheduled to be effective on Jan. 7, 2018?
The "6 percent increase [will apply to] both E-ZPass and cash customers". Furthermore, annual increases of "3 to 6 percent are expected to continue for the Turnpike through 2044", according to a July 24, 2017, article.
13. On July 24, 2017, Land Line Magazine reported,(c)
The U.S. Department of Transportation has opted not to move forward with a rule regarding obstructive sleep apnea and has taken speed limiters off its near-term agenda.
14. Troopers arrested a truck driver who was high on meth and crashed his rig.
The charges were "suspicion of Driving Under the Influence of Intoxicants (Controlled Substance), Unlawful Possession of Methamphetamine, Reckless Driving, and Recklessly Endangering Another Person", according to a July 26, 2017, article.
15. In an August 1, 2017, article entitled "Fleet exoneration: Using video to determine truck accident liability",
In fact, a Fleet Owner whitepaper on video-based safety, sponsored by SmartDrive, found that even though truckers are blamed for most of the crashes that occur in the U.S., 80% of those crashes are actually the fault of car drivers.(d)
Furthermore, Angie Leathers, litigation coordinator for Averitt Express, stated,
Video will be your most prevalent source for determining liability and it might be your most reliable witness.
16. In an August 1, 2017, article entitled "Doing the math on the ELD mandate", Ashley Cruz, a procurement research analyst with consulting firm IBISWorld, stated,
For example, Omnitracs estimates that new devices will cost carriers between $199 and $2,200 per truck, plus a monthly service fee of $20 to $60 per truck.
17. Here's a link to a July 31, 2017, article about "Using GPS and tracking to help prevent vehicle theft".
18. The opening paragraph of an August 1, 2017, article stated,
"Yokohama Tire Corp. announced a price increase of up to 4 percent on all of its commercial and off-the-road (OTR) tires in the United States as of Sept. 1."
My husband Mike and I wish you — and all professional truck drivers — safe travels and lots of money saving opportunities on the road.
---
---
Return from TDMST Weekly Round-Up: 2017.08.05 to our TDMST Weekly Round-Up Trucking Commentary or our Truck Drivers Money Saving Tips home page.
---
Reference:
a. www.wbir.com/news/local/cement-truck-driver-dies-after-crash-on-millertown-pike/459143872 (no longer online)
b. www.13wmaz.com/news/local/update-truck-driver-cited-for-height-violation-after-hitting-overpass/459108625 (no longer online)
c. landline.media/Story.aspx?StoryID=33775#.WXrGhVEpDIU (no longer online)
d. www.fleetowner.com/tires/yokohama-boost-truck-tire-prices-september (no longer online)