This is the TDMST Weekly Round-Up of news affecting professional truck drivers, written by Vicki Simons for the week ending May 9, 2020.
We welcome your comments, thoughts and feedback on the items of your choice below.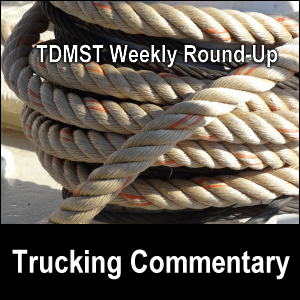 1. Regarding trucker fatalities:
Numerous articles this week, including this one, reported that "early estimates" from the National Highway Traffic Safety Administration (NHTSA) "point to a decline in U.S. traffic fatalities in 2019 except in crashes involving trucks."
The article goes on to say, "Deaths in crashes involving at least one large truck are projected to increase by 1%. The agency reported in October that fatalities involving large trucks had risen by 0.8% to 885 in 2018 from 878 in 2017."
More on this topic was written here, here, here, here and here.
One article stated, "Two major categories that are estimated to have an increase in traffic fatalities include crashes involving at least one large truck (up 1%) and drivers over 65 years old (up 1%)."
Given that it was reported in October 2019, that trucking fatalities had reached a 30-year high, I'm sure that many in the trucking industry — and those who regulate them — will be waiting to see the final numbers from the NHTSA.
2. Regarding a long-awaited statistics recalculation:
According to a May 1, 2020, article, after a decade of complaints that the government was unfairly counting non-preventable crashes against the safety records of trucking companies, we read:
"Non-Preventable Crashes Will No Longer Be Counted Against Trucking Companies."
Hurray!
Other articles on this topic were written here and here.
3. Regarding economic impact:
In April 2020 — "the first full month of Covid-19" — "Class 8 net orders plummeted to 4,100 units…, down 46% from March and 72% year-over-year."
---
We read that a survey of nearly 5,100 people — conducted jointly by ATRI and OOIDA Foundation — found negative impacts of COVID-19, including:
freight levels being "somewhat" to "much" lower, according to nearly 50% of respondents; and
detention delays being much worse, according to owner-operators and small fleets when compared to delays experienced by larger fleets.
This topic was also covered here, here, here, and here.
---
Although I maintain that it isn't the coronavirus that has made the impact — but rather government officials who have shut down various entities — articles are saying that COVID-19 has had impacts on:
---
We read: "A new index from FTR Transportation Intelligence and Truckstop.com provides visibility on the state of the trucking market as anticipation of an economic restart grows."
---
There's an inspiring article reported how some motor carriers who plan to emerge from the "coronavirus pandemic" stronger afterwards, are evaluating which changes they have had to make will be permanent.
4. Regarding trucking event cancellations:
Please see the following articles about trucking events that have been canceled:
5. Regarding trucker rewards and coupons:
Pilot has launched a new fuel card, the Axle Fuel Card, through which "Drivers can earn one bonus loyalty point per gallon when using the [card] at Pilot and Flying J locations, and two bonus loyalty points per gallon when using the card at One9 Fuel Network locations."
Meanwhile, a May 5, 2020, article stated, "Love's Travel Stops & Country Stores and several of its vendors to offer truck drivers a $5 e-coupon that can be used at any Love's location for in-store purchases."
6. Regarding low freight rates and broker transparency:
"Trucking groups are taking action along multiple routes to require freight brokers to provide more transparency in the shipper/broker/carrier relationship," according to a May 7, 2020, article.
Here is a list of other articles covering this topic:
7. Regarding truckers being championed and rewarded:
Truckers everywhere in the USA are being championed by President Donald Trump, according to articles written here, here, and here.
Still, a LandLine Now article stated, "… we have reached the point where lawmakers need to start showing their appreciation to truck drivers through more than words. As OOIDA said in April, the appreciation must be 'tangible.'"
---
I am glad that the NC Attorney General has sued a towing company for their 'predatory' booting of semi trucks.
---
The ATA is looking ahead toward National Truck Driver Appreciation Week (NTDAW) with a new online store, according to an article here.
I feel that it is very important to say that each trucker needs to be "appreciated" in the way that is meaningful to him or her — and I will share a true account from my life to illustrate this.
I recall the time that I received a gigantic belt buckle with a diamond chip embedded in it as a "thank you" for my safe driving achievement from the first trucking company for which I drove.

I've never worn that "reward" and never will because I'm just not the big-belt-buckle kind of gal!

No matter how much it cost the company, that item did not make me feel appreciated.
So, "how" can trucking companies fix this problem in time for National Truck Driver Appreciation Week?
On our Valentine's Day page, we address the 5 love languages as identified by author Gary Chapman (the link to the book being on Amazon.com, with whom we have an affiliate relationship).
Understanding that background, one blog stated the following:
Having been inspired by Chapman's original book and understanding of these languages, Dr. White saw the need for the love languages in the workplace. …

Thus, the 5 Languages of Appreciation in the Workplace were born:

1. Words of Affirmation – uses words to affirm people
2. Acts of Service – actions speak louder than words
3. Receiving Gifts – people like things to feel appreciated
4. Quality Time – giving someone undivided attention
5. Physical Touch – appropriate touch (pats on the back)
The blog post goes on to say that "department heads and team leaders can and should" … "take the time to invest in identifying each person's language of appreciation."
Exactly! If this approach was taken within trucking companies, I dare say that turnover would decrease dramatically.
Two more points:
If trucking companies insist on giving tangible gifts to their truckers, each gift needs to be customized based on the individual trucker; and
Some truckers will need their appreciation at times other than during NTDAW!
8. Regarding cyberattacks and trucking:
Two articles this week covered the potential for cyberattacks:
If you're using electronics to run your trucking business, please do what is necessary to protect them.
You may also want to connect with your trucking company to find out what they are doing along the lines of cybersecurity.
9. Regarding CDL road tests and "social distancing":
A May 3, 2020, article opens with, "The Federal Motor Carrier Safety Administration (FMCSA) is encouraging State Driver Licensing Agencies (SDLA) to test drivers while practicing social distancing."
Will this "social distancing" testing work as well as in-person testing?
Personally, I don't see how it can be.
We'll have to wait and find out.
10. Regarding meals on the road:
After it was reported on April 8 that NATSO, the truck stop and travel plaza association, came out against the move made by "the Federal Highway Administration [to suspend] enforcement to allow food trucks to post up at rest areas," now we read that with the partnership of the Owner Operator Independent Driver's Association (OOIDA) and the American Trucking Associations (ATA):
NATSO, the national association representing truck stops and travel plazas, announced this week that it has partnered with the International Franchise Association (IFA) to share information with truck drivers about discounts on food options at truck stops and travel plazas nationwide.
Note that NATSO's discounts are at established retail establishments, not rest areas.
Hmm…
11. Regarding a new routing tool, but what about…
A May 7, 2020, article states, "The Cybersecurity and Infrastructure Security Agency (CISA) and Idaho National Laboratory (INL) launched a new Commercial Routing Assistance (CRA) tool May 6 for truckers and other commercial drivers in the U.S."
But this makes me wonder:
What about GPS units for commercial motor vehicles? and
What about truckers being paid for ALL the miles they driver from every shipper to every receiver in the course of their trips?
Hmm…
12. Congratulations!
A May 5, 2020, article listed 10 truckers whom OOIDA recognized for safe driving records through their Safe Driving Award program.
The truckers named in the article were recognized for safe, crash-free driving ranging from 9 to 44 years.
Wow!
Congratulations, one and all!
My husband Mike and I wish you — and all professional truck drivers — safe travels and lots of money saving opportunities on the road.
---
---
Return from TDMST Weekly Round-Up: 2020.05.09 to our TDMST Weekly Round-Up Trucking Commentary or our Truck Drivers Money Saving Tips home page.
---