This is the TDMST Weekly Round-Up of news affecting professional truck drivers, written by Vicki Simons for the week ending July 22, 2017.
We welcome your comments, thoughts and feedback on the items of your choice below.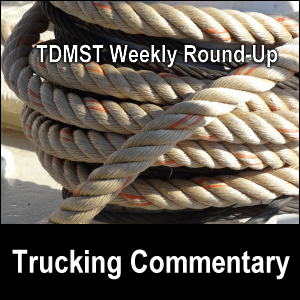 1. Would you sleep in a self-driving or autonomous truck? That's what I'm inferring from this paragraph in a July 18, 2017, article:
Embark is also focusing on handling freeway driving, with a human driver on board who navigates city streets. Still, taking the freeway scenarios out of their hands should eventually mean that drivers can do more loads per day, increasing efficiency, cutting cost and addressing demand for trucking that is outpacing driver supply. This, combined with the relatively low cost of Embark's tech, should help U.S. truckers essentially purchase themselves a virtual "employee" in the form of semi-autonomous trucks, while still retaining work, the company says.
Furthermore, would you as a trucker buy this kind of machine to help you increase your "efficiency"?
2. Will Christmas be ruined this year?
According to a July 17, 2017, article about electronic logging devices or ELDs, the "federal mandate [is scheduled] to take effect Dec.18".
Many carriers are going to be putting the devices in their trucks around the middle of October, right in time for goods for the Christmas season to be shipped.
A North Dakota trucker named Jason Pies is already upset about the electronic logs or e-logs:
"You decide to shut down because of weather because of road conditions, accident up ahead, you have dispatch send you a message saying, 'you still got four or [five] hours of driving left, why are you stopped?' Well, as a driver, I felt it was safe for me to stop," Pies said.

"It's going to take the discretion away from the driver, put it in the hands of somebody who is not in the truck and have them make the decisions as to when you're gonna drive and when you're not."
3. Not allowing enough following distance or braking distance doesn't just happen in the USA.
The South China Morning Post reported on July 19, 2017, that a truck driver slammed on his brakes in order to avoid a collision with a vehicle stopped at an intersection.
When that happened, the cab of the tractor flipped forward.
In fact, the braking was so hard that the steel rods that were being carried on the trailer rammed the back of the cabin.
In a separate situation, a truck driver in the UK was jailed for six years after not slowing his "heavy goods vehicle until just one second before the crash" that killed both a 3-year-old girl and her unborn brother last August.
The July 17, 2017, article did not say why the UK trucker "failed to notice traffic slowing down" on a busy road.
Truckers, always leave enough following distance between your trucks and the vehicles in front of you.
Our condolences go to the family
4. Warning: This is a rant.
This is the reason why some trucking companies are picky about whom they hire to deliver freight.
A July 19, 2017, article reported that a trucker who
– had seven times within 18 years experienced the suspension or revocation of "driving privileges",
– lost his CDL for a year due to drunk driving, and
– been "convicted of careless driving and another misdemeanor in 2016", crossed the center line in thick fog and killed a teen in a head-on collision.(1)
I'd like to know what possessed the trucking company to hire this guy to drive for them — and how he was even eligible to be hired on.
I imagine that a wrongful death lawsuit will be filed against the trucking company on the principle described in the Bible in Exodus 21:28-32.
Our condolences go to the family of the teenager who was killed.
5. Another trucker rolled his truck over after swerving to avoid hitting a deer, according to a July 17, 2017, article.
This particular truck was hauling 6,000 gallons of liquid manure, about 3,000 gallons of which spilled out.
Review your company's collision avoidance procedure.
6. "A new health care offering aims to provide truck drivers and their families an affordable way to receive basic services that fit into their schedules", stated a July 15, 2017, article.
The "Hello Alvin" website, states (all capitals reformatted), "Hello Alvin is your mobile healthcare network for just $100 per year and $45 per visit."
Is this the solution to helping truckers get some of their healthcare needs met?
We personally prefer focusing on wellness.
7. If a piece of gravel falls out of a dump truck and cracks the windshield of the vehicle immediately behind, is the trucker driving the truck responsible to pay for the damage — even if the truck bears a warning sign to stay back?
According to a spokeswoman for the Auto Club in a July 17, 2017, article, "The sign does not absolve the driver from being in violation of the Vehicle Code".
The spokeswoman advised keeping a distance back from the truck. Also, one would need to prove that the debris that fell from the truck actually caused the damage.
Remember, drivers, many cars now have dash cams, too. So, secure your loads.
8. Some stretches of road are more challenging than others. Some areas are more prone to truck crashes than others.
On July 12, 2017, KPLCTV.com reported that a curved westbound section of I-10 near Shattuck Street in the Lake Charles, Louisiana, area has been the location of "Multiple 18-wheeler accidents".
Remember to slow down before a curve, not wait until you're already in a curve to slow down.
9. Do you remember the article that appeared in USA Today entitled "Rigged: Forced Into Debt. Worked Past Exhaustion. Left With Nothing"?
A follow-up article revealed, that the trucker who had been interviewed for the original piece — Rene Flores — was subsequently fired by his trucking company and basically forced to forfeit the $60,000 that he had "invested in down-payment on his truck".
The author of the follow-up piece wrote a couple of hard-hitting — and from what I can tell, well deserved — statements about the trucking company:
– "Think of this unctuous corporation sending a truck driver a message of silence. Be obedient, or your children go hungry. What is it like, I wonder, to be a villain from a Capra film?"
– "Why would you expect an industry that keeps 'indentured servants' to care about its cogs rebelling?"
If you are the victim of trucking company exploitation, do not put up with it. Speak up!
You deserve to be treated with respect.
10. "At least 20 states … have their own meal and rest break laws that would be impacted" if Congress overrides states' work rules through legislation currently being considered.
This legislation will "make … highways more dangerous" according to "union officials and truck drivers" in July 20, 2017, article.
Call your federal elected officials now at 202-224-3121 and SAY NO TO FAA (F4A) bill with Anti-Trucker Wage Preemption Amendment (Denham language).
11. A July 2017 article states,
"More than 15 cents per mile. That's what it costs a fleet on average for maintenance and repair, according to the American Transportation Research Institute. That equates to about 10% of a fleet's vehicle-based operating costs."
Knowing your numbers is important if you're considering becoming an owner-operator entrepreneur.
12. Heads-up: A July 20, 2017, article opens:
Working long hours isn't just tiresome, it may actually shorten your lifespan. A recent study published in the European Heart Journal has put forth some shocking figures: working for more than 55 hours a week may raise your chances of developing a serious heart condition – such as atrial fibrillation or irregular, rapid heart rate that can lead to chronic fatigue, stroke, and heart failure – by up to 40 percent.
The problem in the trucking industry isn't needing to work more hours to earn a decent paycheck; the problem is being paid a decent rate for the hours you do work.
If you're looking to potentially transition out of the trucking industry, you may want to consider first starting to earn a second income from the cab of your truck.
My husband Mike and I wish you — and all professional truck drivers — safe travels and lots of money saving opportunities on the road.
---
---
Return from TDMST Weekly Round-Up: 2017.07.22 to our TDMST Weekly Round-Up Trucking Commentary or our Truck Drivers Money Saving Tips home page.
---
References
1. kare11.tv/2uNMPtS (no longer online)