This is the TDMST Weekly Round-Up of news affecting professional truck drivers, written by Vicki Simons for the week ending August 26, 2017.
We welcome your comments, thoughts and feedback on the items of your choice below.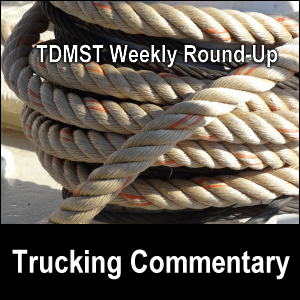 1. The National Law Review ran an article on August 18, 2017, about the proposed federalization of trucker wages. The very end of the article stated:
Enacting federal legislation to preempt California's meal and rest break requirements could lead to many more injuries and deaths in the state each year. Californians may want to lobby their representatives and senators about this provision in order to protect the general safety of everyone in the state.
Allen Smith (AskTheTrucker.com) sent the following:
Here are those in the HOUSE who voted AGAINST truckers and for the anti-trucker wage provision- Denham Amendment- Is your Congressman on the list? How did HE/She vote?

Congress will voting again in Sept for the Denham language to be included in the #FAA & #THUD bill. http://clerk.house.gov/evs/2015/roll601.xml
2. How many times do we have to say it? Using drugs while driving can be dangerous and costly!
According to an August 18, 2017, article, one commercial truck driver experienced a heroin overdose, jackknifed his rig, and incurred a string of charges against him.
3. A "first-of-its-kind event" called the Run on Less roadshow is "intended to show off the fuel economy capabilities of modern trucking equipment", according to an August 17, 2017, article.
The seven drivers who will be running the equipment were selected by the North American Council for Freight Efficiency (NACFE).
The article further states, "The Run kicks off on September 6, 2017, and culminates in Atlanta during the North American Commercial Vehicle show September 24-28."
Mike and I look forward to learning more about this.
4. So, you think truckers aren't important?
An August 16, 2017, article opens with this statistic: "The trucking industry accounted for nearly 80 percent of the United States' freight revenue in 2016".
An August 15, 2017, article states: "trucks move 70% of domestic freight and over 70% of freight moved between … Canada, the U.S. and Mexico."
Professional truck drivers are very important!
5. Technology dubbed a "textalyzer" will soon be able to tell if drivers were "using their phone while operating a vehicle… [and] using a phone legally, such as via hands-free technology", according to an August 18, 2017, article.
6. An August 24, 2017, article states that trucking is no where to be found on a "detailed analysis [that was recently compiled] of the top paying jobs Americans can obtain without a traditional four-year college degree."
fleetowner.com/blog/trucking-doesn-t-appear-job-list-s-problem (no longer online)
What does that say to you?
7. Yes, truckers can be arrested at weigh stations — and during random commercial safety inspections!
An August 22, 2017, article stated that a Georgia trucker was arrested in Kentucky and "charged with first offense, first-degree possession of a controlled substance – methamphetamine; possession of marijuana; possession of drug paraphernalia; first offense driving under the influence of intoxicants".
Don't use controlled substances or haul them.
8. Getting drowsy while driving can lead to falling asleep, which can lead to fatal consequences.
A trucker who fell asleep at the wheel caused a 2015 highway collision that resulted in the deaths of 5 people, according to an August 23, 2017, article(a).
He was convicted of "vehicular homicide" and sentenced to "two years in prison and three years on probation".
Ouch!
Park safely and legally instead of pushing on when you're drowsy. Contact your driver manager, if necessary, to let him/her know of your delay.
9. A trucker who was upset that his wife was cheating on him — on their 13th anniversary — and shot at her "was arrested and charged with aggravated assault with a deadly weapon without intent to kill and shooting into a vehicle", according to an August 23, 2017, article.
pbpo.st/2xx2CdW (no longer online)
At this point in time, it is not lawful for truckers to carry a firearm in some jurisdictions within the USA.
Furthermore, unless one is clearly lawfully hunting (as in deer or other wildlife), one should use a gun for defense, not offense.
10. A Louisville, Kentucky, tow truck driver has been arrested for scrapping — that is, selling for scrap — "several victims' cars — without their permission", according to an August 24, 2017, article.(b)
He faces "one count of theft by unlawful taking, and two counts of receipt of stolen property."
Don't be a thief. Don't take what doesn't belong to you, hasn't been assigned to you, or hasn't been lent to you (with terms on its return).
11. An August 23, 2017, article and video reveals that a new weight limit sign posted near a bridge over Buffalo Creek near Omaha, Nebraska, is causing confusion.
Bridge weight limits could cost truckers money by forcing them to haul less product and potentially get paid less.
Be aware of weight limits, truckers. Those who ignore them and drive on without regard to their trucks' weights could face fines.
12. If those who enter a CDL training program offered by a trucking company "leave before the contractual agreement is completed" — usually "a commitment of at least a year of working for the company" — is it fair that the truckers are then stuck with the bill for "paying the company back"?
This question, in essence, was asked in an August 22, 2017, article.
In our opinions, yes, it is completely fair because it is a contract free entered into.
However, that is why prospective truck drivers need to do their due diligence to determine if a trucking company-based truck driver training program is worth it.
Mike and I recommend getting training through an independent school that is separate from one's earning ability. That way, if things don't go well at the trucking company, a trucker is free to leave without financial penalty or exploitation.
13. The subtitle of an August 23, 2017, article reads, "As the mid-December deadline looms for compliance with the electronic logging device mandate, experts say truckers can weather the storm and even profit from the experience–as long as shippers do their bit."
Do you agree?
14. An August 20, 2017, article states that truckers' paychecks today are "chump change" compared to 1980 paychecks, which averaged and "adjusted for inflation, equaled more than $110,000."
The article further states that "today's truckers work harder with longer hours, and with less job security."
The author pins the reason on "Deregulation and the erosion of unions."
So, what's the answer to boosting truckers' income?
15. One trucker was stopped at the end of the backed up traffic on Interstate 65 north of Lafayette on Saturday, August 19, when another trucker coming from behind failed to stop, according to an August 20, 2017, article.(c)
The impact was so hard that "Debris from the trailers covered both northbound lanes, closing the road for several hours" and the trucker who failed to stop was pronounced dead at the scene.
The accident is under investigation and our condolences go to the family of the trucker who died.
16. Which of the 5 Smartphone apps listed on this website helps you to invest?
17. "According to NACFE, some 2017 model trucks achieved 7.8 – 9.2 mpg, with some reportedly approaching 10 mpg", according to an August 22, 2017, article.
Do you track your fuel mileage? If so, what numbers are you getting?
18. During CVSA's June 2017 International Roadcheck event, "23% of vehicles and 4.2% of drivers that received Level I inspections were placed out of service", with the highest number of violations being due to brake systems, cargo securement and tires/wheels — according to an August 22, 2017, article.
Being placed out of service can be expensive in terms of time and money.
Guard both! Keep your truck well maintained, as if you knew your truck was going to be inspected at any time.
My husband Mike and I wish you — and all professional truck drivers — safe travels and lots of money saving opportunities on the road.
---
---
Return from TDMST Weekly Round-Up: 2017.08.26 to our TDMST Weekly Round-Up Trucking Commentary or our Truck Drivers Money Saving Tips home page.
---
Reference
a. abcn.ws/2xwJwob (no longer online)
b. www.wdrb.com/story/36208815/louisville-tow-truck-driver-accused-of-scrapping-victims-cars-without-permission (no longer online)
c. wane.com/2017/08/20/trucker-killed-when-semi-hits-his-stopped-rig-on-i-65/ (no longer online