This is the TDMST Weekly Round-Up of news affecting professional truck drivers, written by Vicki Simons for the week ending September 23, 2017.
We welcome your comments, thoughts and feedback on the items of your choice below.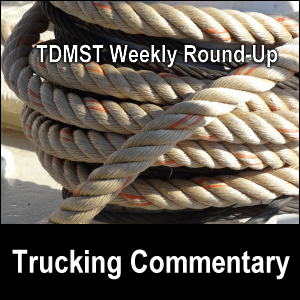 1. From the Truck Drivers Money Saving Tips Facebook page on September 21, 2017:
Truckers, Vicki read the following on another Facebook group today and felt it necessary to pass it along.
Pay attention to your health on the road.
If you notice a decline, it could be that your truck has a problem that needs fixing.
—–
So just found out today that my trucker could have died on the road because of a $5 part that needed to be replaced! His dispatcher thought he was really out of it so he pulled over. I've been going on for a couple weeks… He didn't feel well he was sometimes dizzy he thought it was his diabetes NOPE. (TESTED) He was in the hospital two and a half weeks ago because they thought it might be a heart attack, NOPE then it was a panic attack -too much caffeine, nicotine , not enough sleep, dehydrated, may be coming down with a cold? NOPE they keep coming up with new things but it was …….. a carbon monoxide leak ! So buy those detectors! He feels much better- well rested and back on the road!
—–
2. According to a September 12, 2017, article,
Coming down the pike is a new roadside inspection category that you and your drivers need to get to know: electronic inspection. …

According to Andy Blair, a retired police/DOT enforcement officer and owner of DOT Safety Checkups, electronic inspections will be set up similar to the current weigh-station PrePass model, in which a truck transmits wireless information as it passes a given point. The driver, most likely unaware he or she has gone through a checkpoint, won't be pulled over by an enforcement officer, but an inspection report will be generated and subsequently sent to the carrier.
If the driver is the one who must be satisfied that the truck that he or she is driving is safe and legal to drive — and if an "electronic inspection" finds something wrong with the truck — why won't the driver be the first one to be notified of any problems found? This doesn't sound right.
3. "On Sept. 13, Senator John Thune of South Dakota (Rep.), will convene a Senate Commerce Committee hearing to examine the potential benefits and impacts of automated commercial vehicles," stated a September 11, 2017, article.
4. Having a grease-free fifth wheel platform sure sounds nice.
If you have used one of these, please review it.
5. A September 4, 2017, article lists safety tips on driving through intersections.(a)
6. A September 1, 2017, article stated:
"According to insurance companies, hitting fixed or stationary objects in parking lots is the most frequent type of accident. What many truckers don't realize is that these types of accidents can be worse financially than a bigger accident, because they don't meet insurance deductibles. Consequently, all or most of the cost is borne by the trucker."(b)
The article also includes tips on how to avoid collisions.
7. Drive Safely Work Week is scheduled for October 5 – 9, according to an August 28, 2017, article.(c)
8. A September 12, 2017, article entitled "25 Proven Ways to Save Money Before Next Year" has some interesting ideas.
I particularly like: "17. Take the $500 saving challenge".
It works like this: "Over the course of a 31-day month, you stash away $1 on the first day, $2 on the second, $3 on the third and so forth. … On Day 31, you'll put aside $31. And at that point, you'll have saved $496, with hardly any effort."
A September 1, 2017, article encourages — among 20 ways to save money — doing that every day:
"Start every day by setting aside $1 for $365 at yearend. Make it $3 for $1,095, or even $5 for $1,825."(d)
How many truckers would be willing or able to do this?
9. The value of a warranty on a used truck boils down to "what it covers – and what it doesn't", according to a September 11, 2017, article.
The Used Truck Association president stated, "Can you afford not to have a warranty? You need to take steps to protect yourself."
Meanwhile, a September 2017, article shares "Tips for Reducing Truck Acquisition Costs" and another shares "How to Get the Most from Truck Resale".
10. Two amendments prohibiting "funding for establishing and collecting tolls in Oregon, Pennsylvania and Washington" were added to a U.S. House appropriations bill, HR3354, according to a September 7, 2017, article.(e)
11. Confused about tractor trailer lengths allowed in some places?
"Now a useful guide, Truck Trailer Length State Laws illustrating the maximum tractor trailer length regulations has been published by Verduyn Tarps which illustrates the rules for every individual state", according to a September 8, 2017, article.
12. Why are some truckers leaving trucking companies?
They were lied to by the recruiter, they don't get enough miles, their home time wasn't satisfactory, and women stated they had "equipment issues", according to a September 2017, article.
I know for a fact that "not enough miles" and "not enough home time" were two reasons why my husband Mike left what used to be a Top 20 trucking company in 2015. Sad.
Some truckers are leaving the industry because the regulations keep increasing. An August 8, 2017, article reveals: "FMCSA Adds 12 Violations to SMS, Updates SMS Website".
Are these regulations actually improving the trucking industry or reducing the number of truck crashes?
A December 19, 2016, article stated regarding 2015 statistics: "There were 745 fatal injuries to heavy and tractor-trailer truck drivers, the most of any occupation."
(In other words, trucking was the deadliest occupation in 2015.)
Meanwhile, a September 12, 2017, article stated about trucker wages:
"The obvious fact here is that we live in a free market society whose economy runs on a supply and demand structure. The market will dictate the remuneration you're paid, determined on the specialty of your trade or skill in conjunction with the scarcity of workers in your sector. So if one is to put forth the position that drivers are vastly underpaid the argument that there is a driver's shortage holds no water and must be false, you simply can't have it both ways."
13. Don't drive mindlessly!
According to a September 20, 2017, article, a truck driver had "zero explanation" as to why he had driven "over two-and-a-half miles" on the boardwalk in Ventnor City, New Jersey.
truckyeah.jalopnik.com/a-trucker-had-zero-explanation-after-driving-over-two-m-1818598166 (no longer online)
If this was a case of a GPS error, it obviously was not a GPS that was geared for commercial motor vehicles!
14. Does "unlimited" mean "unlimited" when it comes to one's phone plan? In Australia, maybe not!
According to a September 20, 2017, article, a truckie is "perplexed and annoyed after receiving a text message from his mobile phone provider saying he needs to cut down on calls, despite paying for 'unlimited' calling."
Check the details of your mobile phone plan from time to time to make sure you're getting the best "talk, text and data" plan for you and your needs — or whether there is a "fair use policy" in place.
According to the article, "fair use policy" by that service provider means, "Your use of the services must be fair, reasonable and not excessive, as reasonably determined by us by reference to average and/or estimated typical customer usage of the services."
15. It's important to have your truck's headlights on at times of low visibility.
Even though a September 18, 2017, article references a pick-up truck being involved in a crash with a school bus, it was due to the truck driver's not having his truck's headlights on that led to the bus driver not seeing him.(f)
Consequently, when the bus turned left in the path of the truck that he did not see at 6:45 a.m., there was a crash (which was the truck driver's fault).
If memory serves me correctly from truck driver training school days, one needs to have one's headlights on
– an hour after sunrise and
– an hour before sunset.
Remember that your headlights help you see — and help others see you!
My husband Mike and I wish you — and all professional truck drivers — safe travels and lots of money saving opportunities on the road.
---
---
Return from TDMST Weekly Round-Up: 2017.09.23 to our TDMST Weekly Round-Up Trucking Commentary or our Truck Drivers Money Saving Tips home page.
---
Reference:
a. www.worktruckonline.com/channel/safety-accident-management/news/story/2017/09/safety-tip-driving-through-intersections.aspx (no longer online)
b. www.roadking.com/trucks/slow-down-proceed-with-caution/ (no longer online)
c. www.worktruckonline.com/channel/safety-accident-management/news/story/2017/08/drive-safely-work-week-set-for-oct-5-9.aspx (no longer online)
d. www.roadking.com/truckers/trouble-saving-money/ (no longer online)
e. www.landlinemag.com/Story.aspx?StoryID=70782#.Wbih5HRrzct (no longer online)
f. www.wnem.com/story/36389486/breaking-accident-involving-school-bus-in-iosco-county (no longer online)