This is the TDMST Weekly Round-Up of news affecting professional truck drivers, written by Vicki Simons for the week ending July 29, 2017.
This week, Vicki concentrates solely upon various aspects of the human smuggling or human trafficking tragedy that was recently revealed in San Antonio, Texas.
We welcome your comments, thoughts and feedback on the items of your choice below.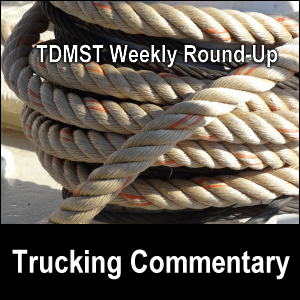 What happened?
A July 23, 2017, article revealed that 10 people were dead and 30 others had been hospitalized after they had been discovered in a tractor trailer in "stifling summer heat" outside a Walmart store in San Antonio, Texas.
The police have called it a "horrific human trafficking case".
Those who were hospitalized were in "dire condition, many suffering from extreme dehydration and heatstroke", according to a July 24, 2017, article.
Two issues were involved: smuggling/trafficking and heat-related illness and death.
Did the trucker know what was in his trailer?
According to a July 24, 2017, article, the driver "had no idea how the immigrants got into his trailer".
A July 25, 2017, article states that the driving "suspect in a fatal human smuggling case" "didn't know what was in the truck".
Another driver said that the suspect's actions were inexcusable, that "as a driver you know what you're hauling".
However, back on November 14, 2011, a trucking magazine published an article about the blog of an owner-operator who reported unusual places where stowaways can hide on a truck.
In this case, "unbeknownst to [another trucker] a young man and woman were crouched on top of his sleeper in the area behind his high roof fairing."
The article urged truckers to "Keep an eye on your roof fairing in Laredo".
A similar stowaway situation was reported on December 19, 2016.
Even so, there's a difference between a stowaway hiding in an exterior part of one's truck and inside one's tractor or trailer.
Was there a lock on the trailer so that no one could get inside?
Where did the illegals get in the trailer? In Laredo?
Furthermore, the doors of the trailer were closed from the outside. Therefore, someone had to have shut the doors behind the people — most likely someone whom they trusted.
How hot did it get inside the trailer?
A July 23, 2017, article stated:
Smuggling illegal immigrants through South Texas in the heat of the summer is deadly business. The high temperature Saturday was 100 with the heat index as high as 106.
The Medical Director for the San Antonio Fire Department said that the people were "trapped basically within an oven … [and their] body systems [weren't] able to handle that rise in heat that [occurred] in that closed environment."
A July 25, 2017, article stated that the "surface temperature reader in the truck … read as high as 121 degrees" and there was extremely poor ventilation in the trailer.
Why do people smuggle or traffic others? Sadly, for money.
"There will always be people willing to pay for illegal transport and there will always be people who take that money", stated the author of a July 24, 2017, commentary.
A July 25, 2017, article quoted a Rio Grande Valley trucker that "smugglers often pressure [truckers] and make them offers to haul people in the country illegally."(a)
The offer of $1,000 per person smuggled "may seem appealing at first". However, he knows "four truck drivers who are currently serving jail time for smuggling" and "all it takes is to get caught once for everything to be over" (including losing one's CDL).
Smuggling just isn't worth it.
Did the trucker take the most direct route?
An article addressed the 316 miles out-of-route that the suspect drove the truck.(b)
When I put the cities into Google Maps, I came up with the same number of out-of-route miles, too.
Since there is a route to get from Laredo to Brownsville, why did the trucker go all the way back to San Antonio first?
I wondered about the city's status, but according to a January 26, 2017, article, San Antonio does not consider itself to be a "sanctuary city".
Hmm… Something seems very wrong here.
What about the trucking company and the trucker?
An Associated Press article dated July 27, 2017, revealed more about the trucking company for which the smuggling suspect contracted, supposedly not being as wholesome as they want people to believe.
The owner of the trucking company for whom the driver contracted says that the company has nothing to do with this "incident", according to a July 24, 2017, article.
A July 26, 2017, article states that the driver "has a criminal record going back 20 years, and was driving without a CDL".
Are these things true?
What kinds of charges does the trucker face?
The driver "faces federal and state charges", according to a July 23, 2017, article.
A July 24, 2017, article states that the driver "appeared in federal court on charges of illegally transporting immigrants for financial gain, resulting in death".
Another July 24, 2017, article stated that the driver could be facing a death penalty.
A July 25, 2017, article stated: "Truck driver James Matthew Bradley Jr., has been charged for his role in the immigrant smuggling operation and could face a sentence as harsh as the death penalty because of the fatalities that occurred."
Have people died inside a hot trailer before? Yes!
A 2003 smuggling-by-truck tragedy resulted in the deaths of 19 people who had been "locked inside a stifling rig".
In that case, the "driver was sentenced to nearly 34 years in prison", according to a July 24, 2017, article.
Why weren't the illegals caught at a checkpoint?
A July 26, 2017, article opens, "The trucker accused in a deadly smuggling attempt passed the Laredo Customs and Border Protection checkpoint two hours before he was discovered in San Antonio, according to U.S. Rep. Henry Cuellar."(c)
This makes me wonder why the border patrol didn't discover the folks being smuggled.
Yet a July 23, 2017, article states, "it's difficult to spot smugglers without a tip from Immigration and Customs Enforcement. Many go under the radar unless they're stopped for another traffic violation."
"Under the radar" in this case means that they escape detection.
Isn't there some way to detect human cargo, like with X-ray technology?
At least some trucks going into Canada are X-rayed.
A March 17, 2003, article addressed "X-ray equipment at border crossings" — meaning the U.S./Canada border.
According to an April 5, 2006, article, "gamma-imaging technology" was used to spot "Two people hiding in a container about to be trucked from Canada to Buffalo, N.Y.".
If this technology is used at the U.S./Canada border, why isn't it routinely used at the U.S./Mexico border?
What lessons can be learned from this tragedy?
– Truckers would be wise to thoroughly research the trucking companies for which they are considering driving — before hiring on.
– Do not ever engage in trafficking or smuggling.
– No matter how good the payoff may be, don't agree to do that which is illegal and could cost you your future.
– Even if your trailer is empty, put a lock on it when it is in transit so that no one can enter without your knowledge or permission.
– Unless you are instructed otherwise, whenever you are driving a commercial motor vehicle, take the most direct truck route from where you pick up your load to where you will deliver it.
– Watch out — especially in towns near international borders — for illegal aliens seeking to hitch a ride.
– At every stop such as a truck stop, check to make sure that one or more stowaways haven't hitched a ride.
– Be on your guard when it comes to staying in a hot truck. Protect your body and health from heat-related illness.
– Never put someone else in a position that you would not want to be put in. Love your neighbor as yourself.
My husband Mike and I wish you — and all professional truck drivers — safe travels and lots of money saving opportunities on the road.
---
---
Return from TDMST Weekly Round-Up: 2017.07.29 to our TDMST Weekly Round-Up Trucking Commentary or our Truck Drivers Money Saving Tips home page.
---
Reference:
a. www.krgv.com/story/35961111/truck-driver-speaks-out-about-pressure-from-human-smugglers (no longer online)
b. www.krgv.com/story/35980724/truckers-route-raising-questions-in-investigation (no longer online)
c. www.krgv.com/story/35980724/truckers-route-raising-questions-in-investigation (no longer online)