This is the TDMST Weekly Round-Up of news affecting professional truck drivers, written by Vicki Simons for the week ending October 5, 2019.
We welcome your comments, thoughts and feedback on the items of your choice below.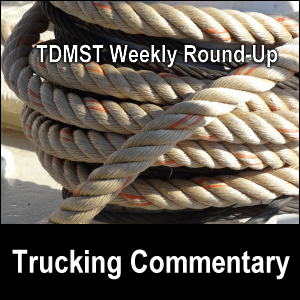 1. Regarding the FMCSA's Drug and Alcohol Clearinghouse:
According to an October 1, 2019, article:
"The Federal Motor Carrier Safety Administration has opened registration for the new Commercial Driver's License Drug and Alcohol Clearinghouse, which is aimed at preventing drivers from job-hopping to avoid the impact of failed drug tests."
Other articles about this topic have been written here, here, here and here.
The FMCSA has stated:
"The clearinghouse will be a secure online database that will allow FMCSA, CMV employers, State Driver Licensing Agencies, and law enforcement officials to identify — in real-time — CDL drivers who have violated federal drug and alcohol testing program requirements, and thereby improve safety on our nation's roads."
I am skeptical as to the ability of this Clearinghouse to have any positive impact on improving safety on U.S. roads.
Why?
Will those who anticipate undergoing a drug or alcohol test not simply "clean up" their act a few days in advance and then go back to using their substance of choice afterwards?
2. Regarding drug testing:
Two topics this week covered testing drivers for drugs:
3. Regarding winter driving conditions:
Here's a summary of the "three key points" of being prepared before hitting the road during winter weather:
Carry — and know how to install — traction devices on your truck's tires (the article specifically stated "chains" but other traction devices are allowed in the USA);
Before leaving, check road and weather conditions along your route; and
Drive according to conditions (slowing down when it is necessary).
There has already been winter weather in the northern Rockies.
Don't forget that some states have requirements for drivers to remove snow and ice from the tops of their vehicles before they start to drive.
Previously, I asked, "What's the Answer to This Seemingly Impossible Winter Trucking Problem?"
And after a period of time, the Lord gave me this no snow roof solution idea.
4. Regarding hazmat endorsement background check:
As if undergoing a DOT physical and having a drug and alcohol check weren't enough for truckers, now the FMCSA has done this (also reported here):
"finalized two rulemakings that have been in place since 2003 and 2005 requiring drivers to pass a background check conducted by the Department of Homeland Security in order to obtain or renew a hazmat endorsement on their commercial driver's license."
In real dollars and cents, how is this extra hazmat endorsement background check going to improve anything?
5. Regarding trucking industry layoffs and losses:
A lot has been written about layoffs and job losses in the trucking industry lately, including:
This is why I think it's always good for a trucker to have a second income.
6. Regarding comments about the proposed Hours of Service regulations change:
7. Regarding California's new independent contractor law:
There's "A third way to deal with [the] new California independent contractor law", according to a September 27, 2019, article.
8. Regarding increased toll and ferry collections:
LandLine Magazine reported, "Truckers driving through Seattle may have noticed the SR 99 tunnel is open. Driving through it is free for now, but that will all change on Nov. 9."
Separately, an October 2, 2019, article stated, "Rates for the use of [British Columbia, Canada] Ferries could go up by a maximum of 2.3% annually from April 1, 2020 to March 31, 2024, including for commercial traffic."
9. Regarding violation of a weight restriction:
According to a September 27, 2019, article, "A Pennsylvania appeals court has upheld a $14,000 fine for a trucker who violated overweight laws, not accepting the driver's excuse that … he was following a GPS navigation system."
An appellate court's opinion was:
Appellant's bill of lading for his Easton Road pickup did not serve as a permit to drive wherever he wanted or wherever his GPS told him to go after making his pickup, with utter disregard for posted weight restrictions. He had an obligation to avoid the restricted road via a reasonable alternative route. He failed to do so.
I wonder if this trucker drives for a trucking company, and if so, will they pay the fine for him?
Although it pains me to have to say so, if the trucker has to pay this out of his own pocket, he'll never make that mistake again!
10. Regarding truck automation:
According to an October 2019, article:
In a study published in the Harvard Business review, Maury Gittleman, the [U.S. Bureau of Labor Statistics (BLS)] economist, and Kristen Monaco, the commissioner, list several reasons why the [trucking] industry should breathe easy, or at least easier" regarding automation in the industry, AKA autonomous trucks.
11. Regarding potential staged trucking accidents in New Orleans:
The "Feds are looking into staged crashes targeting truckers in New Orleans", according to an October 3, 2019, article, specifically addressing "semi trucks on I-10 or I-610".
If you're traveling in the New Orleans area, be on your guard.
12. Regarding animals in the road:
The video clip clearly shows that it was dark outside when a "large moose" ran out in front of a semi truck, the crash of which "caused $20,000 worth of damage" to the truck.
Perhaps our article about avoiding animal collisions will help the next driver.
13. Regarding a runaway ramp being closed?
An October 1, 2019, article reveals that the reason why a trucker who was "flying down" a mountain pass smashed into a gravel shed instead of the runaway truck ramp:
The runaway ramp on Teton Pass has been shut down since September 10 after it partially failed when it was used by a pickup truck hauling a load of logs. The Wyoming Department of Transportation shut down the ramp to investigate the failure.
While I appreciate the fact that the WYDOT wanted to investigate why the ramp "partially failed", why had it not wrapped up its investigation within 20 days?
The article said that police said that "Charges could be filed" against the trucker whose truck crashed into the gravel shed.
Ouch!
I hope that the trucker makes a full recovery.
14. Regarding a fuel tax increase:
Both the diesel fuel tax and the gasoline tax increased in Arkansas starting October 1, according to this article.
You may find resources about diesel fuel prices on our site.
15. Congratulations in advance!
"The winner of the annual Owner-Operator of the Year contest, presented by the Truckload Carriers Association and Overdrive, will go home from TCA's annual convention in March $25,000 richer.", according to an October 3, 2019, article.
We look forward to learning who is announced the winner!
My husband Mike and I wish you — and all professional truck drivers — safe travels and lots of money saving opportunities on the road.
---
---
Return from TDMST Weekly Round-Up: 2019.10.05 to our TDMST Weekly Round-Up Trucking Commentary or our Truck Drivers Money Saving Tips home page.
---