This is the TDMST Weekly Round-Up of news affecting professional truck drivers, written by Vicki Simons for the week ending September 9, 2017.
We welcome your comments, thoughts and feedback on the items of your choice below.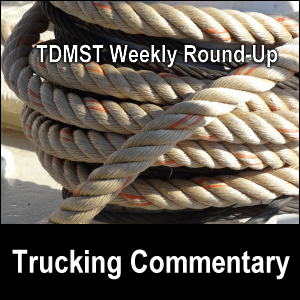 1. "Trucking analysts project freight rates will soar over the next few months, as the nation's already scarce truck drivers are called to haul loads for the government to areas ravaged by Hurricane Harvey," according to a September 4, 2017, article.
A September 5, 2017, article states, "FTR has studied several major weather events, starting with Hurricane Katrina in New Orleans. These weather events show significant pricing effects, including seven extra percentage points of annualized pricing for the five months following Katrina in 2005 and a peak of 22% year-over-year spot price increases following the monster winter of 2014."
2. Truckers, be on the alert at the rest area on the southbound side of I-41 in Dodge County, Wisconsin.
A truck driver "was beaten and robbed Monday night" (September 4) "by two suspects who jumped over a wall of a bathroom stall to get to the victim", according to a September 5, 2017, article.
The seriously injured trucker had to be taken to a Milwaukee hospital for treatment.
How can one protect oneself in such a situation?
3. "The operations manager of a Kentwood trucking firm is accused of using corporate fuel cards to siphon nearly $539,000 from the business over a three-year period," according to an August 31, 2017, article.(a)
If the suspected embezzlement turns out to be true, this was money that could have been used to pay the truckers working for that trucking company better wages.
Theft just isn't worth it.
4. Yes, a tire blow-out can lead to a fatality.
According to an August 31, 2017, article, a trucker died in a fiery crash along "Interstate 40 in northwestern New Mexico".
kob.com/new-mexico-news/trucker-killed-in-fiery-crash-after-tire-blowout-on-i-40/4591629/ (no longer online)
The article doesn't identify which tire on the truck blew out. While a blow-out of any kind is bad, the blow-out of a steer tire can result in great difficulty in maneuvering a tractor to safety.
To reduce the likelihood of this happening, do thorough pre-trip inspections and replace problem tires.
Our condolences go to the family of the trucker who died.
5. Truck drivers have been reported as having to "wait hours for fuel on San Antonio's east side" due to "one of the nation's largest refineries [being] shut down" following Hurricane Harvey — and the resulting "domino effect on the trucking industry."
According to an August 30, 2017, article, "one of hundreds of truckers lined up for miles along East Houston Street" was finally able to get fuel four hours later.(b)
In situations like this, folks, please practice patience.
6. Yes, throwing a burning cigarette out of any vehicle can be a big deal.
According to an August 30, 2017, article, one trucker learned that his violation of the Wildfire Act — "for dropping a burning substance" — cost him a $575 fine.
Folks, don't throw anything out of your vehicle windows. It could be considered littering or worse.
7. According to an August 30, 2017, article, "Autonomous trucking will make commercial driving a safer, more enjoyable job".
The author asserts, "More rested drivers are both safer and happier drivers – and happier drivers are more likely to keep driving for a living", but he did not say "how" drivers will be more rested by attending self-driving trucks.
Hmm…
8. Please regularly glance at your truck's mirrors to make sure that all is well with the trailer(s) you're hauling.
According to an August 30, 2017, article, "Indiana State Police say a semitrailer driver lost one of his trailers and didn't realize it for until more than 7 miles later."
www.sj-r.com/news/20170830/oops-trucker-loses-trailer-doesnt-realize-it-for-7-miles
Although the trucker may be commended for having attempted to prevent a collision "when another semitrailer veered into his lane", he certainly didn't pay attention when his swerving and overcorrecting resulted in fishtailing and the detaching of the rear trailer.
I'm grateful that the loss of the rear trailer didn't result in an injury or fatality to anyone following this truck.
Seasoned professional truck drivers glance at their truck's mirrors — driver and passenger sides — once every 8 seconds or so.
9. An August 29, 2017, article states, "Truck drivers' pay climbed 5.7 percent over the year, according to a new report from Glassdoor."
Another article stated, "Wages for U.S. truckers, rising for several years, took their biggest jump yet in the past 12 months. Since August 2016, median annual base pay jumped 5.7 percent, to $52,079".
Furthermore, "The increase gave truckers a bigger percentage pay bump than almost any other type of employee during the time period" and "By contrast, median annual base pay grew 2 percent for all U.S. workers over the past year".
Have you seen this type of increase in your pay over the last year, truckers?
10. An August 27, 2017, article opened with this tragic statement:
trib.in/2eLhXUH (no longer online)
"A Minnesota truck driver has been charged with drunken driving resulting in death in a crash on the Tri-State Tollway near Alsip that killed an Atlanta man, according to police and court records."
Don't drink beverages that can impair your cognitive function, including alcohol.
Any resulting accident could not only be fatal, but if you survive, it could end your trucking job and career. It just isn't worth it.
11. And speaking of driving impaired, a September 5, 2017, article stated,
"Fatally injured drivers who tested positive for prescription opioids rose seven times from 1% in 1995 to over 7% in 2015, according to a recent study from Columbia University's Mailman School of Public Health."
I am very concerned that people are not only being "prescribed" opioids, but are attempting to drive while using them!
A spokesperson stated, "The three most commonly detected prescription opioids were hydrocodone, oxycodone and morphine."
12. Brake Safety Day is coming up on September 7, 2017, according to this article that also lists 10 tips and tools from Bendix on how to prepare.
13. "Diesel prices increased by an average of 15.3 cents across the nation during the week to an average of $2.758 per gallon, according to the Department of Energy's weekly report", stated this September 6, 2017, article.
This September 5, 2017, article stated, "Harvey leads to highest one-week diesel price increase in more than six years".(c)
"In the first full week after Hurricane Harvey made landfall on the Texas Gulf Coast, diesel fuel prices skyrocketed in most regions of the U.S., especially in some major metro areas around the country", stated a September 5, 2017, article.
14. A Toronto, Canada-based TruckNews.com article stated on September 3, 2017:
"National Trucking Week – Sept. 3-9 – is a time for the industry to celebrate its workforce and take a brief bow for the efficient and reliable service it provides to everyone who makes a purchase, visits a hospital or clinic, or puts their garbage out weekly at the curb. We all take part in activities that are made possible or easier because of trucking companies and their employees."
National Truck Driver Appreciation Week for professional truck drivers in the USA will be celebrated from September 10 – 16.
A September 6, 2017, article stated, "Drivers who feel appreciated tend to be safer and more diligent".
Truckers, we appreciate you and the work you do all year long!
If your trucking company provides gifts of any kind to you during your "appreciation week", will you please share with us the nature of the gifts provided? Thanks.
My husband Mike and I wish you — and all professional truck drivers — safe travels and lots of money saving opportunities on the road.
---
---

Return from TDMST Weekly Round-Up: 2017.09.09 to our TDMST Weekly Round-Up Trucking Commentary or our Truck Drivers Money Saving Tips home page.
---
Reference:
a. on.wzzm.com/2xPqLNY (no longer online)
b. www.kens5.com/weather/harvey/truckers-wait-hours-for-fuel-on-sa-east-side/469330607 (no longer online)
c. www.landlinemag.com/Story.aspx?StoryID=34050#.WbAhS2tDvIU (no longer online)