This is the TDMST Weekly Round-Up of news affecting professional truck drivers, written by Vicki Simons for the week ending October 27, 2018.
We welcome your comments, thoughts and feedback on the items of your choice below.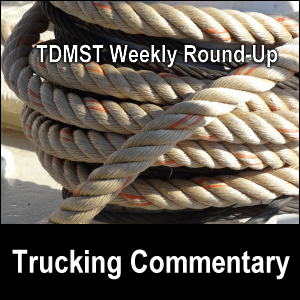 1. If you have not already submitted your comments about the Petitions for Determination of Preemption: California Meal and Rest Break Rules — which will affect trucker pay for anything besides cents per mile work — please:
– read this article and
– submit your comments before October 29, 2018
2. Here's why you should check your trucks belts and hoses when the weather turns cold.
Here's one prediction about the 2018-2019 winter driving season.
3. According to an October 16, 2018, article, "eight trailer manufacturers now meet [Insurance Institute for Highway Safety (IIHS)] standards for rear underride guards".
Will owner-operators be forced to install underride guards on the sides of their trailers?
4. Any trucker who has ever crossed the Ambassador Bridge from Detroit to Windsor (or in the opposite direction) may rejoice in the news revealed in an October 25, 2018, article:
"The processing of commercial traffic will be a priority when the new Gordie Howe International Bridge opens in late 2024…."
5. While OOIDA's president Todd Spencer clearly addressed the myth of the truck driver shortage(a), an October 25, 2018, article stated:
"The trucking industry is booming, and small carriers are potentially the biggest benefactors. Looking to the U.S., small fleets are growing while larger fleets are not."
So, if you're looking for a trucking job, don't overlook small fleets.
6. Hair testing is back in the news because legislation allowing it was signed into law (link, link, link).
Questions:
– Why are professional truck drivers being prescribed opioids?
– Is hair testing really among "the most accurate, reliable and failsafe drug testing methods available today"?
And why is the FDA "seeking comments about potential of removing marijuana from Schedule I drugs" (b) when we read that "crashes are up by 6% in… states that offer legal recreational marijuana — compared to states" where it is illegal?
7. In an October 25, 2018, article about truck drivers losing in the race to automate the industry, we read, "Interact Analysis forecasts, very little impact on driver employment will occur in the next five to 10 years".
Meanwhile, an October 24, 2018, article stated: "A lot more work" will be required for Level 5 vehicles, which are "less focused on navigation and more on critical interaction and analysis".
And Land Line Magazine stated that, "The Port of Los Angeles estimates that [a major rail] project will eliminate approximately 1,250 truck trips per day by 2040."(c)
8. "When it comes to last-mile delivery [in the Seattle area], … UPS is deploying a downtown delivery pilot project using pedal-assist cargo eBikes and customized, modular trailers," states an October 25, 2018, article.
I'm very interested in learning how this works — and how much these "cargo ebike" drivers will be paid.
9. An October 25, 2018, article stated:
"The average price of total used Class 8 trucks in September rose 3% month-over-month and fared even better, up 9% year-to-date, when compared to the first nine months of 2017, according to ACT Research."
10. "Now that automatic electronic logging devices are mandatory for most carriers, the industry has an opportunity to use the data collected by ELDs to document and address issues that impact driver and carrier safety, operations, and productivity", states an October 24, 2018, article.
That's why the American Transportation Research Institute (ATRI) wants to "collect and warehouse anonymized electronic logging device data".
Additional info is here.
11. An October 24, 2018, article stated, "Startup company dexFreight says it has completed its first blockchain-based shipment using smart contracts."
What are the desired benefits of this?
The dexFreight CEO and co-founder stated, "a truly decentralized model, open to all the stakeholders, and allowing for a new world of services that will bring much needed optimization and liquidity to this industry."
12. Aack! So now an article documents that it is possible that a trucker or trucking company could have chosen "the wrong ELD"! (Ouch!)
13. There's a weather alert about a powerful winter storm for truckers traveling in the northeastern USA this weekend (link, link).
14. Isn't there some way to keep truck batteries from being stolen by crooks?
15. Think you can smuggle:
– illegal drugs in your fuel tank?
– illegal aliens for profit in your truck?
Think again!
16. Smart-Trucking.com listed their Top 10 Truck Driving Safety Tips For Professional Drivers.
17. Watch out for:
– truck parking bans such as in Midland, Texas (fines up to $500);
– illegal parking (and increased fees) in Fort Worth, Texas (fine of $200);
– railroad crossing signals that don't work when a train is coming;
– speed cameras in Pennsylvania (with increased fines for each additional offense);(d) and
– if you're a flatbed driver, the potential loss of part of your load (regularly check your tie-down devices and your mirrors).
18. There's good news for truckers who will be driving through the Boise, Idaho, area on Thanksgiving Day:
the offer of a free turkey dinner!
19. An October 23, 2018, article stated: "Two truck drivers will be $25,000 richer if they are chosen drivers of the year in a search by the Truckload Carriers Association, and Truckers News and its sister publication Overdrive."
Good luck!
My husband Mike and I wish you — and all professional truck drivers — safe travels and lots of money saving opportunities on the road.
---
---
Return from TDMST Weekly Round-Up: 2018.10.27 to our TDMST Weekly Round-Up Trucking Commentary or our Truck Drivers Money Saving Tips home page.
---
Reference:
a. landlinemag.com/Story.aspx?StoryID=73191 (no longer online)
b. landlinemag.com/Story.aspx?StoryID=73145 (no longer online)
c. landlinemag.com/Story.aspx?StoryID=73194 (no longer online)
d. landlinemag.com/Story.aspx?StoryID=73179 (no longer online)